Indoor cycling studios
Torch calories and improve your cycling performance at indoor cycling studios.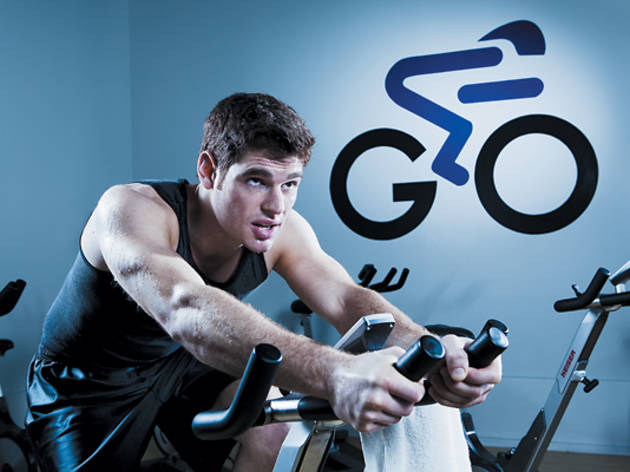 By

Jessica Herman. Photograph by Damien Thompson.
|
There's something about biking to nowhere that has fitness fiends hooked.
Ever since the late '80s, when Johnny G created Spinning, gym rats have saddled up on stationary bikes at gyms across the country. But in the last few years, indoor cycling has experienced yet another spike in popularity.
As a testament to its growing appeal, Equinox created an online bike-booking system two years ago to accommodate the rush of students, and in 2009 swapped out its old bikes with sleeker, odometer-equipped Schwinn models.
"Of all the different trends I have seen [in the fitness world], cycling has never faltered," says Chicago fitness instructor Emmy Rigali. "Out of my 16 years of teaching [cycling], I've only seen the numbers build."
This uptick convinced Rigali to trailblaze a new cycling phenomenon in Chicago: cycling studios. At her three-month-old Old Town studio, Go Cycle Studio, a crystal chandelier and a beach-scented candle create a warm, welcoming environment.
"Financially, people are dropping out of huge gym memberships, and [they're] tired of that big massive room and impersonal feel," Rigali says. "I feel like the [boutique] personal-training gyms have come back around."
Go Cycle's roster of classes includes three options: straightforward 50-minute cycling, a cycling and yoga hybrid, and an abs and cycling blend. Classes cost $18 for a single session and $115 for a month of unlimited classes.
In the next few months, Go Cycle won't be the only game in town. The owners of Flywheel Sports, which debuted its first three locations in New York last year, plan to open one outpost in the city and one in the suburbs in 2011 (along with at least three more in New York and other cities). In New York, classes cost a pretty penny: $30 for a single session and $180 for an unlimited month, which includes clip-in shoes and unlimited bottled water. (The price for Chicago's studio is yet to be determined.) The setup is also much more elaborate than your average cycling studio: The customized Schwinn bikes allow students to closely track their progress—from calories burned to resistance to revolutions per minute—and TV monitors at the front of the room display students' stats, allowing them to race their classmates.
Why has cycling held its popularity while other fitness devices, such as the rowing machine, have become nearly obsolete? Equinox cycling instructor and triathlete Michael Wollpert attributes the enthusiasm in part to the success of the Chicago Triathlon and the booming triathlon market. According to the USA Triathlon, the organization's membership grew from 21,341 in 2000 to 134,942 in 2010. This month, Wollpert is converting his River North personal-training gym, Train Chicago Studios, into an endurance training center; Equinox instructor and running coach Kimberly Shah will spearhead the running portion. Outfitted with 20 computrainers—essentially a bike stand that holds the bike in place and is attached to computers, which adjust tension to the unit—the facility will offer everything from personal or team training to scheduled classes, such as a music-video ride. Students need only bring their bikes.
Look around at what's happening on the coasts, and the possibilities for indoor cycling just keep growing. At Los Angeles's Kinetic Cycling, bikes are used to generate electricity for the facilities. In New York, Flywheel has stiff competition in SoulCycle, another indoor cycling studio with five New York locations that infuses its classes with a motivational-speaking component.
Is Chicago next for Matt Foley–style Spinning? Rigali's not so sure. "Chicagoans are smart, down-to-earth people," she says via e-mail. "[Instead of] an 'inspirational' instructor talk[ing] about the road or beautiful mountains you are passing, I say we are on a stationary bike working our @!#%s off!"
BEGINNER TIP
Consider buying clip-in shoes from Element Multisport (2754 N Clybourn Ave, 773-529-4874, elementmultisport.com), says Go Cycle's Rigali. They'll help you work your glutes and hamstrings efficiently while powering through each stroke.