Jacki Holland
Cow teeth and snake vertebrae make for spooky-yet-stunning accessories.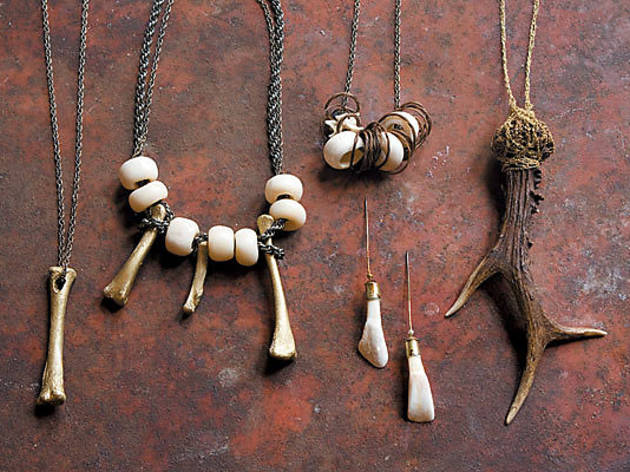 What it is Designer Jacki Holland's debut collection of jewelry composed of animal bones and vintage chains
Who she is Since leaving the fashion-design program at Columbia College and a part-time job at City Soles a few years ago to slide into the role of manager and then buyer at Bucktown boutique Robin Richman, the 28-year-old St. Louis native spends most of her time scouting other designers' work around the world. But when Richman's annual group trunk show rolled around in fall of 2007, the owner, having seen some of Holland's found-object sculptures, encouraged her to exhibit. She took the opportunity to expand her oeuvre and take a stab at jewelry design. "When I was a teenager, I was interested in finding safety pins and paper clips and chains from thrift stores," says Holland. "It was a natural transition to use those objects and turn them into jewelry." Using a pair of needle-nose pliers from her husband's tool box, she started experimenting putting pieces together to see what worked both aesthetically and functionally.
What she makes Even as a kid, Holland gravitated toward morbid subject matter, scavenging for cow skulls in the neighboring farm's graveyard and studying fresh road kill with her brother. (Her father still sends her skulls, which she saves for nostalgic value). A perpetual collector, Holland started picking up items like cicadas and rusty industrial material a few years ago while walking her dog through West Town and the Fulton Market area. Back then she picked up anything that caught her eye, but now with current and future projects in mind, she has specific items such as vertebrae and antlers on her radar and sources everywhere from Craigslist ads to Africa. Friends keep their eyes peeled, too, and sporadically gift Holland with packages of birds' nests from their road trips and dehydrated animals from an auto shop. Her husband, a chef at Pilsen restaurant Nightwood, brings home cleaned and boiled chicken bones from the kitchen. The current jewelry collection mixes natural and cast replicas of the materials. Pieces include a necklace with tightly wound rings of horsehair and bone beads strung along a brassy chain; an antler pendant wrapped in delicate gold chain; cow teeth adhered to Victorian hairpins for brooches. "It's more fantasy that's inspiring this collection," Holland says. "I'm sure I'm pushed by talk of the 2012 apocalypse, of this idea of doing a collection that is sort of based on finding objects after everything has been removed. They're like apocalyptic relics." Prices range from $95–$325.
Why we like them The work calls to mind a gothic sensibility; it's at once grotesque and beautiful. "I have always really been interested in death, and I guess, for me, these are just little tokens of death and the body," she says. "There is some weird draw to work with these things and turn them into objects that don't have to be scary to people. I guess it's my way of showing people how beautiful everything around us is."
Where to find them View the collection at Robin Richman's trunk show Friday 15 from 5–8pm (2108 N Damen Ave, 773-278-6150, robinrichman.com) or at Holland's website, fraudulentanimals.com.