Jenna Stark at Sine Qua Non salon
One TOC reader loves Sine Qua Non stylist Jenna Stark and tells us why.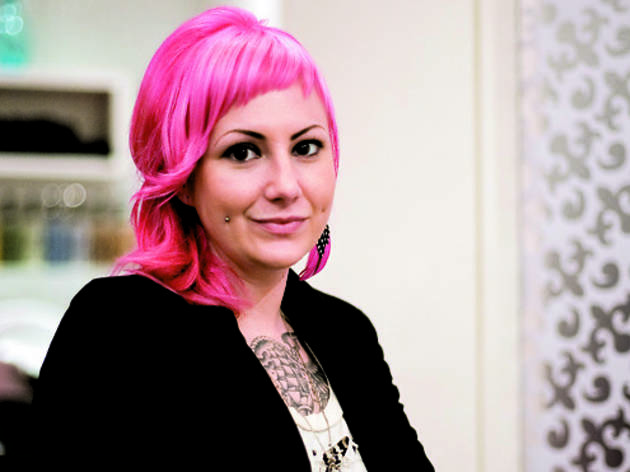 Street cred Jenna Stark started experimenting with hairstyling as a precocious eighth-grader, cutting her friends' hair in the kitchen. "I used a haircutting razor to shred people's hair until it looked cute," Stark says. As a result, "there were a bunch of girls walking around my school with punk-rock hair." When she moved from California to Chicago six years ago, Stark decided to back up her ambition and aesthetic eye with training at the Aveda Institute. "I said I'd move back to California if I didn't get a job [at Sine Qua Non]," she says. "It isn't pretentious, it has this great vibe, and all the stylists are so different." Fortunately, her interview went well, and Stark's been cutting and coloring hair at Sine Qua Non (3417 N Lincoln Ave, 773-404-8789) ever since graduating from beauty school. She's still drawn to edgier styles for her own look ("my hair is currently pink, and I'm covered in tattoos") and finds herself doing a lot of fashion mullets (long in back and short and choppy in front), but she's particularly known for styling great bobs and short 'dos. As for color, Stark errs on the natural side—"highlights that would occur naturally from the sun."
Why we love her "Jenna helped me find a haircut that I could love," Samantha Morales says. "I first got this cut more than a year ago. It marked the first time in my life—not exaggerating—that I was happy with my hair. I was 34 at the time." Morales also appreciates Stark because she offers as much or as little guidance as you want. "If you, say, order up the same thing, she'll do it. If you ask for suggestions, she'll ask your limitations, like how much time you want to spend on styling, routine, etc., then offer workable solutions," she says. On top of all that, Morales sings Stark's praises when it comes to personality ("She remembers the little things you chat about") and product suggestions, without being pushy. "Seriously, she's a girl's stylist dream come true." Cuts by Stark at Sine Qua Non start at $43 for men and $54 for women; color starts at $71.