Jennifer Murphy at Greenheart
An ecofriendly designer gets even more green at this Wicker Park shop.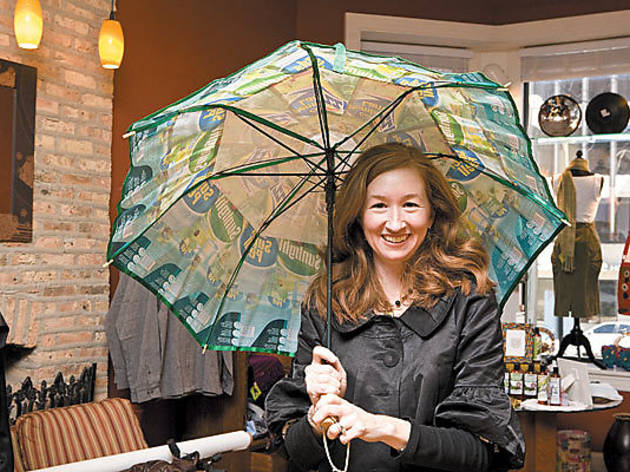 By

Web Behrens Photographs by Erica Gannett
|
Standing near the bay windows at the front of this cozy Wicker Park store, Jennifer Murphy surveys all the merchandise. It's tricky to limit yourself at Greenheart, because you can shop with a clear conscience—the nonprofit retailer promises that its fair-trade goods are all ethically produced, helping both the workers and the planet. "I'm impressed by their mission," says Murphy, herself a green entrepreneur.
More than 15 years ago, Murphy moved to Chicago with a marketing degree from St. Louis University. While embarking on a career in retail management, she slowly began to investigate the ins and outs of clothing manufacturing. Dismayed to learn how environmentally destructive the textile industry is—using toxic pesticides and dyes, wasting resources—she decided to do her part in creating a better, healthier alternative.
A mother of two, Murphy actualized her dream in 2007 with Chapter One Organics, a kids' clothing line. She designs the 100-percent organic cotton fashions, made by a manufacturer near Cleveland who trains disadvantaged women and pays them "a fair wage—it's above minimum wage, obviously," Murphy says. "We have to price our things a certain way because we do pay more for labor."
Murphy attends a lot of "green events," some of them organized by the Chicago Sustainable Business Alliance (a sort of citywide chamber of commerce for ecologically minded businesses). That's how she discovered Greenheart, which opened in the 'hood in October 2007. Murphy happily buzzes about the raw honey from Beeline, a Chicago co-op that employs ex-convicts, and admires a series of locally printed kids' books from Green Sugar Press. Other goods—clothes, housewares items—come from as far away as Thailand and Indonesia; the tags explain who benefits from your purchase, which Murphy appreciates. "It's hard to be aware of all the issues going on in other countries," she says. "This is a great way to support other cultures."
Store employees host a variety of environmentally-engaging events, like the weekly "green book club" on Tuesdays. As outreach coordinator Talia Hagerty says, "We really try to be more than just a store."
Greenheart, 1911 W Division St, 312-264-1625. Chapter One Organics.