Heads up! We're working hard to be accurate – but these are unusual times, so please always check before heading out.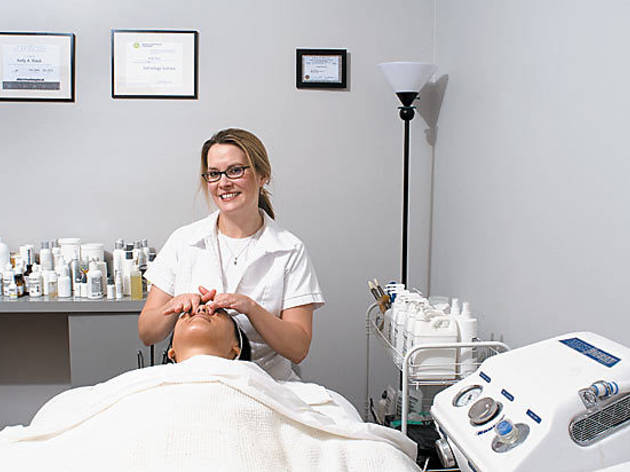 Kelly Mack, Absolute Precision Skin Care
Mack's facials are literally a dream come true. This is the first time I've fallen asleep during a facial—I'm usually acutely aware...
Mack's facials are literally a dream come true. This is the first time I've fallen asleep during a facial—I'm usually acutely aware someone is touching my face—but Mack's gentle massage techniques (on my face as well as my hands, feet and shoulders) leave me snoring. The fact that my face is now clear, glowing and supersoft further proves she is one of Lakeview's best aestheticians.
I'm not alone in thanking the gods that Mack quit her corporate job to pursue a career in skin care four years ago (she studied at the Aveda Institute, then worked at the former Georgette Klinger spa): Judging by Mack's full schedule—her next available Saturday slot isn't until April—she's one of the worst-kept secrets in the 'hood. Fortunately, she keeps a waiting list, so if there's a last-minute cancellation, you may snag an appointment sooner (it also helps to e-mail Mack at kelly@absoluteprecisionskincare.com). This kind of personal touch, plus the e-mail Mack sends a day or two after your service to check on your skin and ask for feedback on your experience, prove this facialist goes the extra mile. The thought of waiting a few months sounds tedious but, trust me, Mack is well worth the delay. 60-minute facial $85.
Extend the bliss
The Long Room
1612 W Irving Park Rd, 773-665-4500
Mack keeps early-evening appointments, so if you emerge from your facial when it's just getting dark out, grab a drink at this homey bar.
Deleece
4004 N Southport Ave, 773-325-1710
If it's a weekend, opt for brunch at this spot, where yummy selections include a cheddar frittata with applewood-smoked bacon and red onion, or two poached eggs with a sage cream sauce and an acorn squash stuffed with sautéed mushrooms and spinach.
Bucktown/Wicker Park | Mag Mile/River North/Gold Coast | Suburbs | Lincoln Park/Old Town | Loop/West Loop/South Side | Devra Helgert | Andersonville/Edgewater | Lakeview/Roscoe Village/Wrigleyville | DIY spa treatments | Spas in the recession | Cheap spa tips | All-day spas | Expert spa tips | Find a Chicago spa
MORE BEST BETS
Photo: Jeremy Bolen
Laura Rose Boyle, Listening Touch Massage
Boyle begins my session on a floor rug administering Breema bodywork (moves that gently stretch the muscles). This allows Boyle to "listen" to your body and determine which areas need attention. You can then move to a massage table, but I suggest remaining floor-bound for a fully clothed Thai massage, during which Boyle melts the tension away using stretching techniques she learned while studying in Thailand. 30-minute Breema bodywork $40; 60-minute Thai yoga massage $90.
Kristine Gaylord, Studio Within
Judging by her deep breaths during my treatment, Gaylord takes her job seriously. Her sharp intakes of air may jar you at first, but soon they become rhythmically soothing. Bonus: When she notices my tight hamstrings, she shows me two simple stretching exercises I've been putting to good use ever since. 60-minute massage $80.
Theresa Rakoczy, Temilla's Skin Care
While Rakoczy specializes in facials and microdermabrasion, I visit for an exfoliating, dry winter skin–repairing back facial coupled with an amazing massage. If my back looks this good, I can only imagine what she'd do for my mug. 75-minute facial $80–$90.
Bucktown/Wicker Park | Mag Mile/River North/Gold Coast | Suburbs | Lincoln Park/Old Town | Loop/West Loop/South Side | Devra Helgert | Andersonville/Edgewater | Lakeview/Roscoe Village/Wrigleyville | DIY spa treatments | Spas in the recession | Cheap spa tips | All-day spas | Expert spa tips | Find a Chicago spa