Lincoln Park studio
How an architect makes his 380-square-foot studio livable.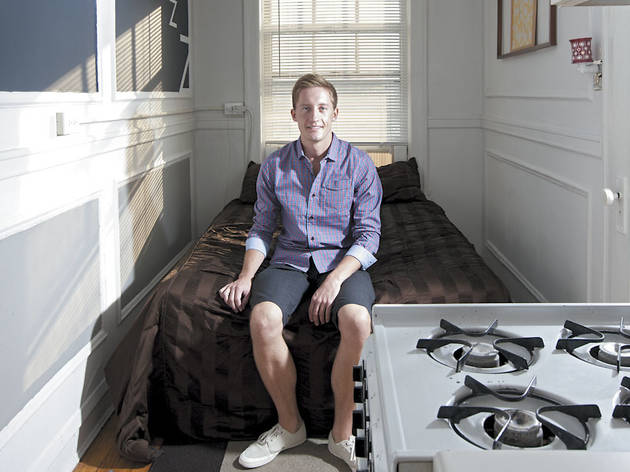 1/5
Photograph: Jeremy Bolen
"It only feels small when I have overnight guests," Tim Zelazny says of the 380-square-foot studio apartment he rents in Lincoln Park. Zelazny, 27, a designer with an architecture firm, selected small-scale furnishings—mainly Craigslist deals and alley finds that are light enough to move around easily and versatile enough to do double duty. Zelazny punctuates the neutral envelope with pops of color and whimsical accessories, and he employs some creative usage of space, including putting his bed in the unit's nook off the kitchen (pictured, left), what he calls the "sleep-in kitchen." His best advice: "Don't be afraid of cute crap," Zelazny advises. "It's those little details that give small spaces lots of character."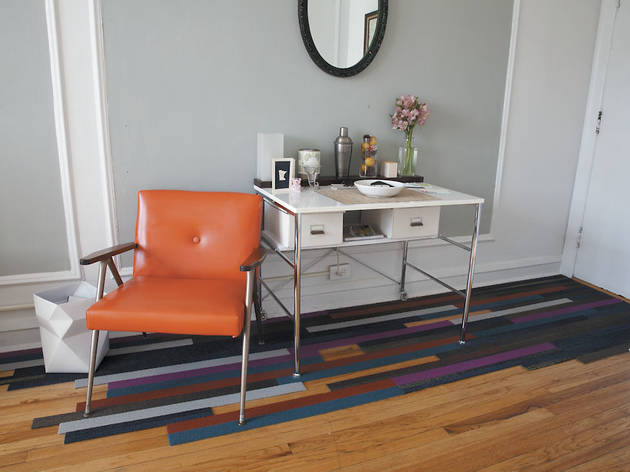 2/5
Photograph: Jeremy Bolen
Using 18" x 36" carpet remnants he found lying around his office, Zelazny created a colorful custom rug with irregular borders that connects his design for the unit to the architecture of the building, in this case the long hardwood floor beams. To keep things bright, he says he always keeps the blinds on his western-facing windows open during the day. "The sunshine helps make the space seem larger, and the shadows help bring depth and interest to the space."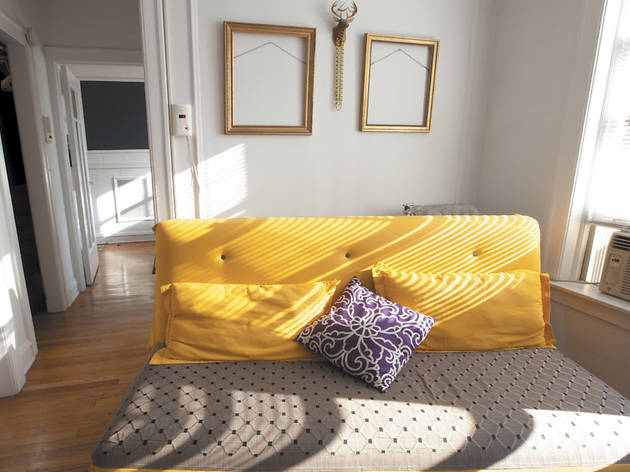 3/5
Photograph: Jeremy Bolen
In the main living area, a yellow futon Zelazny bought on Craigslist for $20 is one of the many pops of color that liven up the apartment's otherwise neutral walls. "Having different points of interest throughout the space makes it seem larger," Zelazny says. "I've styled my place in a way that energizes me, and I enjoy coming home to it."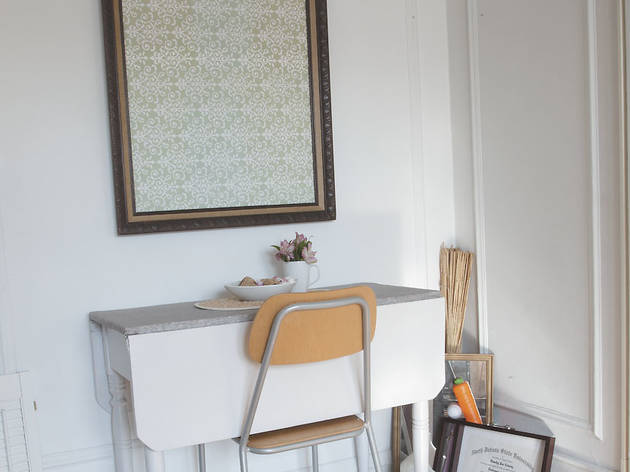 4/5
Photograph: Jeremy Bolen
"Because my furniture is multifunctional, I don't need to have four chairs specifically for dining," says Zelazny, who often uses his dining table as a desk. "When I have small dinner parties, I move [the table] into the middle of the room, and we all kind of congregate [there]." To emphasize the 9-foot-high ceilings, he hung his artwork, which includes a piece of framed wallpaper, in portrait rather than landscape mode.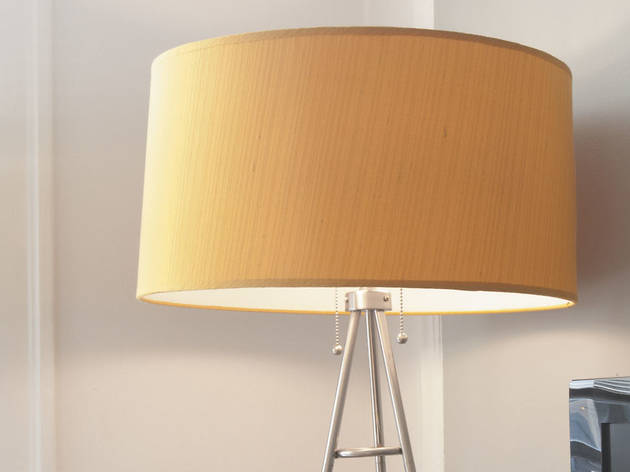 5/5
Photograph: Jeremy Bolen
Tripod leg lamp in Tim Zelazny's Lincoln Park apartment