New Chicago hotels
Take a staycation in Chicago at a new (or newly revamped) hotel.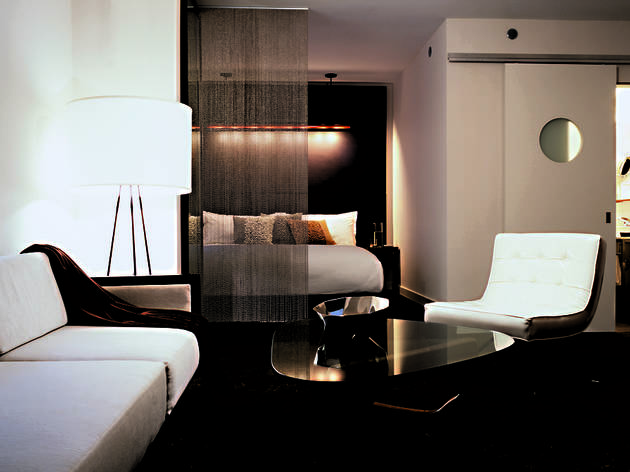 1/6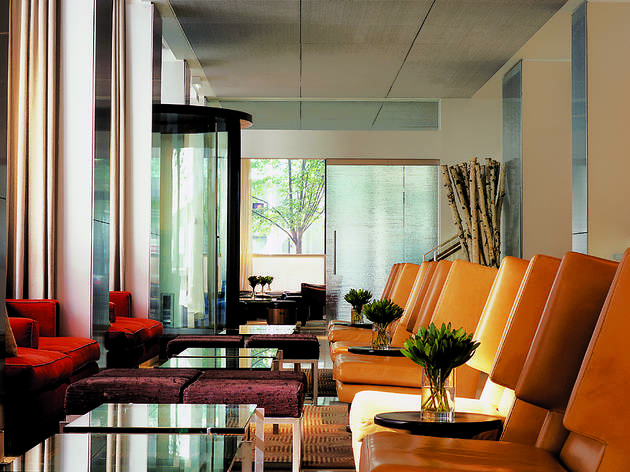 2/6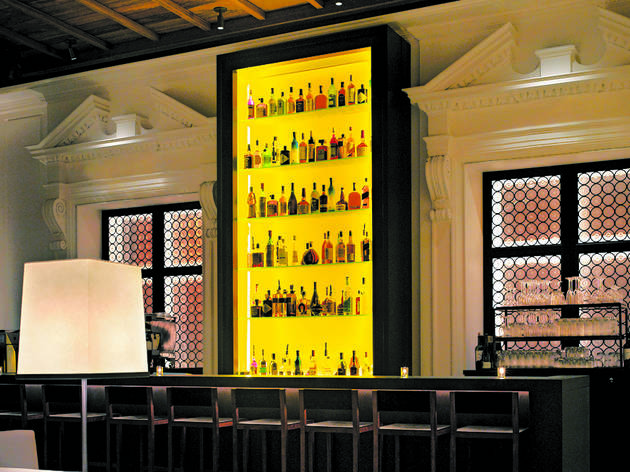 3/6
Public Chicago Hotel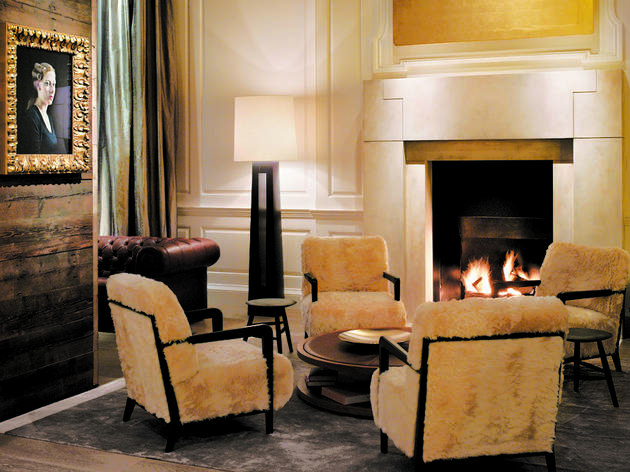 4/6
Public Chicago Hotel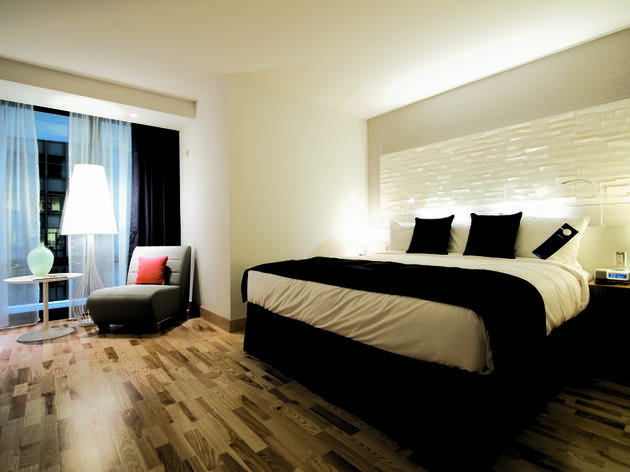 5/6
Photograph:Jaclyn Rivas
Blu Radisson Aqua Hotel in Chicago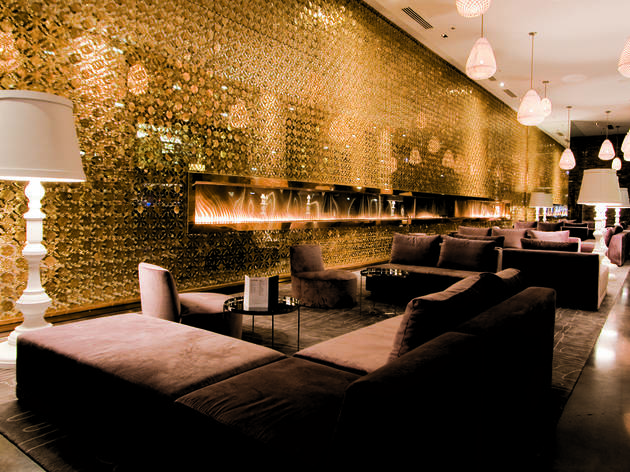 6/6
Photograph: Jaclyn Rivas
Blu Radisson Aqua Hotel in Chicago
The James Chicago (55 E Ontario St, 312-337-1000)
Aesthetes will take to the recently revamped Chicago outpost of the James hotel: In addition to the Bertoia chairs, dark wood furnishings and photo murals in the elevator lobbies, an ecofriendly mandate means organic beauty products in the bathrooms and complimentary Paul Frank bikes available daily to all guests. Among the room styles, the party-friendly loft is where it's at: A "media room" jutting off the main area features a DVD projector and a cozy futon-esque bed for lounging. The reading area in the standard king isn't huge, but unless you're hosting guests, you'll happily spend most of your downtime on the pillow-top mattress. Bonus: Fellas can turn in their shoes for a complimentary overnight shine.
Dining While David Burke's Primehouse is known for its signature Himalayan salt dry-aged steaks, the restaurant also serves everything from a shellfish tower to tuna cassoulet. Weekday lunch's Shakensteak comes with a steak, side and martini for less than $20.
Bar scene If you tire of the River North club scene just outside the hotel door but want to keep going, JBar stays open until 2am Wednesdays through Fridays and 3am on Saturdays. Sip specialty cocktails and take in signature nights featuring Chicago tastemakers playing DJ.
Fitness/spa Better than your average hotel gym, this subterranean studio houses enough treadmills, elliptical and weight machines to pass as a mini neighborhood gym, with a pitcher of orange-infused water to sweeten the deal. The Asha spa specializes in botanical-based Aveda products, offers in-room treatments and includes an aromatherapy foot bath with every service.
Room rates Starting at $169.—Jessica Herman
---
Public (1301 N State Pkwy, 312-787-3700)
The Ambassador East Hotel had such a rich history (including a cameo in Hitchcock's North by Northwest), that many people were interested to see how Ian Schrager would retool the space into Public. Each room nods to the past with a black-and-white photograph of a celebrity (think Judy Garland and Eddie Murphy) who's visited the hotel. But other than that and what appears to be original closet and bathroom doors, the all-white rooms are sleek and modern. The quiet, comfortable loft room I stayed in featured flat-screen TVs, mood lighting, free wireless Internet and a small living room setup.
Dining It's easier for hotel guests to get a table at the Pump Room, the city's latest see-and-be-seen restaurant. Plus, Jean-Georges Vongerichten's menu items are available via room service (called Public Express). We also recommend grabbing a morning coffee and pastry in the hotel's library, a perfect space for easing into the day. Heading back to the Pump Room for brunch? Don't miss the croque-madame.
Bar scene The library area turns into a bar during the evening hours. The bar outside of the Pump Room is just as sceney as the dining room. The gin-based Pump and Circumstance cocktail is a must-order.
Fitness/spa The fitness room on the 12th floor features the latest cardio machines, weights and views of the Gold Coast. Guests can also nab day passes to David Barton Gym.
Room rates Starting at $135.—Kevin Aeh
---
Radisson Blu Aqua Hotel Chicago (221 N Columbus Dr, 312-565-5258)
Aqua, from the elegant eye of starchitect Jeanne Gang, inspires Chicagoans to wonder what it's like to live in the building with the wavy white balconies. The answer's now a staycation away with this hotel on Aqua's first 18 floors. The park suite is a model of sleek, contemporary design—abstract art on the living-room wall adds a pop of color to the tan-and-white color scheme, while the bathrooms are all blond wood, green glass and white tile. Lucite lamps, 42-inch flatscreens, an inviting couch, well-stocked mini-bar and free wifi provide all the necessary comforts for work or play. A nice touch: Nubby white tiles on the ceiling of lobby restaurant Filini match the paper sculpture under Plexiglas on the wall behind a bed worthy of late lounging.
Dining The octopus salad in Filini, Blu's "almost 100 percent Italian" restaurant, was delicious, but the service remained decidedly hit-or-miss over the course of multiple visits and memorable dishes were rare. Menu items are also available for room service.
Bar scene Competently crafted cocktails run $12, and the main floor lobby provides a particularly inviting winter lounge space with one wall dominated by a long fireplace of natural-gas flames. Retire to the lower-level bar of adjacent Filini for a pizza from the wood-fired oven.
Fitness/spa The outdoor pool deck is a hot spot in summer, and joggers love the soft, spongy surface of the track that rings it, but Blu shares a small indoor whirlpool and lap pool on the third floor with condo residents, creating a sometimes tight squeeze in the offseason. Pro tips: There's an iPod dock and a nice speaker system inside if you want to make it a party, and be sure to bring a towel from your room. Hit floor two for a large steam room, sauna, basketball half-court and full fitness facility. There's no spa, but in-room treatments are available by appointment. Or you can shoot some free eight-ball in the billiards room instead.
Room rates Starting at $158.—Frank Sennett