No Waste/Zero Waste exhibit
Columbia College's A + D Gallery opens its zero waste fashion exhibition.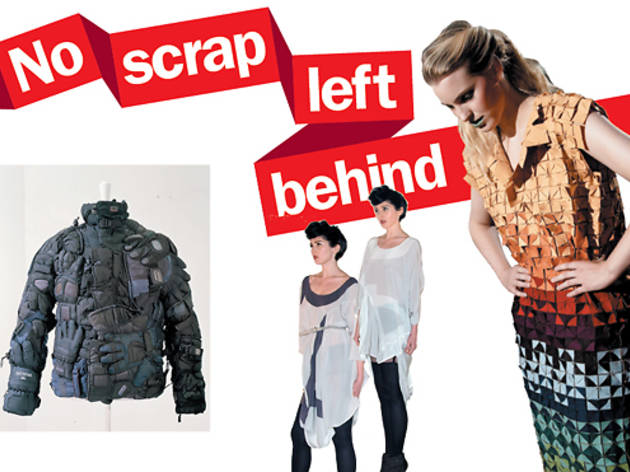 In the front of the Averill and Bernard Leviton A + D Gallery space (619 S Wabash Ave, 312-369-8687), a 500-pound stack of folded, color-coded recycled clothing is pressed against the window. "If you don't think about what you use, this is what we end up with: a pile of rubbish we send somewhere else or don't know what to do with," says Arti Sandhu, curator of Columbia College's just-opened exhibit, "No Waste/Zero Waste." The installation by New York–based artist Derick Melander sets the tone for the exhibition, which runs through April 16 and explores solutions for dealing with fashion's waste.
Defining zero waste isn't quite as simple as the term implies. On the one hand, it's about making clothing from patterns in which not a scrap of fabric is left unused. (According to a New York Times article, about 15 to 20 percent of fabric scraps from clothing production ends up in landfills.) But it's also about recycling garments. And thinking about how to instill value, particularly in a cultural sense, in a piece of clothing. "If you buy a T-shirt you don't know anything about, you're more likely to throw it away," Sandhu explains. "If you know how it's made, the design has a story or value."
The concept of zero waste has existed for centuries—from the Japanese kimono, comprised of a single bolt of a fabric, to Issey Miyake's A-POC series. But the design practice seems to be picking up steam the past few years in the United States. In New York, Parsons the New School for Design offered its first course in zero-waste fashion last year, and for the past two years, Sandhu has run a zero-waste project for Columbia's fashion-design students here in Chicago. (Sandhu hopes to showcase the students' responses to the current exhibition in one of Columbia's street-level gallery windows.) And the book Shaping Sustainable Fashion: Changing the Way We Make and Use Clothes coedited by designer/Parsons instructor Timo Rissanen, whose work is featured at Columbia, was published last month.
As for the organization of the exhibition, Sandhu explains, it moves from provocative art pieces to tailored-for-the-industry garments. On the art end is a trio of Nick Cave's garments composed of deconstructed, thrifted men's dress shirts, and Maison Martin Margiela's jacket made entirely of recycled ski gloves. "I feel everything has to start as an idea or proposal somewhere," Sandhu says. "Sometimes it's at an exhibition or gallery.… Art can offer stimuli [for an idea] to become mainstream."
On the marketable end, Rissanen and designer Holly McQuillan, who co-curated YIELD, a concurrent zero-waste exhibition in New Zealand, both showcase pieces that utilize zero-waste pattern cutting. Using two heavily repaired bedsheets he inherited from his grandmother's dowry, Rissanen created a men's pajama suit—an example of both recycling and zero-waste pattern cutting. "The idea was to turn an item for sleeping into another item for sleeping, while continuing the long tradition of textile crafts in my family," Rissanen wrote in an e-mail.
McQuillan exhibits one women's and one men's outfit to showcase the use of embedded zero-waste pattern cutting wherein multiple garment patterns are incorporated into a single zero-waste pattern. Both designers display their work with the patterns used to create them.
The exhibition's setting at an educational institution couldn't be more appropriate. By showing designers' zero-waste work from across the spectrum—from avant-garde to easily marketable—the exhibition shows young designers and consumers what's possible. "The one thing we're all hoping for is for people to see the value in what they do," Sandhu says. "We need designers to think of fashion as good for you and not only just being pretty."
Averill and Bernard Leviton A + D Gallery hosts "No Waste/ZeroWaste" through April 16.