Old-school fitness
A blast from the past can get you fitter faster.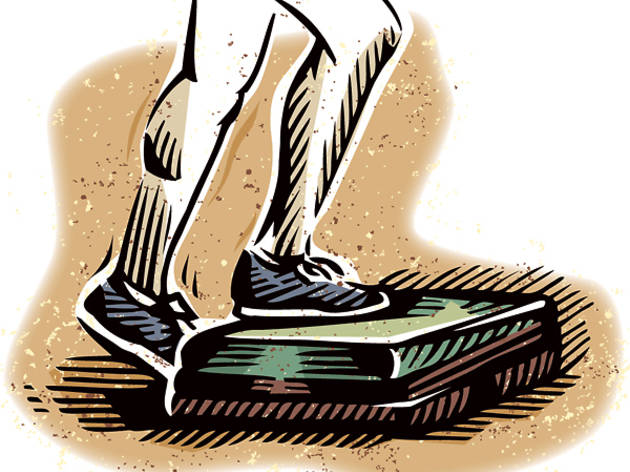 By

Liz Plosser. Illustrations by Jim Starr.
|
Like the Side Car, Manhattan, spiked punch and other cocktail relics of the past, old-school fitness tools like jump ropes, kettlebells and medicine balls are in the midst of a resurgence. Around the city, trainers and group-exercise class instructors are whipping a new generation of gym rats into shape with these old-fashioned tools.
MEDICINE BALL Established: 1000 B.C.
Stone spheres were supposedly used to condition soldiers in ancient Persia (they've been depicted in drawings dating back to 1000 B.C.), but these days medicine balls are 2- to 20-pound polyurethane or rubber balls used by exercisers to sculpt leaner figures. They've come in and out of fitness fashion over time, and they're in full force today—not just relegated to dusty corners of gyms, but in-demand at every sit-up station across town. Use them to enhance balance (catching a ball while standing on one foot, for instance, takes some skill and strong leg muscles), and for all-over toning.
Try it at MedBall Blast at Fitness Formula Club, Medicine Ball Madness at the YMCA, Cardio Sculpting at XSport
JUMP ROPE Established: 1600
According to the Jump Rope Institute—yeah, it exists—jump ropes originated in Egypt in the 1600s, and later spread to Europe, namely the Netherlands (medieval paintings depict children playing with them on cobblestone streets in Europe). Early Dutch settlers brought the activity to North America (perhaps where playground games of Double Dutch got their name), but the fitness version is a heart-pumping, calorie-torching workout when you jump rope at a speedy clip (20 calories a minute or about double what you'd burn doing a 10-minute per mile run).
Try it at Rope Burn at David Barton Gym, Extreme Cardio at the West Loop Athletic Club, Flyte Time at Evanston Athletic Club
KETTLEBELLS Established: 1704
The cannonballesque (with handles) weights have roots tracing back to Russian athletes—the first recorded mention is thought to be in a 1704 Russian dictionary. Kettlebells gained recognition as a weight-loss tool when they were featured in the (now-defunct) Russian fitness magazine Hercules back in 1913. Nowadays, fitness instructors and trainers use kettlebells for sculpting and weight loss via "functional movements." In other words, you might never perform a biceps curl in real life, but hoisting kettlebells should prep your body to handle the rigors of picking up Junior or your briefcase while chatting on your cell.
Try it at Kettlebell Training at East Bank Club, Kettle Club at Equinox Loop, Kettlebell Training at Pure Vibes Fitness
STEP Established: 1989
Fitness phenom Gin Miller is credited with creating "step aerobics"—a group fitness class wherein exercisers tap their feet and bound onto a step (elevated on risers) to get their heart rates up and sculpt a perkier booty and leaner legs—about 20 years ago, but the craze fizzled in the mid-'90s. Now step's hot again, with instructors leading students through (sometimes intense) choreography that's usually timed to 32 beats per set. Sets consist of a variety of moves, such as the "knee up" (four beats) and the—awww yeah—"repeater knee" (eight beats). Many group-exercise instructors also use steps for strength-training moves (think chest presses with dumbbells). Leg warmers no longer required.
Try it at Good Step at Cheetah, Straight Up Step at Bally Sports Club Century City, Step Jam at XSport
BEGINNER TIP
Ask a trainer to demonstrate how to properly grip and hoist the kettlebell for injury-free toning. You'll want some bend in your knees (to support and protect your lower back) and you should start out by holding the handle with two hands until you get the hang of it.