Pajama Jeans and the Forver Lazy
Pajama Jeans and the adult onesie, the Forever Lazy, compete to dethrone the Snuggie as this year's most ridiculous as-seen-on-tv product.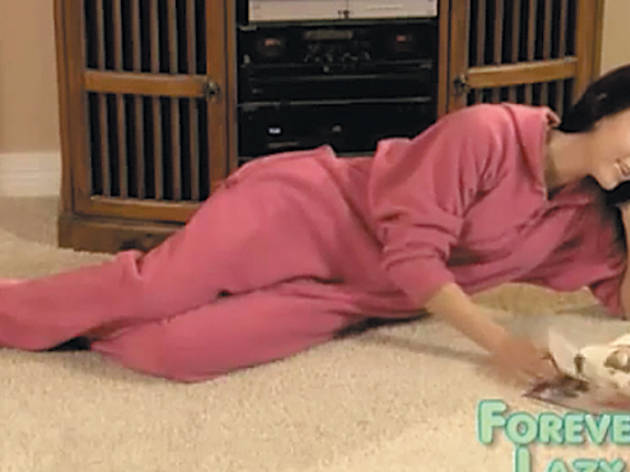 Pajama Jeans
What they are
Basically flare-leg cotton and spandex leggings made to look like jeans, complete with fake pockets and stitching.
Selling point
"Ordinary jeans are uncomfortable and leave marks on your skin!" "These are so comfortable you'll want to sleep in them!"
Varieties
Only one color and style, but available in eight sizes (including 3XL)
Comfort factor
Good for your legs, but where's the Pajama Jean Jacket?
Price
$40
What wearing them says about you
"I'm certainly not a slave to fashion."
Forever Lazy
What they are
A fleece, footless onesie for adults, complete with a zippered flap so you don't have to completely undress to go to the bathroom.
Selling point
"Turning up the heat costs money and wrestling with a blanket is silly!"
Varieties
From toddler to adult, available in gray, pink, navy and black.
Comfort factor
Head to toe, plus you get fleece socks for free.
Price
$30
What wearing them says about you
"I feel too distinguished wearing a Snuggie."
Verdict The Forever Lazy gets extra points for being available to men and women. And it's just slightly more ridiculous than the Pajama Jeans. Just like the one the Snuggie inspired, does anyone else predict a onesie bar crawl happening before the winter is over?