Pick-up new skills at these crazy classes
Become an even more well-rounded person by signing up for a wacky class in Chicago.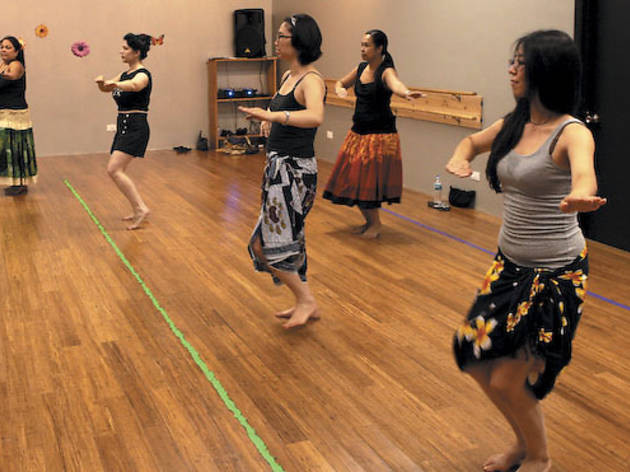 Burlesque
Get your groove back—or acquire it in the first place—at burlesque star Michelle L'amour's Studio L'amour, which bills itself as a "dojo for your mojo." In the basic burlesque class, you'll learn how to bump, grind and shimmy. Rawrr. 939 W Randolph St, suite 300 (312-243-6690, studiolamour.com). The next session starts Aug 20. $60 for four one-hour classes.
Aerial circus arts
You know that crazy circus trick where a dancer/gymnast climbs up a set of long ribbons of fabric and then wraps herself up in them to perform midair tricks? You can totally learn that. The Aerial Silks class at Aloft Loft begins by teaching you how to climb up the fabric and progresses to basic holds with your feet, hips and hands. Aloft Circus Arts, 2041 W Carroll, suite 306 (773-782-6662). Silks I is usually offered a few times per week, on weeknight evenings. Check website for upcoming sessions. $230 for eight one-and-a-half-hour classes.
Shamanic training program
Lead by Joan Forest Mage, the Shamanic Training Program introduces you to shamanism, which the Life Force Arts Center describes as "an ancient form of spiritual practice and healing through connecting to one's spirit guides." The basic "foundations course" features three all-day classes, one per month, starting with "energetic protection." 3148 N Lincoln Ave (773-327-7224, lifeforcearts.org). Classes are held from 9am–5pm on a Saturday or Sunday. The next session begins Sept 24. $125 per class.
Skeet shooting
A day of skeet-shooting instruction with Skeet Chicago includes the use of a shotgun and a picnic lunch. Say what? Shooters-in-training meet at the range, learn gun safety and the rules of the game of skeet, and then start shooting rounds, with the aid of individual instruction. Skeet-shooting lessons are offered on two or three Saturdays of each month. (312-316-7365, skeetchicago.com). Class meets at the gun range (an hour's drive north of Chicago outside of Racine, WI). Sept 3 is the next upcoming date. $175 per person.
Worm composting
Learn the ins and out of in-home worm composting (basically, a worm farm in a box—you put veggie scraps in and the worms turn them into compost) from the Urban Worm Girls, Stephanie and Amber. They give worm advice (and sell worms and worm bins) at the Independence Park farmers market in the Irving Park neighborhood every other Sunday through October 9. Check the online calendar for the next workshop at their Lincoln Park studio location. Urban Worm Girl studio, 1962 N Bissell St, No. 2 (773-335-4804). Workshop with three-tray worm bin and all materials (even worms!) is $150; attending the workshop sans supplies costs $25. Registration by phone or e-mail is required; e-mail info@urbanwormgirl.com.
Hula dancing
No grass skirt required—though bring a sarong if you have one. At Ohana Entertainment's hula dancing classes, you'll learn a mix of modern and ancient dances from Hawaii. You'll be in an island state of mind after learning steps like the classic hip-swinging kaholo step and the belly-dancing-esque ami gyration. Collective Dance Studio, 1730 W Fullerton Ave. (773-234-4857, ohanaent.blogspot.com). Tuesdays 7:30–8:15pm, $65 per session.