Profile: Harper Reed, chief technology officer of Obama for America
Meet the heavily pierced, jeans-wearing Chicagoan heading up tech for Obama's re-election campaign.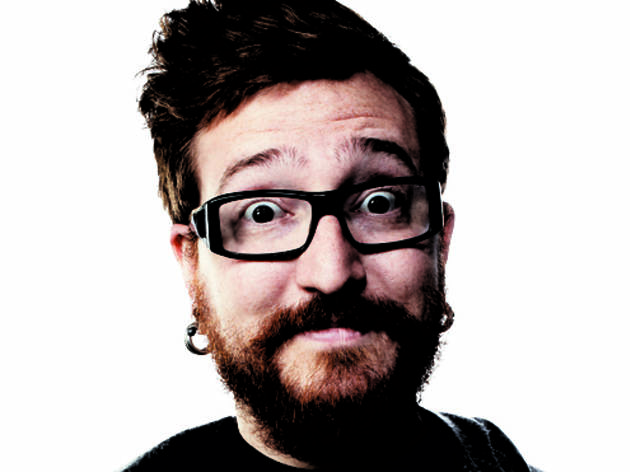 Quit your job.
Do your dream.
If it doesn't work, you can go to the park—it's beautiful outside.
If these ideas from 33-year-old Harper Reed, the freshly appointed chief technology officer for Barack Obama's 2012 reelection campaign, seem unrealistic, consider his story: In 2009, Reed resigned as the CTO of local T-shirt start-up Threadless, despite the fact that the company's sales were skyrocketing. Reed had other plans. He wanted to found his own technology start-up, with one important qualification: It should last forever.
That a tech company could be eternally sustainable goes against everything we know about 21st-century technology: its trendiness, its fickle lifespan, its tendency to become quickly démodé. With friends calling his ambitions crazy, Reed set out to assemble a business. First step: Compile a dream team of engineers, technology buffs and folks knowledgeable in venture capitalism.
Reed began consulting with companies like Rackspace, an innovative cloud-based website host, and Sandbox Industries, a forward-thinking venture capital company known to fund hundreds of tech projects in their early stages and then launch the best few. He worked on products such as ctaalerts.com, which tracks transit delays and other CTA notifications. And he networked. Reed's mantra: "Constantly surround yourself with people who are smarter than you."
Through a mutual friend, Reed met Michael Slaby, chief integration and innovation officer for the Obama campaign. Reed began e-mailing Slaby, connecting him to a bevy of technology people who could help the campaign, which he believed was a worthy cause. He got more and more involved. By April 2011, his plans to build an indefatigable start-up were put on hold.
On June 1, 2011, Obama for America announced that it hired Reed as its CTO. Speaking with us on the phone from Obama campaign headquarters, Reed says his interest in the campaign started with a fascination with Barack Obama, whom Reed sees as a cool, down-to-earth revolutionary. "I remember seeing him on the street around, probably before, 2004, walking to the El, and just thinking, 'Wow, this is something else.' "
Reed admits he doesn't see himself as a typical campaign person—he wears jeans, he has multiple piercings, and he says political speak is foreign to him. "This was an opportunity to kind of pause that and do something that was a little bigger and honestly, better for the entire country," he says. But Reed does not see the campaign as a huge divergence from his business interests. It takes the same unflinching optimism. "It's a lot like start-ups," Reed says. "It's very fast-paced, and all you have is a dream or a movement that you're struggling toward. [With the campaign,] your product happens to be someone you believe in."
Right now, Reed is helping to assemble a team of engineers and technology experts who will work on mobile, social networking and social community platforms to help Obama's reelection chances. The campaign remains tight-lipped on its new hire's specific job duties, but the role holds a decidedly different focus than a tech start-up: It's people-driven, not technology-driven. "There are people all over and they're really kind of powering the movement. And so we just have to propel them forward," Reed says. "Whereas with the technology company, the technology is what we're propelling forward."
He frequently uses words like teambuilding and managing, conjuring chaotic images of hierarchies, delegating and building organizational infrastructure. "We're pulling from all the corners of the technology spectrum to try and bring this together," he says.
Reed says he's been waiting for this higher calling for years. But for now, he does not plan to push his start-up plans off course. ("It seems like the White House demands suits," Reed quips.) While he works tirelessly for the campaign, checking e-mails in the middle of the night or during dinner with his supportive wife, he says he still has one eye toward a start-up. After all, campaigns have an expiration date, and Reed had been looking to build a company that lasts forever.
For all Reed's enthusiasm over abstract concepts, his former employer, Sandbox cofounder Nick Rosa, says Reed's best skill is "creating a business model around a technically based product." In other words, understanding how to make money from a cool idea. Until the Obama campaign snatched up Reed, he spent three days a week helping Sandbox suss out what technologies and start-ups were sound investments.
As for Reed's pie-in-the-sky goal, Rosa gives us some insight. "Harper was interested in reputation management," he says, explaining that Reed talked about creating a company that would help an individual or a business wanting to track and improve its online reputation. That is to say, Reed again wants to take on the greatest problems with 21st-century technology: its trendiness, its fickle lifespan, its tendency to become quickly démodé. "That's what he was trying to solve," Rosa says, with a pause of resignation. "And he probably will."