Heads up! We're working hard to be accurate – but these are unusual times, so please always check before heading out.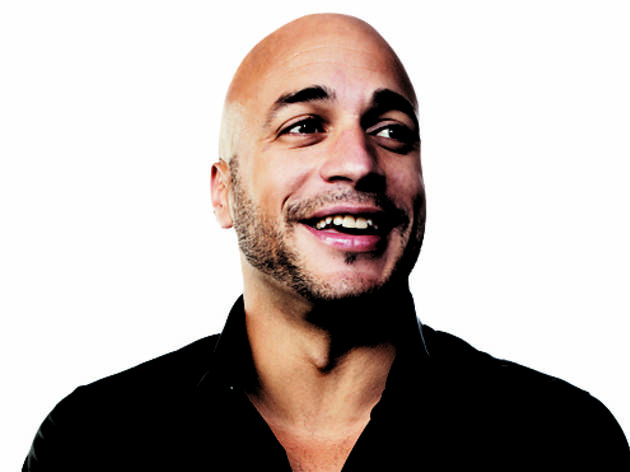 Profile: Jackson Miranda, White Sox manager of cultural development
Meet the man spearheading a new role for the Sox.
It was a steamy summer night in 1998, and Jackson Miranda was on a train to Saitama Prefecture, Japan, headed back from watching a track meet in Tokyo, 15 miles away. Having moved to the country weeks earlier, with only a year of college Japanese under his belt, he was already feeling uneasy about living in a region where few people spoke English. Halfway home, the train stopped.
RECOMMENDED: Chicago White Sox baseball guide
"The conductor says [in Japanese], 'Okay, we're done for the night,' " Miranda recalls. "I said, 'What do you mean you're done for the night?' "
Stumbling over a limited vocabulary to figure out where he was and how to get a taxi, fear raced through Miranda's mind: Am I going to get home?
He made it without incident. But it's a story he thinks of a lot these days. In November, Miranda, 36, was hired as the first manager of cultural development for the Chicago White Sox, in charge of helping Latino players transition into American culture—whether it be deciphering train travel, learning restaurant etiquette or setting up personal websites. "Other teams have interpreters, but that's their job and that's it," he says. "I do interpret after games or before games, if there needs to be an interview. But [White Sox general manager] Kenny Williams wanted to take it a step further."
A scrappy kid who grew up blocks from Shea Stadium, Miranda spent the first five years of his life in the Dominican Republic. "The way I learned English was by being out on the streets [in the Bronx] and coming home and seeing my mom and saying, 'Look at the words I learned!' And she said, 'Those words, you don't use,' " he says, laughing.
After receiving a full scholarship to a college-prep school in Rome, Georgia, getting his bachelor's degree from the University of North Carolina–Chapel Hill and doing the four-month stint in Japan, Miranda moved to Chicago in late 1998 to be near a cousin. He started clubbing, befriending Narcisse owner Jerry Suqi and learning how to bartend. He introduced his cousin and Suqi, who together opened restaurant/nightclub Sugar: A Dessert Bar in River North. There, Miranda worked his way up to general manager of servers. Then, to manager of Funky Buddha Lounge in River West. Then, Bella Lounge in the Gold Coast. Two years ago, he left Bella to help open Elate in the Hotel Felix.
Meeting celebrities was part of the job. Kanye West and 'N Sync, who performed at Funky Buddha. Michael Jordan, who frequented Bella. And local sports figure Williams, who went everywhere. "We got to be good friends," Miranda says. Last year, Williams approached him with the job offer. Miranda says it's nice to work with someone he knows and trusts, but he cautions job seekers not to establish friendships with the goal of professional gain: "There are trade groups for that!"
"I've gone through not knowing English [when I moved to New York]. I did Japan," he says. "I went through, to a small extent, what some of these guys are going through. You've seen [the culture] in movies, you've seen it on TV. But once you're there, it's like the survival of the fittest. You have to try to figure it out. [I tell the players] 'Hey, I went through some similar things, and I want to make this a smooth transition for you, so I don't want you to feel like there's anything you can't ask me. Anytime, whenever it may be, just call me up.' "
Miranda's easygoing smile and constant chuckle have made him fast friends with shortstop Alexei Ramirez and minor leaguer Dayan Viciedo, the main players Miranda works with as he defines his new role for the Sox.
When he took Ramirez to restaurant La Scarola early in the baseball season, Miranda walked Ramirez through the menu, pointing out unfamiliar words ("poultry means chicken") and talking him through the typical layout (appetizers, salads, entrées). They ended with a lesson in American tipping customs.
The men text frequently, but only in English. And they chat in English before and after every game. Miranda travels with the team, leaving his family behind for ten-day stretches—a schedule he says is still better than the nightclub biz, when he wouldn't get home on some nights until 6am.
"Do I miss being the boss and calling the shots? I definitely do," he says. "But I feel that I'm contributing to something bigger. The Latin market in baseball is growing, and I'm in the unique position to help that market continue to grow."
Miranda also likes the feeling of being part of a team instead of the guy who has to yell at one. He knew to lay low at first: "You have 25 guys about to get out on the field. You don't want to disturb their usual routine." So he quietly observed, gradually building a "great rapport."
"When they see this in the locker room," he says, pointing at a black eye he got from tumbling off a paddleboard in Miami, "they're going to give it to me. I don't even want to think about the stories they're going to come up with."