Remedies for smelly summer shoes
We've found some simple DIY tips that will help you get rid of smelly shoe odor.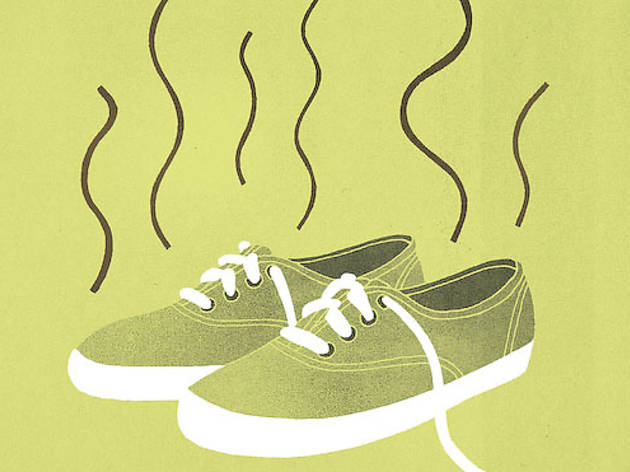 This happens to me every summer: I wear my canvas shoes almost every day without socks and they become so smelly, I can barely stand it. That means the people around me must be gagging as well. What can I do to fix this (other than just throwing them away and buying a new pair)?—Paul B., Logan Square
We hear you. Smelly summer shoes make our "top three worst things of summer" list (the other two are sunburns and accidentally being in Wrigleyville as a Cubs game lets out). We reached out to Aaron Firestein and Raaja Nemani, cofounders of local canvas shoe line BucketFeet, for some pro tips. Shoes get that odor because you're not wearing socks and there's nothing to absorb the sweat from your feet, so they recommend wearing no-show ankle socks. You can't go wrong with classic sock brand GoldToe, and we like the no- show loafer liner sock ($19 for a three-pack at amazon.com). Of course, that's more of a preventative tip. You could always throw your sneaks into the washer and let them air dry (make sure your shoes are durable enough to survive the washing machine—leather boat shoes aren't a good idea here). We've seen some other DIY tips work, too. We put scented dryer sheets in our shoes whenever we're not wearing them, and the stench is usually kept at bay. If you want something stronger, opt for a sock filled with scented kitty liter to absorb the odor. Or, you could always put any shoe style in a Ziploc bag and throw them in the freezer overnight. The smelly bacteria freezes—and doesn't return even when the kicks return to room temperature. And with these 90-plus degree days we've been experiencing, cold shoes actually might be refreshing.
Have a shopping and style conundrum? E-mail us with "personal shopper" in the subject line at shopping@timeoutchicago.com.