Rogue Empire
Lakeview designer Keelan Andrews takes old ties from the 1970s and turns them into wallets.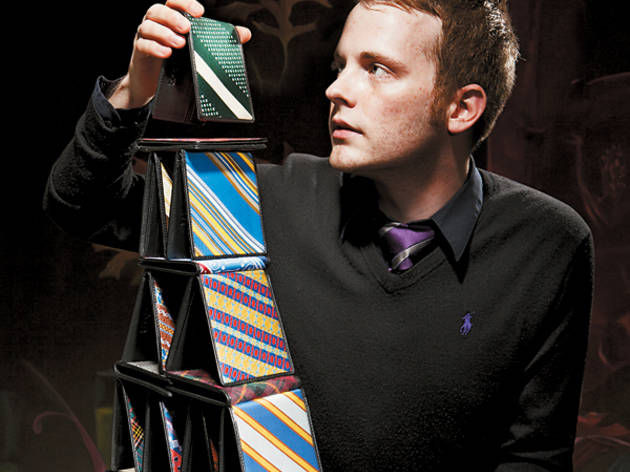 What it is A collection of one-of-a-kind men's wallets made out of vintage fabrics featuring interesting patterns.
Who he is Keelan Andrews didn't formally study design. Instead he learned how to sew from his mother, who owns a bridal salon in Portland, Oregon. When the 24-year-old moved to Chicago in the summer of 2009, he decided to dive into the world of professional wallet making. He was inspired by wallets in London. "I was at a street market and saw wallets made from laminated comic books," he says. "I liked them but didn't like that they were plastic." He made a wallet using fabric from an old suit, and Rogue Empire was born. (Rogue is Andrews's middle name, by the way.)
What he makes No two wallets ($46 each) are alike, so Andrews is constantly on the lookout for interesting fabrics. Thanks to his day job with United Airlines, he travels a lot and has access to thrift stores around the world. He also buys vintage ties from a guy in Oklahoma who has a warehouse full of them. "Those loud patterns don't really work on suits and ties anymore, but they're cool in smaller doses," he says. Andrews started selling online (on sites such at Etsy) and the line immediately took off. After spending much of the summer of 2009 holed up in his Lakeview apartment sewing, he decided to outsource the assembling to a company in Hong Kong. The durability of each wallet is enhanced with black cowhide leather that's double-wrapped and double-stitched around the edges and makes up the interior. In the future, Andrews plans to branch out with passport covers and iPad sleeves, as well as wallets and clutches for women.
Where to find it The Inkling Shop (2917 N Broadway, 773-248-8004), Brimfield (5219 N Clark St, 773-271-3501), Flight 001 (1133 N State St, 312-944-1001) and therogueempire.com.