Seadog Extreme Boat Captain
A master of the 360 and king of the nosedive, John Dolan is the guy at the wheel of Lake Michigan's fastest joy ride.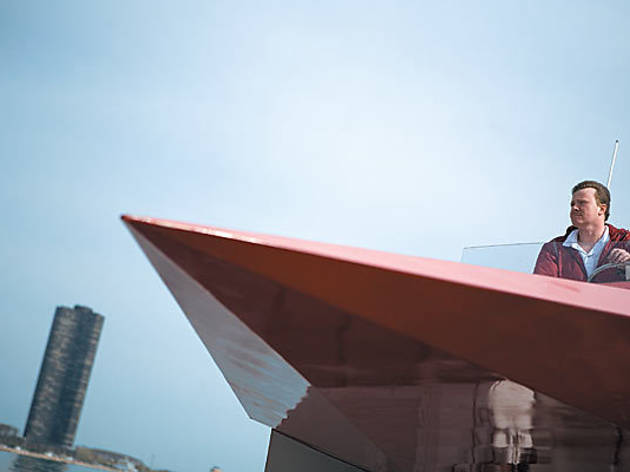 Who he is He may have graduated from film school at Columbia College this spring, but John Dolan, 24, still isn't sure when he'll give up the summer job he's held since high school: boat captain with Entertainment Cruises, the Chicago-based company whose fleet of dinner yachts and tour vessels is docked along the south wall at Navy Pier. The Uptown resident is most frequently at the helm of Entertainment Cruises' newest baby, the $1.5 million Seadog Extreme, a jet-powered megaspeedboat now entering its second summer as the ticket of choice for thrill-seeking tourists. With the warmer weather here to stay, summer boating season has officially launched.
The daily grind Once a high-school football star, Dolan took the job with Entertainment Cruises after a knee injury sidelined him. "I couldn't do two-a-day practices in the summer anymore," he says. "My sister knew one of the Seadog captains, so I got a job as a deckhand there." He worked on the various boats in the Entertainment Cruises fleet, and for a while he drove water taxis for a different company, Shoreline. But he's spent the most time on the Seadog boats—the original yellow Seadog and its amped-up newer sibling, the fiery red Seadog Extreme. In the winter, he works part-time at the company's South Side boatyard. "It's pretty weird there," he says. "The boats are all shrink-wrapped in the off-season, and it's like a giant maze. We do upkeep. It can be brutal, sitting outside in the cold prepping boats and painting voids [below-deck storage spaces]."
Controlled chaos "The 5 boat [as the Seadog Extreme is called by the crew, in keeping with its order of entry into the fleet] is the only jet-propelled vessel on the lake, so it's a little harder to steer," says Dolan, one of only a few captains in the company with the 100-ton license necessary to get behind the wheel. "It can do so many amazing things," he adds. "It can do a standing 360 and sharper turns, and it's more aerodynamic. You can feel the difference in the acceleration. It's fast." The Seadog Extreme—which goes through 20 to 30 gallons of diesel fuel in a single outing—is a cinch to handle in open waters, Dolan says, but "when you're in close quarters or trying to dock it in high winds, that's when you really earn your money."
Lake burn "We usually do a pretty good job of getting people to stay in their seats, but there are always a few who will try to stand up," says Dolan, who does four to five safety drills per summer with the Coast Guard. "Especially around the 3rd and 4th of July, when some people have had way too much to drink, they get crazy!" But usually, he says, he's just as happy as his passengers to be there. "I'm big into Chicago," he says, "so I love representing the city to visitors." Any other potential job hazards? "I'm 100 percent Irish. The palest skin you'll ever see. My sister's always telling me to put on more sunblock."
The long haul Dolan recently spent several months in L.A. doing an internship and exploring his options in the film industry, but the pull of Lake Michigan with the skyline in the distance proved too strong. "Some of my best friends are here at Seadog," he says. "It's a tight community. And I love being outdoors." So, how much longer will this seven-year "summer job" last? "I can see doing it for a few more years," he says. "Or maybe longer. Who knows, it could be my career."