Secret sales in Chicago
Time Out Chicago is offering secret sales at a handful of Chicago shops—just for TOC readers.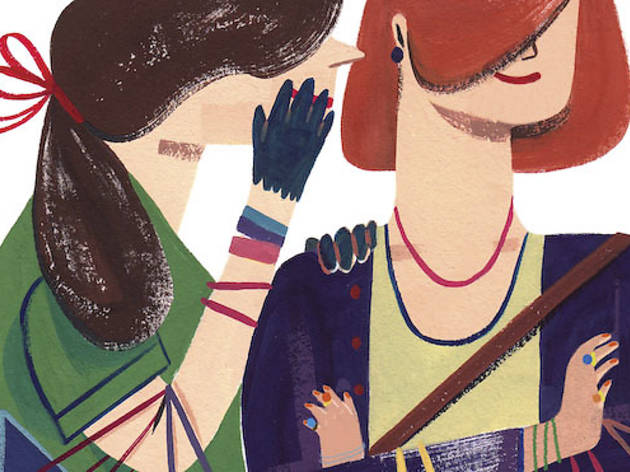 Art Effect This Lincoln Park mainstay is the perfect spot for picking up a birthday or hostess gift. But the store also offers a nice selection of women's clothing in addition to a great array of gifty items. Now's the time to check out the threads, because this week's secret word will get you 15 percent off new spring dresses. 934 W Armitage Ave (773-929-3600).
Binth This local company recently opened its first brick-and-mortar in Forest Park. The shop offers a variety of toys, jewelry, bags and hand-crafted furniture pieces. But Binth posters are one of the standouts in the shop—and they're 25 percent off when you mention TOC at checkout. 7507 Madison St, Forest Park (312-243-7326).
CityBlue Apparel & Denim This Old Town shop recently revamped its offerings and includes a nice variety of lines including Citizens of Humanity, Ricj & Skinny, Just a Cheap Shirt, Ella Moss, C/Fan and more. Check out the selection and enjoy 15 percent off your purchase when you mention Time Out Chicago. 1444 N Wells St (312-664-2222).
Dr. Martens Haven't checked out the new Dr. Martens shop in Wicker Park yet? Now's your chance. The fun footwear company is offering TOC readers 20 percent off regular and sale items (excluding For Life products). Come for the cool shoes (we're still all about the Triumph Black Harvest boot) and stay for the photo booth. 1561 N Milwuakee Ave (773-489-5499).
The Edit You could go to a store with an overwhelming variety of options, or you could go to a boutique that focuses on exactly what your wardrobe needs. Store owner Morgan Gutterman fills her Bucktown shop with a carefully curated collection of women's apparel and accessories. You'll get 20 percent off your purchase just for mentioning Time Out Chicago. 1917 N Damen Ave (773-252-3350).
Genevieve Lethu Did you know Genevieve Lethu's Chicago outpost is the French shop's first U.S. location? The store carries the company's signature bold-patterned dinnerware as well as porcelain teapots ($99–$128), wine decanters ($55–$137), place mats and napkins ($9–$26) and stainless-steel Le Creuset cookware ($91–$329 apiece). Mention TOC and get 15 percent off. 900 N Michigan Ave (312-423-9948).
Jonathan Adler With products ranging from midcentury mod–inspired to downright cheeky, Jonathan Adler has an item for every home. This downtown store is bursting with ceramic vases, bedding, velvet sofas and geometric patterned rugs. Visit the store this week for 20 percent off in-stock pottery. 676 N Wabash Ave (312-274-9920).
Karen Millen U.K.-based designer Karen Millen launched her namesake label in the early 1980s as a line of simple white shirts. You'll find much more than that in the brand's 14th store—and first one in the Midwest. Millen now features a variety of glam, day and night investment pieces for women-about-town. And this week, you'll also find 15 percent off full-priced items—just for TOC readers. 900 N Michigan Ave (312-867-1760).
L.K. Bennett The Middleton sisters love this high-end British chain for its dressy options and stylish accessories. You'll love it for the special TOC discount. Mention this magazine, and you'll get 15 percent off the following: The Anna bag (in black), the black Tricia dress and the black Romance shoe. 900 N Michigan Ave (312-374-0958).
The Left Bank Chicago brides-to-be flock to this Lincoln Park spot for elegant headpieces, shoes and jewerly. But you don't have to be planning a wedding in order to endulge here. Check out the nice selection of jewelry and French-inspired gifts—and enjoy 15 percent off when you say TOC sent you. 1155 W Webster Ave (773-929-7422).
Leftoftrend.com This local website showcases many great emerging Chicago apparel and accessory designers. Featured designers have included BucketFeet, K.Amato, Work Custom denim and more. See something you like here? Add it to your cart and enjoy free shipping with this promo code: TOC.
Preggers A while back, Preggers owner Emily Raisher told us about some must-have items at her maternity shop. "We have this really cool baby briefcase, and it organizes all the child's paperwork like immunization forms and the birth certificate," she said. "Another great gift is a Sleep Sheep. It's a sound machine that you hang on a crib that plays the mother's heartbeat, rain and wind." Scoop up these items (and more) this week and you'll get 10 percent off your purchase. 900 N Michigan Ave (312-943-6262).
Roy's Furniture Finding a new, reasonably priced sofa that's either (a) not from IKEA or (b) scored off Craigslist is a near-impossible task. Which is why folks who shop at this locale tend to become Roy's evangelists. The nearly three-decade-old furniture showroom features furnishings from more than 40 vendors at deeply discounted rates. And now you can save even more money. Mention TOC, and you'll get $50 off any item priced $500 or more. 2455 N Sheffield Ave (773-248-7878).
Sarca Alexis Cozzini loves the feeling of discovering a fashion find on vacation and knowing that no one else back home will have it. And that's the vibe she's going for at this Gold Coast boutique. The upscale women's clothing shop is packed with exclusive lines from all over the world. Whisper Time Out Chicago for 10 percent off, which pretty much means you won't be paying sales tax. 710 N Wabash Ave (312-255-0900).
Sebastien Grey When it comes to finding well-fitting clothes, Chicago guys have plenty of options. Find Sebastien Grey Clothiers in three Halo [For Men] salon locations—the Loop, South Loop and Lincoln Park. This company relies on the talents of three tailors to create custom shirts, pants, vests, suits, overcoats and more. This week, the secret password will grant you 20 percent off your purchase as well as a free gift that includes collar stays, silk cuff links and a pocket square. The shop takes walk-ins, or you can make an appointment. 654 W Diversey Pkwy (773-486-4646).
Suburban Secrets She may be young, but 23-year-old store owner Lisa Cipriani is a third-generation antiquer, so she surely has some tips when it comes to scoring awesome vintage finds. This Lakeview shop features retro clothing for men and women, as well as furniture, accessories and collectibles. Mention TOC and get 15 percent off your total purchase. 1117 W Belmont Ave (773-567-7278).
Threadless The graphic T-shirt craze isn't ending any time soon, so consider this secret sale license to stock up on another shirt or two. The offerings change every week at Threadless, so you're always guaranteed something new. And because you're a TOC reader, you're also guaranteed 20 percent off your purchase. 3011 N Broadway (773-525-8640).