Steal this decor | Dresser counter at Grange Hall Burger Bar
We love Grange Hall Burger Bar's counter made out of dressers. Here's how you can make one.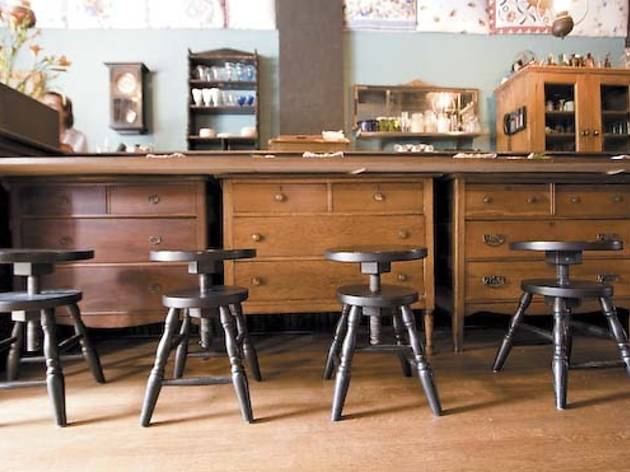 The grass-fed, naturally raised, hormone-free burgers at Grange Hall Burger Bar (844 W Randolph St, 312-491-0844) are delicious and all, but the country-cute decor is what really has our mouths watering. We like the quilts on the walls, the patterned wallpaper and especially the bar/counter area made up of antique dressers. Angela Lee, who owns the restaurant with her husband, Chris, says the idea came from the restaurant's designer, Amelia Briske, Angela's identical twin. "We have a small restaurant and have very little room for storage," Lee says. "After visiting New York, where they use every inch of space for shelving and storage, I requested that our walls and furniture also function as storage." Briske saw two dressers sitting next to each other at an antique store in Michigan and got the idea to create a bar using dressers. "They double as countertop support and storage for our paper supplies for the dining room," Lee says. If you want to create the look at home (a couple of thrift-store finds could work as a kitchen island or a serving area in the dining room), Lee advises putting a solid piece of finished wood across the top. "You want to make it a wipeable, smooth surface without the cracks between the dressers," she says. Also, make sure the dressers are close in height. Lee likes the vanity-style dressers with two smaller drawers on top and two longer drawers underneath. If your apartment is short on space, you could always just use one dresser. Who says a dresser needs to stay in the bedroom?