Steal this decor | Penny Lane salon
We're loving the shelves made out of vintage suitcases at Logan Square's Penny Lane salon.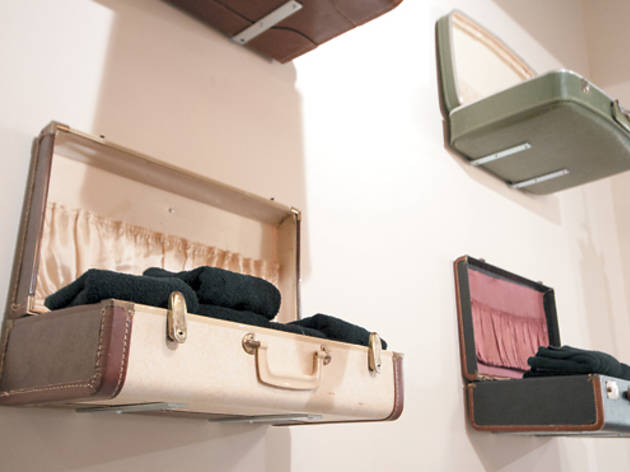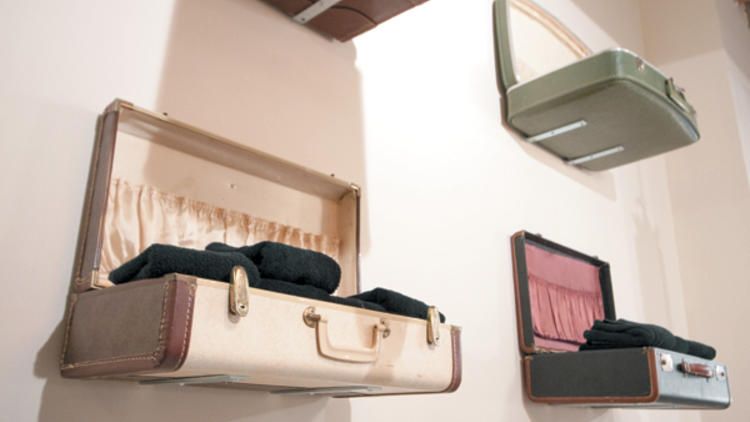 When we visited Penny Lane last month, one design element in the Logan Square salon especially caught our eye: a wall featuring suitcases fashioned as shelves. We had to ask salon co-owner Christine Conley for more details. "I found four suitcases at a garage sale, and the lady sold me them all for $10," she says. At first she didn't know what she was going to do with them, but inspiration struck during Penny Lane's build-out process when she realized the suitcases could work as shelves for towels. "I figured it was either going to look really stupid or really awesome," Conley says. Luckily, it wasn't the former. In fact, we think it could make for an interesting shelving unit in a home. Conley says in order to make them work, she had to cut the suitcases in half. She drilled the top portions onto the wall and then hung the bottom halves underneath using L brackets. Of course, the key to making this look cool is finding the right type of luggage. You'll want to stick with vintage (-looking, at least) suitcases, and Conley says they need to have durable, hard shells. "A floppy suitcase would just look silly," she says. Something else to keep in mind is the lining in the suitcase. "Definitely check the inside and make sure it's not ugly, cause then you'll have to re-line," Conley warns. L brackets are affordable (you can get them for less than $5 at places such as Home Depot), and if you can find a similar deal on vintage, this home-decor project can cost you less than $20.