StyleSeek
Two MIT grads, a fashion prof and a fashion blogger collaborate to create a Pandora for men's style.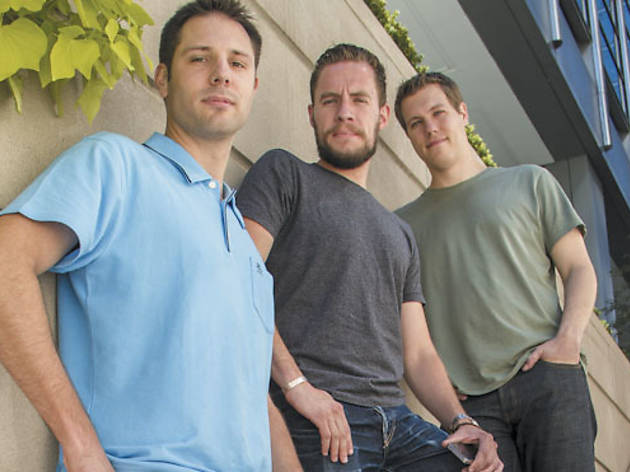 Chicago-based online company StyleSeek operates like Internet music station Pandora—but for men's style. Enter some basic information about your aesthetic preferences, and the site uses an algorithm to assign you a customized "StyleDNA," a recipe the site uses to help guide your buying choices and exposure to lifestyle brands. Within ten days of launching in beta a month ago, the site had more than 10,000 subscribers.
Chris Walti, 31, and Tyler Spalding, 32, had the idea for a concept like StyleSeek while in business school together at MIT two years ago. "The initial kernel was the challenge for men to buy clothing online," Walti says. "There were no resources out there to help us [navigate men's fashion]. We worked backwards and addressed that opportunity. It was a market pull and technology push."
They presented the project at MIT's T=O, a conference championing entrepreneurship, and impressed Internet entrepreneur and philanthropist Mitch Kapor, who was seated in the front row during their demo. A few months later, Kapor became the lead investor, and the guys ended up with a total seed round of $1 million.
The StyleSeek team came together through smart networking. When Walti and Spalding, who moved to Chicago after graduating, started looking for style experts, Walti's friend, local fashion designer Lara Miller, suggested they reach out to her acquaintance Ryan Plett, a consultant and established men's fashion blogger (youhavebrokentheinternet.blogspot.com, travelwelldocumented.com). Walti also tapped his friend on the West Coast, Fashion Institute of Design & Merchandising professor Brian Hawkins. The guys not only bring different skills to the table—Spalding as CEO, Walti with customer and retail relations, Plett as creative director and Hawkins spearheading marketing and the general evolution of StyleSeek's content- and product-mapping—they also fall on different points on the style spectrum.
"Tyler is the bare necessities kind of guy. He wants to find it and wants to find it quickly," Plett says. "Chris cares about style and wants to find it but doesn't know how. I care about style on another level. I actively seek out brands and their stories." Their target demo, he explains, is the everyday guy on the street who wants to look better but doesn't read fashion blogs or know where to start.
Here's how the site works: For now, while the site is in beta, you sign on to styleseek.com for free, register your e-mail address and wait for approval (after they've worked out kinks on the back end, members won't need approval). Once you're in, you select from nine screens of lifestyle images that speak to your style. For instance, you might choose a vintage Mercedes, a picture of a surfer and a Timex watch. After you've completed the "game," the StyleSeek algorithm spits out your StyleDNA, essentially a recipe for your preferences. The algorithms take a variety of criteria into consideration—including your choices in the survey and the amount of time it takes you to complete it. The resulting StyleDNA is a reflection of the unique way in which those factors interact and combine; each guy who signs up for StyleSeek will end up with a different profile. Every time you log on, that StyleDNA will determine which images populate your screen. The staff, now ten full-timers strong, is constantly uploading new stories and products daily (at least 20 new blog posts culled from the blogosphere and 50–60 new products with links on where to buy them).
Once you have your StyleDNA, you can navigate the site using three tabs. The Explore tab sends you to stories from bloggers, shops and occasionally the site's own editorial content. This is for the user who's interested in the story behind, say, the Tennessee-based artisan who hand-makes his leather belts. You might find a blogger touting the beauty of Filson's waxed canvas bags, but you could also discover a tour of a home in the Netherlands or an obscure bottle of Templeton Rye. Then there's the Buy tab, which features products for sale and links to e-commerce sites where they can be purchased (StyleSeek makes its money from affiliate sales), accompanied by similar product options, related stories and ways to "complete the look" with accessories and other garments. The Brands tab identifies brands the site thinks you'll like based on your DNA; items are pulled from the database along with related stories that mention the brand.
"The general idea is to show guys there's more stuff out there," Plett says. "Guys tend to stick to what they're used to, but maybe there's a better-quality, better-price option out there." A guy searching for an alternative to Ray-Ban, for instance, will find StyleSeek's recommendation for American-made Randolph Engineering sunglasses.
As of this week, users can opt to share their StyleDNA with friends through Facebook and Twitter and static links on blogs. And you can check out the StyleDNA of a growing number of influencers, so you're essentially shopping as they would shop on StyleSeek. Like GQ editor Sean Hotchkiss's look? Click on his picture and you'll find all the knit beanies, tweed jackets and taxidermy you could dream of.
While the focus is on men's style for now, the founders hope to expand further into the lifestyle arena with travel and womenswear sites. Ultimately, Plett says, "we want to be that stylish friend who you can always ask where to go."