Thai food value: Embeya vs. ATK
What difference does price make?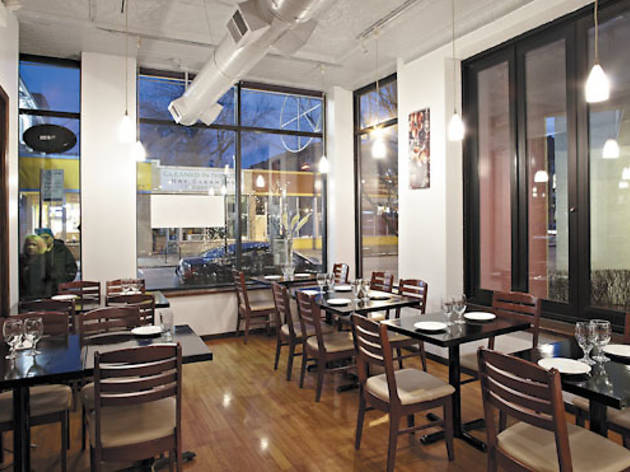 1/2
Photograph: Jason Little
Interior of ATK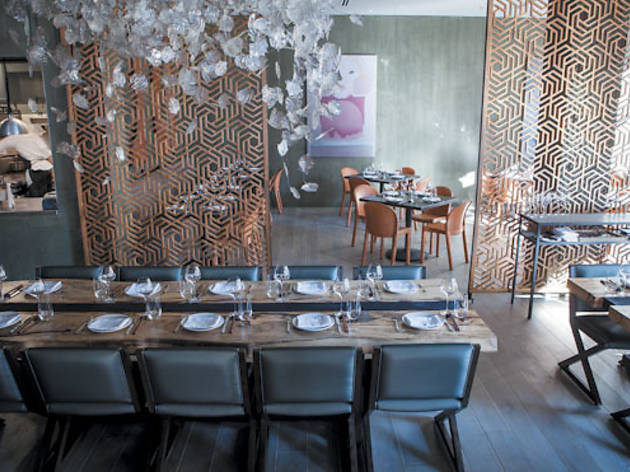 2/2
Photograph: Martha Williams
Embeya
ATK (946 W Wellington Ave, 773-549-7821) • Embeya (564 W Randolph St, 312-612-5640)
DESIGN
ATK Workhorse tables and chairs; white walls; dropped ceiling. It looks like every other neighborhood Thai joint in town.
Embeya Carved teak panels, urchin-inspired light fixtures and moss-green walls combine for an effect of classy sexiness. Designed by Karen Herold of 555 International.
Winner Embeya
SERVICE
ATK Mostly sweet. Sometimes a little sassy. Sometimes a little slow.
Embeya Practiced and patient. Also: vested. (As in, the bar staff wear vests.)
Winner Embeya
PAPAYA SALAD
ATK Which one? ATK offers five of them. They range from the familiar to the deeply funky (the latter features mudfish curd), but all of them exhibit crunch and addictive sweet/tart flavors.
Embeya A crisp, sweet and punchy Vietnamese-style papaya salad, with tiny bites of beef jerky here and there.
Winner ATK, by sheer ambition.
ENTRÉES
ATK Stir-fried Chinese broccoli with crispy, chewy chunks of pork belly. Expertly made pork-and-rice sausages. Silky tom kha soup. A crazy—and crazy flavorful—salad of fiery-and-cool blue crab.
Embeya Huge, fall-apart ribs glazed in a sweet, sticky sauce. Creamy mussels in a sweet coconut-milk broth. A simple chicken dressed in scallion oil.
Winner ATK
DESSERTS
ATK Sticky rice. Asian fruits (sometimes).
Embeya Better sticky rice. Better Asian fruits.
Winner Embeya
DRINKS
ATK It's BYOB.
Embeya A full wine list and lackluster craft cocktails. Bonus: The Kimchi-back, a delicious shot of kimchi juice.
Winner ATK
PRICE
ATK 90 percent of the menu costs less than $10. The high-ticket items are about $14.
Embeya Small plates (shareable appetizers) range from $8–$16; the large plates (you'll need one per person), $15–$34.
Winner ATK
OVERALL WINNER ATK