The future of Fashion Focus
Is the weeklong celebration of Chicago designers in danger?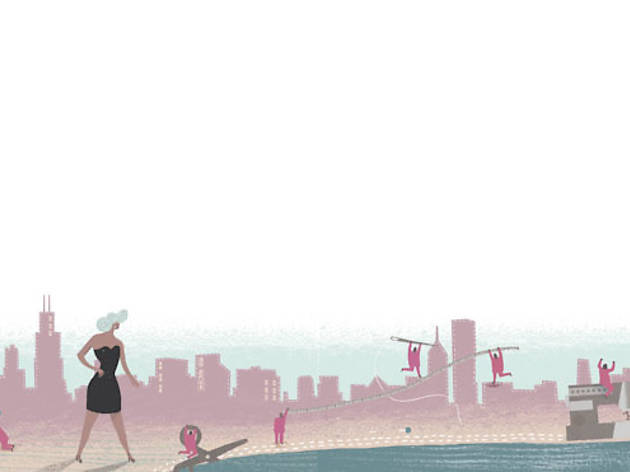 The news came in the middle of June: All of the roughly 90 members of the Chicago Office of Tourism and Culture were being let go. And by June 11, Kiran Advani's Facebook page was flooded with comments wondering where the "superstar" would go next. Advani, the COTC's highly energetic fashion programming director, was the driving force behind Fashion Focus, a week every October that celebrates Chicago designers with runway shows in Millennium Park and trunk shows around the city. The shuttering of her office leaves the Department of Cultural Affairs and Special Events, a 70-person team already responsible for events like Taste of Chicago and the World Music Festival, in charge of city fashion programming.
The loss of Advani, an enthusiastic, well-connected director who had only been in the role a year, is a blow. So are recent budget cuts: Pre-recession, the city's budget for Fashion Focus was about $400,000, comprised of city funding, grants and corporate contributions. Since 2009, the event's budget has been about $70,000. (Insiders also say Mayor Emanuel doesn't have the emotional connection to fashion that former Mayor Richard M. Daley and his late wife, Maggie, had—although Emanuel's wife, Amy Rule, has been spotted wearing dresses by Chicago designer Melissa Serpico Kamhout.)
But some designers say that since its inception, Fashion Focus—while high-energy and fun—wasn't delivering on the city's ultimate goals: to help local designers make their brands profitable, and to turn Chicago into an international fashion destination. Can the city's new fashion leaders effectively address those concerns?
Chicago's focus on fashion started in 2005, when then-Mayor Daley saw the Toronto Fashion Incubator, a network of support for Canadian entrepreneurs. Dreaming of turning Chicago into a global fashion center, Daley created the Mayor's Fashion Council as an advisory committee to partner with the Office of Tourism. He appointed a volunteer board; the council was cochaired by publicist Carrie Lannon and designer Orlando Espinoza. (Silk tie designer Lee Allison chairs the council today, though the group has gradually become less involved in planning Fashion Focus.)
Former board members say the council was charged with a dual mission: increase visibility for local designers and make Chicago a fashion destination—similar to how the city has grown into a foodie mecca. Daley hired Melissa Gamble, a freelance fashion-event producer with a degree in fashion marketing and management, as director of fashion arts, a new position in the Office of Tourism, to work with the council and oversee fashion marketing. But the two missions never quite meshed, according to Fashion Council board members. Should they focus efforts on creating a tourist-friendly fashion district or supporting small boutiques in myriad neighborhoods? Help recent graduates of Chicago's fashion schools network, or work with more established names to push for national recognition from magazines like Vogue?
The council couldn't convince high-end retailer Ikram Goldman, who could supply some much-needed cachet, to join. "I was already doing so much for fashion here I couldn't get involved. It wasn't because I didn't want to be," says Goldman, famous for dressing Michelle Obama for the presidential inauguration. She did participate in a video promoting Chicago fashion, which played at airports and other public venues.
"I couldn't wrap my head around it," says Maria Pinto, a Chicago-based fashion designer and original board member. "What was the objective? To increase consumer events or to create buyer-oriented trade shows? Those are two different things. Buyers aren't really going to forsake New York for here. And there isn't much manufacturing here, so it's very hard to encourage designers to stay put." After six months, Pinto resigned.
"I think we were on a path," says Gamble, who in 2010 resigned to join the newly formed fashion studies department at Columbia College. "Developing the industry is a 15- to 20-year effort that takes a strong combination of public and private support." When Gamble left, Advani took over; now heading up fashion events is Ann Hickey, director of program development for DCASE.
"The city's support of the fashion industry in Chicago will remain strong," Hickey says. "It is a work in progress, but we are focusing our efforts to continue support."
Goldman, too, still sees potential. "Fashion as a city resource is still growing here," she says. "It may not be growing the way we originally thought it would. It's evolved; that's the nature of the beast."
This year's Fashion Focus, October 15–21, is changing very little. Three runway shows will be staged in Millennium Park with tickets going for $35–$95, and a fourth, free show at the Cultural Center will highlight local student designers. There will be some 40 satellite events and trunk shows, about a dozen more than in 2011. Corporate sponsors like Macy's and vitaminwater will, as always, reduce some of the costs to the city.
Emerging designer Sahar Dada says showing her clothes at a Fashion Focus runway show last year "was a great experience and great exposure" but didn't generate much revenue for her designs. The city works to provide information to Fashion Focus attendees on how to find designers in store and online, says a city spokesperson.
"Chicago is much more friendly toward new designers than New York," says Ashley Zygmunt, who runs a Lincoln Park studio for her brand, ZAMRIE. After interning in New York with designers Zac Posen and Peter Som, Zygmunt moved back to Chicago in 2009. Still, Zygmunt says the big problem is getting the attention of local and national writers, editors and bloggers.
"That's who we need to see at the Fashion Focus events instead of socialites," she says. "If the city wants to do runway shows like New York, they should make them invitation-only…and get the tickets into the hands of those who will really promote Chicago designers."
Zygmunt's idea—which would eliminate ticket revenue—may involve securing even more sponsorships. "After all," Advani says, "the city can't be solely responsible for making fashion part of the cultural fabric here."
In response to the idea of nixing ticket sales, Hickey says the city provides support for the shows, but they are produced by individual organizations: "We help facilitate the industry's needs, but we don't dictate their strategy."
The Apparel Industry Board, established in 1987 by then-Mayor Harold Washington, recently launched Made in Chicago (44 E Grand Ave), a River North store that houses minishops for 20 local designers. Participating designers must complete a ten-week business boot camp and pay $200 a month in rent, plus 20 percent of their sales. And, opening during Fashion Focus week, the Fashion Design Center, part of the Bridgeport Art Center (1200 W 35th St), will provide affordable studios for about 40 designers. (Rental rates start at $330 per month.) But to succeed, these designers need attention from investors and buyers—ideally, on a national or international level.
"Will we ever be Paris? Only Paris is Paris. The same with New York and Milan," Goldman says. "But can Chicago become a fashion-oriented city? Absolutely. We have a real chance to make a mark in that world."
To do so, it seems clear Hickey needs to find more business backers for emerging designers and help build desire—here and elsewhere—for Chicago-designed clothes. On that front, developing more local production options, which Hickey says is one of the city's four areas of focus, could draw national buyers to town. Other priorities: Fashion Focus programming; business and development for designers; and education and incubation for recent fashion-school graduates.
None of this will be easy, but it might encourage more designers like Shane Gabier and Chris Peters, the Chicagoans behind haute label Creatures of the Wind, to stick around. Last year, the brand was named a runner-up in the CFDA/Vogue Fashion Fund. The only snag? Their designs are manufactured in New York.