The tipping point
When it comes to gratuities, how much is enough?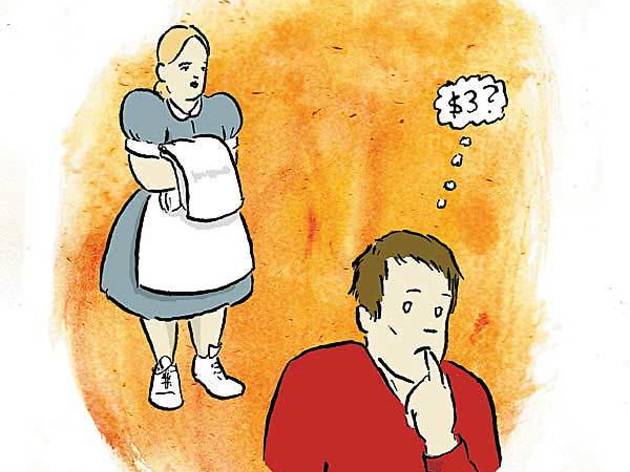 To tip or not to tip? Yes, you know your bartender gets a couple of bucks and your server gets 20 percent of the restaurant tab. But what about the girl who gave you a shampoo? And how much, exactly, are you supposed to tip cab drivers and lap dancers? Let this page be your guide. And remember: You should always tip a little extra for exceptional service.
Hotel concierge and other hotel staff
Karen Giobbia, chef concierge at Park Hyatt (800 N Michigan Ave, 312-335-1234), tells us that she never expects a tip from guests. But when it does happen, it's always appreciated. As for what dollar amount you should tip various members of the hotel staff, Giobbia says that it should be whatever you feel is appropriate and based on your approval of the services. Peggy Post, great-granddaughter of etiquette empress, Emily, and author of Emily Post's Etiquette, makes it more clear, suggesting that the concierge should get $5 for scoring you tickets or reservations, and that you should add more if the tix were difficult to get. The bellhop gets $2 for your first bag, and an another dollar for each additional bag. Post also says to leave the housekeeper anywhere from $2 to $5, and that tip should be left daily.
Parking valet
Although it makes sense to tip the valet guy when you drop off your car (you want to ensure the vehicle will be taken care of), Post writes that you should save the $2 tip until the car is returned to you. Stacie Krajchir and Carrie Rosten, authors of The Itty Bitty Guide to Tipping, note that if you have a special request (like keeping the car parked in front), you should tip right away. And don't forget to fork over an extra buck or two during downpours and snowstorms.
Hairstylists and such
Brad Habansky, owner of the men's boutique/salon Guise (2217 N Halsted St, 773-929-6101 ) in Lincoln Park (which will soon move down the street to become Guise/Chic and add services for women) tells us that 20 percent is the standard for hair-care professionals. So if your haircut is $50, the stylist should get $10 and if your highlights costs $100, the colorist gets $20. And if the stylist and colorist are the same person, you don't get to save money: Give him or her $30. Habansky estimates that only about half of the salon's customers tip the shampoo person, but up to $5 is a nice gesture.
Manicurist
Get ready to dip those shiny nails into your purse, because Post claims that the manicurist's tip should be around 18 to 20 percent of the cost of service—but always leave at least $2.
Airport skycap
Most people know the tipping rules in this sitaution, but Post reminds us that when you drop your luggage off with the skycap, you should tip $2 for one bag. Add a dollar for each additional bag.
Lap dancer
It isn't called "shaking the money-maker" for nothing, you know. Because these dancers give you extra-special attention (on your lap, no less), expect to hand over a decent amount of cash. Krajchir and Rosten say the tip should range from $5 all the way up to $20 for private performances in VIP rooms. And one tip just isn't enough here: Give the same amount for two or more songs in a row.
Tattoo artist
Krajchir and Rosten note that tipping is optional after getting inked. The authors say that you should only tip if the artist custom-designs a tattoo for you. But Bob Jones, owner of Insight Tattoo (1026 N Milwaukee Ave, 773-342-4444), says that the artists in his shop feel tipping is always welcomed and appreciated. "Remember, it's a service," he says. "And [a tattoo] is more permanent than dental work." Jones says that a 15 percent tip is normally sufficient. "If the tattoo is $60, a $10 tip is cool."
Cab driver
Cabbies should be tipped 10 percent of the fare, Krajchir and Rosten claim. That means if your trip from Lincoln Park to Old Town costs around $6, you should give your driver a 60¢ tip. We say you should round up and at least leave a dollar. It's just good karma to go that little extra mile.