Toy theater
Miniaturist Hank Kupjack takes us back in time with a visit to his ancient-styled abode.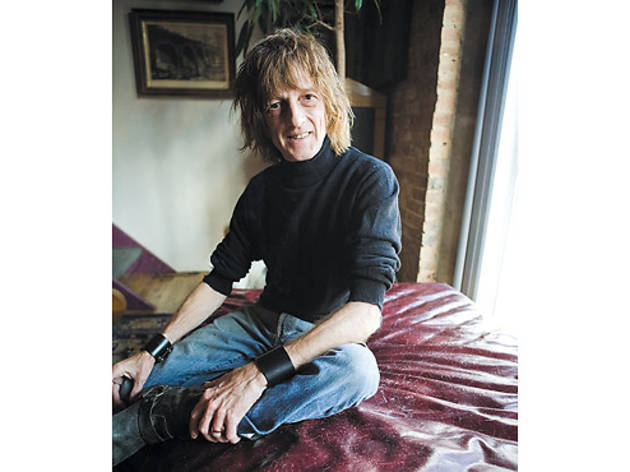 While Hank Kupjack meticulously represents specific periods of time in his work, that strict adherence to one decade flies out the window when it comes to outfitting his Lincoln Park loft. His apartment is a study in eclecticism, a walk through many centuries: From the front hallway's closet doors painted to resemble Roman gates to the 19th-century convent beds now used as living-room sofas, the decorative styles of many eras converge in this apartment.
Growing up as the son and apprentice of Eugene Kupjack, who created the renowned Thorne rooms of miniatures in the Art Institute of Chicago, the 57-year-old Park Ridge native was raised with a sense of appreciation for antiquities. Since the '70s, after receiving a degree in architecture at the University of Illinois and briefly pursuing a career in the music industry, the younger Kupjack has carried on the tradition of making miniatures in the studio where his father once worked. These days he'll spend anywhere from six weeks to three months creating scenes as varied as Marshall Field's personal collection of antique furniture to Alexander the Great's campaign tent for museums and collectors.
"I say, the older, the better," Kupjack says of his living space, which brims with authentic antiques and replicas, mostly dating to the 18th century or earlier. A bust of Nefertiti sits a shelf above a replica of a Trojan cup a few feet from an 18th-century Chinese screen and lanky, dripping candelabras. That which Kupjack can't buy, he makes. While his reputation stems from his talent for constructing inch-tall pub chairs and thumb-size crackling fireplaces, Kupjack's knack for building full-size furniture shines all over his cluttered apartment: a colorful Egyptian drawing cabinet used to store his drawings, ancient ram-footed Greek klimos (chairs) and a modern, leather-covered wooden daybed, to name a few.
"I just say it's like home, but everybody else tells me it's not," says Kupjack. "They says it looks like a museum."
1. One of two miniature rooms housed in his home, this work of art displayed in the living room depicts Alexander the Great's campaign tent (which dates to about 330 B.C.) filled with items like armor, captured-weapon trophies and a washing stand.
2. Comforters covered with Renaissance-looking fabric warm up two 19th-century French convent beds used as couches in the living room.
3. "Trench art," work created by World War I soldiers in the trenches, is one of the various forms of relatively obscure art Kupjack collects.
4. The upstairs study features a colorful collection of weapons and tools such as a tobacco knife and a sickle.