Urban races
Tired of run-of-the-mill running races? Flex your mental and physical muscles with these upcoming urban adventures.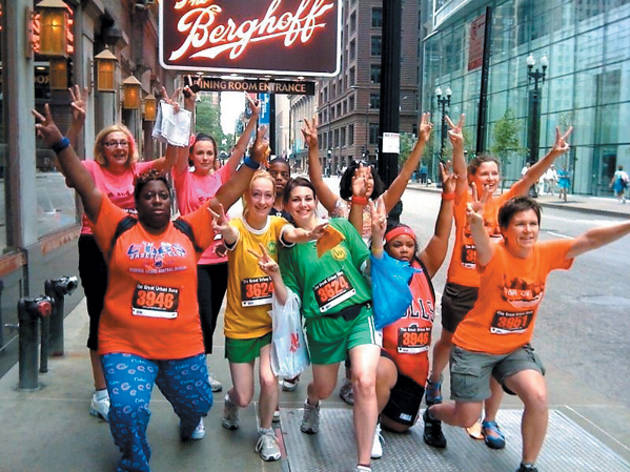 To: TOC
I was wondering if you had a list of the Chicago races involving obstacles and challenges? I always hear about them too late, usually on the day of the event. Help please.
—Kelly, Logan Square
---
Urban Dare, June 12 at noon, $90 per team ( urbandare.com)
Start and finish at Kendalls (2263 N Lincoln Ave)
Teams of two solve 12 clues to find checkpoints all over town, where they take photos or perform dares ("a combination of mental, physical or just plain silly challenges") in a race to the finish. Contestants travel about five miles over the course of the race and can call friends and even use smart phones during their journey. New this year: an award for best team costume.
Warrior Dash, June 19, 20, $75 per person (warriordash.com)
Start and finish at CPX Sports (2903 Schweitzer Rd, Joliet)
It doesn't get much more hardcore than this two-day event, where "12 of hell's obstacles" await along a 3.17-mile course. Think mud, running, climbing and more. Participants get a fuzzy warrior helmet with their entry fee, plus beer at a raucous post-race party.
Great Urban Race, July 24 at noon, $50 per person (greaturbanrace.com)
Start and finish at Joe's Bar (940 W Weed St)
In its fourth year in Chicago, the formula for Great Urban Race hasn't changed: Partners find checkpoints via 12 clues, complete challenges and navigate the streets in 'hoods like Chinatown, Lincoln Park, Wrigleyville and the Loop. Sample clue: "Make your way to Chicago's famous tattoo shop owned by Dale Grande. Take one custom GUR tattoo per team from the box inside the front entrance. Take a picture of all teammates in front of this shop with the GUR tattoo applied to one teammate's face."
Muddy Buddy, August 1 at 7am, $150 per person ( muddy-buddy.competitor.com)
Start and finish at Indian Hills Farm (16N503 Powers Rd, Gilberts)
Two costumed teammates tackle a six- to-seven-mile off-road course, plus five obstacles. Here's how it works: To start the race, one teammate runs and the other rides the bike. At the first obstacle, the rider drops the bike, completes the obstacle and begins running. The runner arrives, completes the obstacles, finds the bike and begins riding. Teams leapfrog each other throughout the course and finish by crawling through a mud pit.
CitySolve Urban Race, September 11 at noon, $40–$60 per person (citysolveurbanrace.com)
Start and finish at a not-yet-named location
Two teammates solve clues on topics ranging from pop culture to math (difficulty maxes out at eighth-grade level) to American history, anagrams, sudoku and more. Challenges include tasks such as bowling a strike, building a house of cards, identifying a flavor of ice cream and piecing together a puzzle.
Urban Assault, September 12 at 9am, $30–$65 per person ( urbanassaultride.com)
Start and finish Murphy's Bleachers (3655 N Sheffield Ave)
Think Amazing Race on bicycles: You and a teammate ride all over the city, hunting down checkpoints. At each one, you'll drop your bikes and complete an obstacle course, then remount your bikes and hit the streets for more.
Men's Health Urbanathlon, October 16, $90 per person before June 7 ( menshealthurbanathlon.com)
Start and finish at Upper Hutchinson Field (on Columbus Dr at Balbo Dr)
Over a 10-mile course, participants face six obstacle courses bearing intense physical challenges (think running through tires, traversing a balance beam, climbing over barricades, swinging across monkey bars, etc.). The course creators at fitness-savvy Men's Health mag promise this year's event is "The toughest yet… We've overhauled every obstacle to push you to the limit." Oof.