Virtual running coaches
We test the latest apps and gadgets against a human coach.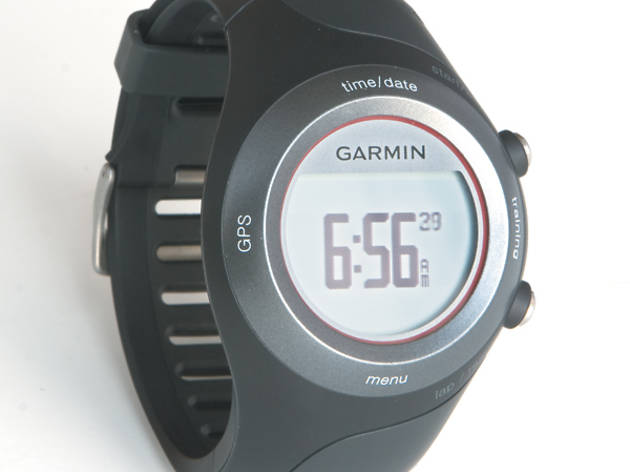 1/4
Photograph: Martha Williams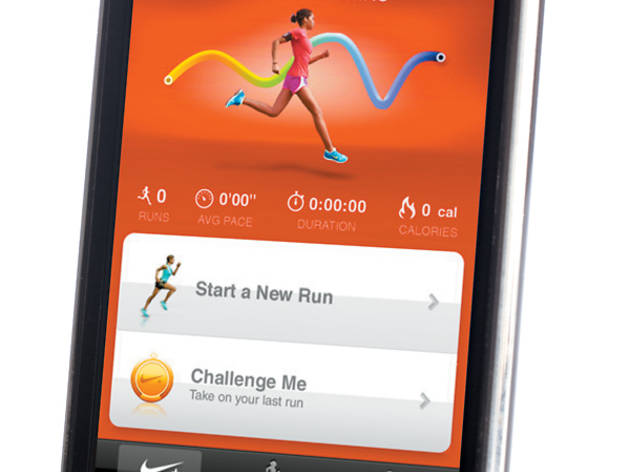 2/4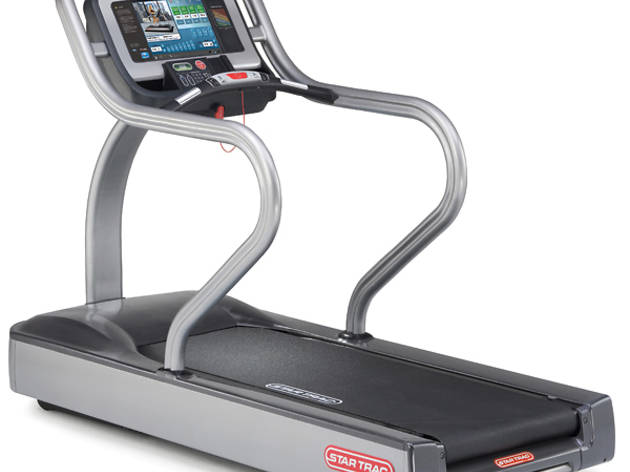 3/4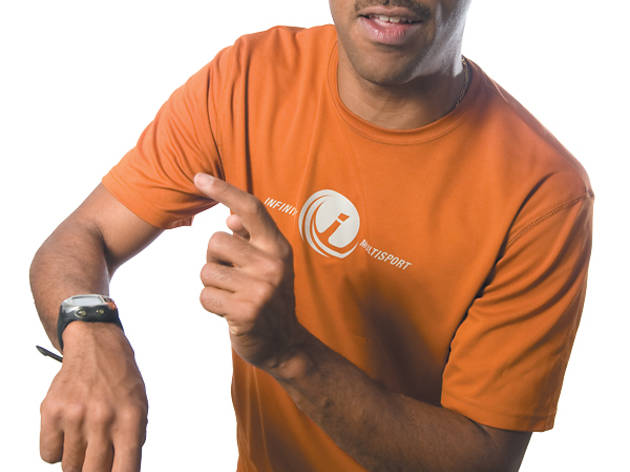 4/4
Photograph: Martha Williams
I sometimes miss my high-school lacrosse coach who'd berate/motivate me into running some of the best times of my life. Turns out once you grow up, you can hire people to do that for you—or buy one of the countless training apps and gadgets to "coach" you. But can gizmos posing as trainers really out-perform a human? To find out, I test one new training app, gadget and equipment program and compare them with a real, live running coach.
THE GADGET Garmin Forerunner 410
$325 at Garmin International Inc (663 N Michigan Ave, 312-787-3221, garmin.com)
After learning how to manipulate the slick touch screen (online tutorials help), setting up runs and storing data on Garmin's newest sports watch is fairly dummy-proof. The wireless satellite GPS, time, pace, distance, heart rate, calories burned and elevation are all superaccurate and clear in multiple view modes, and easily upload straight from a provided USB drive for postrun performance analysis on my computer.
On track When I enter a time goal, it tells me how much I need to speed up to make time.
Off track No technique tips, but plenty of minute-by-minute performance reminders.
Beginner tip Too intimidated by the price tag or many bells and whistles of the Forerunner 410? Strap on the Forerunner 110 instead ($200, garmin.com). It comes with the same GPS, data logs, distance, time and pace trackers, but with virtually no setup.
THE APP Nike + GPS Running iPhone app
$2 at apple.com
If you already have an iPhone or iPod Touch, this is the easiest, least-expensive option and the GPS-controlled pace tracker means no shoe chip is necessary. The mile-marker alert piping over my music is nifty, and the ability to log past runs so I can try to beat them later niftier still. But if you're a competitive runner looking for more than distance and time info (such as heart rate or elevation), this probably isn't for you.
On track Even when my running performance was more lackluster than Livestrong, Lance Armstrong gave me a hearty audio congrats postworkout.
Off track The "Get Cheers" feature, while optional, assumes I want to post my run times on Facebook, and I have friends who care. Also, my calories burned seemed too high to be true (287 calories in two miles? Really?).
THE MACHINE Star Trac E-trxe treadmill
Available at Equinox (Loop); membership $133–$175 per month.
A trainer in treadmill's clothing, this machine features a screen with video of Chicago running coach Kimberly Shah doling out tips as she runs with you. After inputting my age, sex and weight, I choose the workout type (fat burner, endurance or speed on different terrain options), then run with Shah through base–max speeds and inclines. Once I finish, a stat screen shows average pace, distance, calories burned, incline level and heart rate.
On track Shah's anything but preachy—if she weren't stuck onscreen, I'd want to grab a smoothie with her poststretch.
Off track Shah is—hello—virtual, so her tips on form are general, making self-correction tough.
WINNER!
THE HUMAN Maurice Wills, Infinity Multisport personal running coach
$80/hour with average sessions running 2.5 hours (312-428-6000; infinityeffect.com)
Wills, a former Division I track star who runs four to six triathlons and marathons a year, espouses the properties of chi running (tai chi applied to distance running), with a focus on posture. He doesn't ride you, but teaches your body how to run so that form, endurance and speed come naturally, preventing injury and using energy efficiently. Wills and I hit an indoor track, where he runs alongside me.
On track While Wills works with pros, too, he really roots for the "weekend warriors" like me. Not only does his cool, anti-elitist approach make me feel at ease, his technique-centered tips have staying power—I correct myself later on a solo run.
Off track One-on-one sessions mean there is nowhere to hide my sloppy form—especially when he videotapes my gait before and after his corrections.
BEGINNER TIP Ease into working with a coach like Wills by recruiting two to ten friends to train together. It's cheaper, too, at $149 per person for a half-day session and $225 for a full day with Wills.
New cardio machines
|
Indoor cycling studios
|
Barre classes
|
Athletic yoga classes
|
Mindful yoga
|
Hotel fitness programs
|
Old-school fitness
|
Virtual running coaches
|
Dance-cardio classes
|
Diet delivery and new fitness DVDs
|
Best strength training apps
|
Gym list