Wardrobe workshop: Men's vests
One simple layer adds volumes of interest to your everyday getup.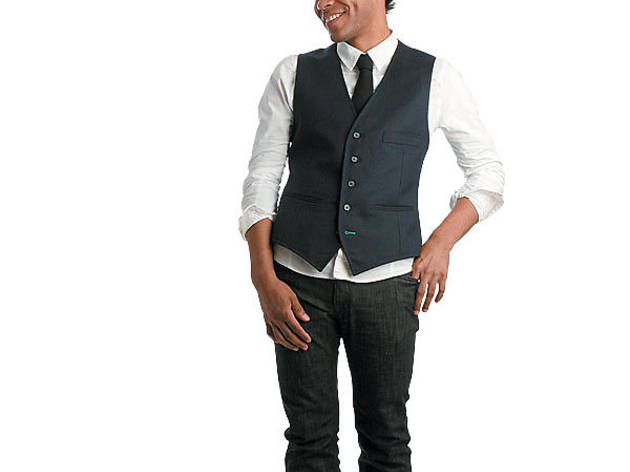 The scoop
The vest has been circling the fashion circuit for the past few years, and thanks to the layer-heavy looks all over the runways, it's bigger than ever. You can wear a vest anywhere—from the club on Friday night to church on Sunday morning. (Just make sure to air it out first.) A word to the pennywise: You can get used a vest at most local thrift or vintage shops for $20 or less.
Stylist says…
"It used to be [worn] with T-shirts, old-school kicks and a bandana around the neck," says Sylia Yi, general manager and buyer at Untitled in Lincoln Park. "The way fashion is going with the whole very sleek [look], I'd tuck a shirt in and wear it with slicked-back hair. That would be the cat's banana," she says. "It's very 1950s."
Real-world rating
"It's pretty versatile," says Xavier Estrada (pictured), a 27-year-old Andersonville resident, who owns about four vests that he usually rotates throughout the week. "I'll wear one with an open-button collared shirt, a hat or my grandfather's old brown vintage Dickies. And [each option] totally changes the whole outfit."
Modern Amusement vest, $110; B Store shoes, $250; both at Untitled (•2707 N Clark St at Schubert Ave, 773-404-9225. •1941 W North Ave between Winchester and Damen Aves, 773-342-0500). Jeans, $180, at Diesel (923 N Rush St at Walton Pl, 312-255-0157). Tie and shirt, model's own.
Go for sophistication with a plain, fitted white dress shirt, but keep it from feeling too stuffy by loosely rolling up the sleeves.
This skinny tie gives the classic look an updated and modern twist. Feel free to unbutton your vest to show a little more of the tie.
Toss aside your ratty Converse and step it up with a pair of retro, pointy dress shoes or some simple, designer sneakers.
Three to try
The gently faded finish of this cotton Triple Five Soul vest keeps it extra casual. $84 at Metropark USA (2042 N Halsted St between Armitage and Dickens Aves, 773-634-5009).
This plain, cotton-blended Penguin vest is all about old-fashioned class. Plus it's supersoft and would look great with a fedora and a pair of wingtip shoes. $110 at Untitled.
If you're only buying one vest, opt for a versatile version like this black one designed by Urban Outfitters. $39 at Urban Outfitters (locations around the city, urbn.com).