Where to shop in Hyde Park
Hyde Park is a true South Side shopping destination, whether you're looking for thrift stores or bookstores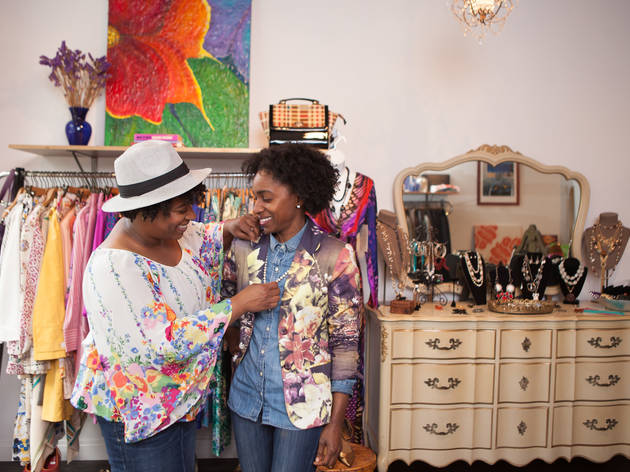 Hyde Park is coming up in the world. Not only do some of the best new Chicago restaurants reside in this leafy South Side neighborhood, but its shopping game is also getting better. With a vintage clothing shop worth the trip from any part of the city, one of the city's top bookstores and a comic book store whose owner diagnoses your comic book needs like a doctor, Hyde Park's stellar shops won't be a secret for long.
RECOMMENDED: Our complete guide to Hyde Park
Best Hyde Park shops
This Hyde Park landmark is a great place to buy based on the employee selections and to check out some more intellectual fare. Many readings here fall into the academic/nonfiction category, though the shop often features authors who have written about local history.
Read more
The 61st Street Farmers' Market is open Saturdays from 9am–2pm starting May 16 and running through December 12. In November and December, the market runs indoors at the Experimental Station. Vendors include Ellis Family Farms, Mick Klug Farms and Peerless Bread & Jam.
Read more
Akira is a young Chicago fashionista's dream—the perfect combination of youthful trends and affordability. The women's clothing and footwear location carries fun women's pieces such as chiffon tank tops with cut outs and maxi skirts with thigh-high slits. Additionally, new, innovative shoe designers cover tables with spiked boots and heel-less platforms.
Read more
"Make yourself comfortable." It's a phrase the mother-daughters trio behind this Hyde Park pop--up shop takes very seriously. Just like their original outpost in Lincoln Park, the new store is all about comforting the mind and body with women's clothing, jewelry and accessories. If it's successful, the owners will turn it into a permanent location.
Read more
Originally the product of a high school community service project, this Hyde Park shop has become a popular hot spot for savvy shoppers and thrifters alike. What it lacks in size, it makes up for in a finely curated selection of seasonal, gently used, name-brand clothing, shoes and accessories for men, women and children, from stores like Forever21, J.Crew, Banana Republic and Brooks Brothers. The shop also accepts clothing donations. What it doesn't opt to put on the sales floor is donated to local soup kitchens and the Salvation Army. 
Read more
Hyde Park's First Aid Comics has served neighborhood locals and University of Chicago students from this bi-level 55th Street storefront since 2011 (it was previously located in a hard-to-find second-floor space on 53rd). Keeping with the shop's name, owner James Nurss, formerly a manager at Graham Crackers Comics, will diagnose your comics needs wearing a doctor's lab coat. In addition to current issues, First Aid carries a healthy inventory of trade paperbacks and hardcover collections, and Nurss has an impressive collection of back issues. First Aid offers a free subscription service, "The Doctor's Orders," that gets you 10% off new comics and supplies and 20% off back issues. The shop also carries plenty of action figures, gaming supplies (with regular Magic and Yu-Gi-Oh! nights) and clothing—including, appropriately for the 'hood, a sizable supply of t-shirts featuring Alex Ross's Superman-inspired portrait of President Obama.
Read more
You can think of Freehling Pot and Pan Co. as Hyde Park's charming, local version of Sur La Table. The perfect pit stop for kitchen supplies, housewares and gifts for Chicagoland foodies, the South Side shop stocks everything from portable tailgating grills, electronic appliances, cookbooks, the latest cooking gadgets, pots, pans and more. 
Read more
Hyde Park Cigars isn't your average cigar shop. With a selection of more than 1,500 brands, indoor smoking lounge, 1,400-square-foot patio, and its own "house blend," this place attracts cigar aficionados from all over the Midwest. The shop also hosts biweekly cigar events, and is BYOB—because what's a great cigar without your favorite scotch?
Read more
Don't equate that extra "pe" in its name to a specialty mom-and-pop shop, as not much differentiates this place from any other corner liquor store. There's a decent selection of beer, wine and spirits; the staff can be super-friendly one moment and then completely ignore you the next; and you'll probably find yourself standing in line between a frat boy with a keg of Sam Adams and a housewife on a zinfandel bender. But it's close to a ton of BYOB restaurants, it's open late and it delivers…so there's that. All in all, we'll chalk it up as a win. 
Read more
A favorite destination for Chicago thrifters and bargain hunters, this shop carries new and gently used, on-trend clothing for men (like a gently used Yves Saint Laurent blazer starting at $60), women (like pre-owned Tory Burch sandals starting at $79 or a BCBG sun dress for $36), and children, as well as furniture, accessories and books. Select items are also available for purchase online through the shop's eBay store. 
Read more
With three Chicagoland locations and a robust e-commerce website, Toys Et Cetera puts more th an 10,000 toys at your fingertips. Shopping local has never been more convenient—we're talking complimentary gift wrapping, free shipping when you spend over $199 and pickup at any store location. 
Read more