Winter Session | Chicago designer
A new design collective in Chicgao offers stylish and sustainable handmade fashion goods.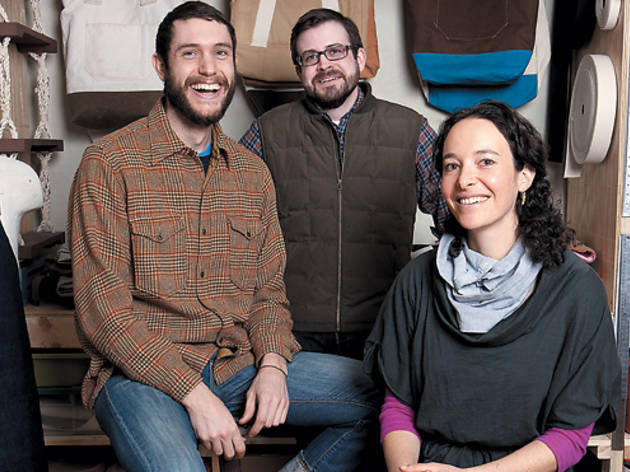 What it is (Mostly) wearable clean-lined and clever goods handmade with upcycled, recycled and American materials.
Who they are It all started over semi-awkward conversations at the Coffee Studio in Andersonville, where Tanya Fleisher (pictured right) and Roy Katz (left) hung out and Tristan Coulter (middle) worked as a barista. After two and a half years of small talk, the trio struck up a friendship outside the café and, finding they shared similar interests, decided to create a design collective. At the time, they were each seeking an outlet for their creative energy. Coulter was burnt out on his coffee gig, Fleisher was finishing grad school at the School of the Art Institute of Chicago and Katz, who has degrees in architecture and fine art, was working from home as a restaurant designer. "It kind of started with fashion blogs," Coulter says. "[Roy and I] started talking about that, and I refined my aesthetic. I think the [Oliver] bag [their first product] came out of that." Less than six months after hatching a plan, they debuted their first collection of goods at the Renegade Craft Fair last fall. Fortunately, in this case, friends and business do mix well. In between their full-time jobs, the trio works out of Fleisher and Katz's live/work space in Andersonville, seamlessly collaborating on each product from start to finish (with occasional help from their friends).
What they make "We're kind of in this gray area," Katz says. "There's a lot of heritage stuff happening right now, but it has a relatively small niche. We draw a little from that, but we want our things more accessible to a large range of people." Their bags, which are lined with thrifted shirting material, include the Ollie Brief Tote ($78)—a cross between a tote and briefcase, made from upcycled jackets and trousers—and the Oliver Bag ($72)—a durable waxed cotton and canvas tote. Scraps left over from the bags are used to make mini cases perfect for pencils or cosmetics. Recycled shirting reappears in the form of lightweight scarves made from the bottom section of button-up shirts. "These came about as an alternative to wearing a shirt collar," Fleisher says. As for the aprons, available in heavy-duty denim ($68) and lightweight cotton ($48), it's the clever details—an overall-type buckle on the neck strap and the option to customize pocket placement—that make them extra special.
Where to find it Post 27 (1819 W Grand Ave, 312-829-6122), Renegade Handmade (1924 W Division St, 773-227-2707) and online at winter-session.com.