AIRobics at Sky High Sports
You can burn up to 1,000 calories in this hour-long class trampoline fitness class.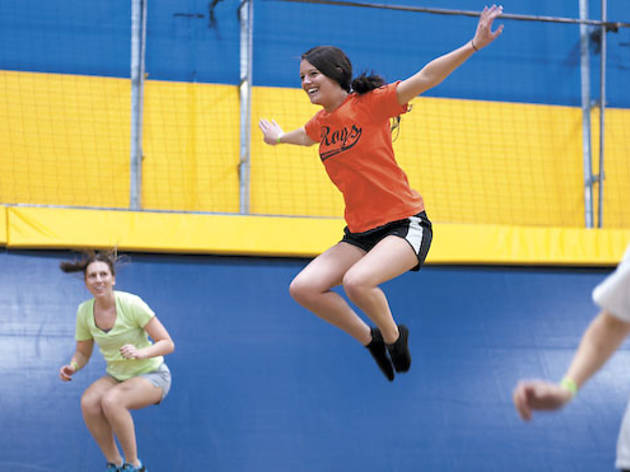 The class AIRobics at Sky High Sports (6424 Howard St, Niles, 847-801-5867 or 2244 Corporate Ln, Naperville, 630-717-5867, jumpskyhigh.com)
The details Sky High Sports is trampoline nirvana for all of us who dreamed of having a backyard trampoline but couldn't talk our parents into it. Dozens of trampolines make up the floors and walls of the main court, a party area, a dodgeball court and a smaller court where you can flip from a trampoline into the calming comforts of a massive foam pit. The only drawback: The place is constantly crawling with kids. Part of the appeal of the AIRobics class is grown-ups get the main court all to themselves for a full hour. It's like the trampoline version of adult swim. The other sell is that you can burn up to 1,000 calories in this hour-long class. The session begins with each of us on our own square doing toe taps and seat drops. Things quickly progress to lunges, sky-high leap-frog movements, jumping jacks and pike jumps. At one point, our instructor gathers everyone at one end of the court and tells us to jump from tramp to tramp until we reach the other side. It's crazy fun if you time it right. Less fun if you don't and end up facedown on the padded rim. (This happens all the time…or at least that's what they told me when I did it.) It's also a serious workout. There's only one, two-minute water break during class. Other than that, it's constant jumping. I'm not sure if I burned 1,000 calories, but I felt it in my legs and shoulders, and was exhausted the next day.
When to take it Tuesdays and Thursdays 6pm and 7pm; Saturday 9am. Each 50-minute class is $8 and filled on a first-come, first-served basis. Arrive early for weekend classes.