Best budget gyms in Chicago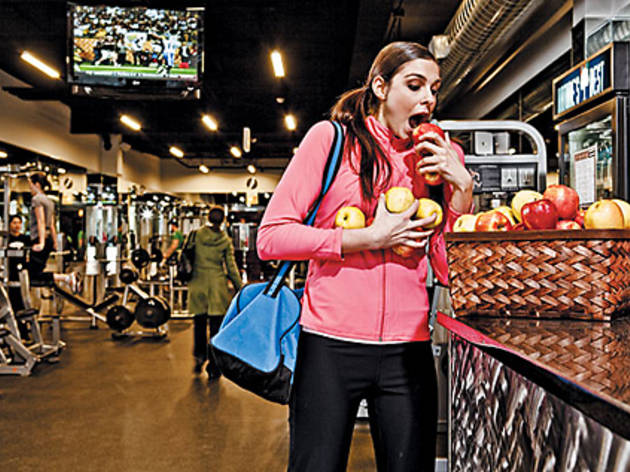 1/3
Model: Angie Zent/Team Inc.; Makeup: Adel for Spoil me Hair Salon, Assistant: Dan Moore; stylist: Isaac King/Ford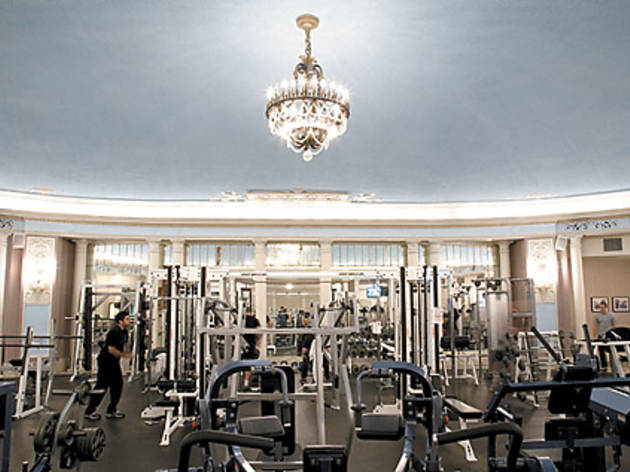 2/3
Photograph: Jeremy Bolen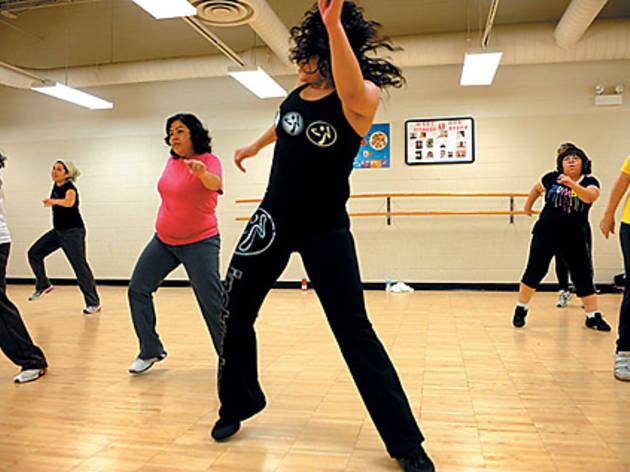 3/3
Photograph: Jeremy Bolen
I joined the EAC a year ago as part of that most cliched New Year's resolution: to get in shape. And I actually have gotten in shape. I hired a personal trainer who took me from flab to fab (well, okay, from flab to more fit). Kelly knew when to push me, when to mock me and when to cheer me on. The place has a nice, relaxed vibe (you can't take yourself too seriously in a weight room that's a converted ballroom), and in a year of regular visits, I've only rarely had to wait for a piece of equipment. I have yet to try the pool, but the people who use it seem to love it. Swimmers, take note: Since so few clubs in the area have pools, the lanes can get crowded. A few aspects of the facility could use fixing (the flush mechanisms on the men's locker-room toilets are finicky, the group fitness room needs a floor repair in one corner), but on the whole I'm very satisfied, and I'm re-upping for another New Year's resolution: six-pack abs! —Hank Sartin
FITNESS REPORT CARD
Classes B The class schedule is somewhat limited, but I love my sunrise yoga, and the sole muscle-blast class I attended did indeed blast my muscles.
Locker room B In a recent renovation, the women got an upgraded locker room on the ground floor, and the men got both of the pool-area locker rooms (up a flight of stairs). Good for the women, but the men's two locker rooms (one is now dedicated to "wet" since the pool is a huge draw here) could stand a little freshening up.
Cardio machines A EAC has several kinds of elliptical trainers, lots of treadmills, a good number of bikes and one rowing machine (one more would be nice), and most of them are in a room with floor-to-ceiling windows.
Workout accessories B The BOSU balls get beat up pretty fast (I'm looking at you, hard-core gymnast guy who does all that jumping on them), and I'd appreciate more little barbells in the weight room.
Customer service A The staff is friendly but not obtrusive: Recently, a staffer discreetly came over and explained treadmill features to a confused newbie. Nice.
---
Wicker Park Fitness
Admittedly a fancy-gym junkie, I missed my sauna and steam room and cucumber-flavored water for the first few weeks after joining this less-than-two-year-old family-run gym. But between the amazing special ($400 for the year) and convenience (I live across the street), it was pretty much a no-brainer. More than a year later, I'm still a happy camper: It's spotless and surprisingly never musty-smelling. I even find the Wicker Park pedestrians who taunt me while I run on the street-facing treadmills occasionally amusing. The only problem: From 5–7pm on weekdays, the place gets too crowded for comfort. —Jessica Herman
FITNESS REPORT CARD
Classes A Except for the lack of Spin classes, the roster—from yoga and Pilates to 30-minute abs workouts—suits my desire for diversity. And, the glutton for killer workouts that I am, I'm officially obsessed with Jordan's twice-weekly boot-camp classes.
Locker room B- Between the measly two showers (with containers of hair product sitting on the floor), three bathroom stalls and a few dozen lockers, I'm happy to return to my own bathroom for postworkout freshening up. On the upside, it's definitely clean.
Cardio machines B+ I'd like to see a few more options such as a StairMaster and rowing machine, and I'd rather leave than wait on the occasion (right at the end of the work day) that there's a line for an elliptical machine or treadmill. I do appreciate the proliferation of personal TVs.
Weights A I never have a problem finding space to lift free weights, and I can easily mix up my routine with the dozen or so weight machines.
Workout accessories B- The BOSU balls sometimes need air, and I'd rejoice at the addition of a few more accoutrements (foam roller, anyone?). But my biggest complaint? With the main stretching area crammed behind a monstrous weights machine, I have barely enough room to do a push-up at peak hours.
Customer service A+ Super-genuinely friendly and free apples to boot. I even got a happy birthday shout-out walking in the other day.
---
Women's Workout World—Monroe Street
Sorry, guys—this budget gym is just for ladies. It's got all the standard weight-training and cardio equipment you'd expect of a value gym, plus a few luxe features like a sauna and free classes. Pay locks in the small but clean locker room, queues for machines during busy hours, and a lack of towels and toiletries serve as reminders that you're in the budget zone, but the gym's financial-district location next door to high-end Equinox fitness center and its Freshii café suggest a higher price-point. Personal- and group-training sessions are also available ($25–$60 per session; eight-week group session $200). —Martina Sheehan
FITNESS REPORT CARD
Classes B+ They're all free with membership, including fun stuff such as dance-inspired Zumba and Hip Hop Hustle.
Locker room A- Clean. No need to bring a lock, but stock up on quarters for the pay lockers.
Cardio machines B They do the trick but the lack of TVs, combined with terrible techno, left us short on distractions.
Weights A- The weight room, with its good assortment of machines, is less cramped and crowded than the cardio room.
Workout accessories B- The spacious classroom can be used as a stretching area when classes aren't in session but otherwise, you'll have to stretch wherever you can find space. Rollers, balls, ropes and mats are stocked.
Customer service A- Personal trainers are supportive; front-desk attendants address many women by name.
---
McCormick Tribune YMCA
What this affordable Logan Square gym lacks in polish it more than makes up for with enthusiasm: The facilities are clean and the staff is friendly and engaged. Thoughtful improvements are made regularly, from the addition of new cardio machines to a recent total overhaul of the floors in the gym and racquetball courts. Classes are numerous, including raucous Latin-dance-based Zumba workouts. Unless you're Richie Rich, you can bring your completed tax forms to the front desk, and staffers will reduce the already-reasonable monthly dues on a sliding scale. This YMCA also offers amenities you might not expect in a budget gym: saunas, racquetball courts, even a (tiny) climbing wall. If only it had a swimming pool. —Ruth Welte
FITNESS REPORT CARD
Classes B The extensive menu of classes—many of them free—ranges from cardio kickboxing to youth karate.
Locker room A Clean and uncrowded with plenty of lockers and showers. There's even a new sauna.
Cardio machines B+ Though the variety is good and the fleet of cardio equipment is new, out-of-order machines are a touch too common.
Weights B The number and variety of machines are good, but the free-weight area is fairly small.
Workout accessories B An annex room is stocked with exercise balls, mats and even a ballet barre along one wall.
Customer service B The front-desk attendants can be a little slow in checking folks through, but they're unfailingly friendly.
---
XSport—Piper's Alley
Apparently, nobody told the Old Town branch that it was budget-friendly. What other $42-per-month gym boasts an indoor pool, basketball courts, a whirlpool (complete with a bubbling waterfall) and a rock-climbing wall? Not to mention the free child-care center, the free covered parking garage and the roomy, clean showers. And those are just the perks. The meat and potatoes of this facility are more than adequate: shiny new machines (I've been a member for four years and have seen many of them replaced with newer models), a variety of classes and trainers aplenty. Although snagging a treadmill among the after-work crowd often means a short wait, there are more than enough cardio machines to choose from any other time of day or night. With so many varieties available, you'll never have to wait for a weight machine, although the free weights are sometimes lacking (I'm always hunting for the five- and ten-pounders). But considering that's one of my few complaints, this gym is one of the best deals going. —Stephanie Gladney
FITNESS REPORT CARD
Classes A Great teachers and three studios, one dedicated to cycling.
Locker room A Clean, recently upgraded and there's occasionally a manicurist offering complimentary services in the ladies' locker room. Now, that's the kind of perk I appreciate.
Cardio machines A Personal TVs with decent channel selection means the hubby can watch the game while I watch Jersey Shore and we still get to run together.
Weights A- Help the ladies out and add a few more light free weights!
Workout accessories B Just saw two brand-new foam rollers added to the small collection! Caveat: The stretching area is at the base of the rock-climbing wall, so if there's a climber in action, you have to find a spot in the cramped hallway.
Customer service A- Staff members will occasionally push you to sign up for a personal-training session or try a protein shake, but for the most part, they're friendly and helpful.
---
XSport—South Loop
I've been an XSport member for more than three years (I live above the Lakeview location) and have only one gripe: I suffered three flaky personal trainers in the space of ten sessions. Are you really oversleeping a 10am appointment? These days, I rarely bother with Lakeview—I'm convinced that the "X" in the one-year-old South Loop version is short for Xanadu because it's so palatial. For $42 per month you get a three-story rock-climbing wall, 25-meter lap pool, basketball court, play room for tots (nicely located in the basement and out of my way), tanning, massage and hair-salon services, a digital machine that will customize your workout, plenty of studio space and a separate lifting area. I've never had to wait for anything, although I mostly come here on my lunch hour when access to equipment is wide open. Also, I stick mostly to the pool and I'm happy to say the temps and chlorine levels are always just right. —Jason A. Heidemann
FITNESS REPORT CARD
Classes A The daily schedule is chock-full of dawn-to-dusk workouts like Six Pack Attack and Zumba.
Locker room B+ More modern than at other branches, although the steam room is small compared to Piper's Alley.
Cardio machines A Brand-new machines as far as the eye can see, and all are facing State Street—a nice touch.
Workout accessories B+ On a recent visit, I didn't see all the usual aquatic workout gear, but I'm sure it's around somewhere. Otherwise, I've never had trouble securing weights, BOSU balls and other gear.
Customer service B+ The XSport folk are generally nice, and I have far fewer solicitation problems here than I do outside my building in Lakeview.