Heads up! We're working hard to be accurate – but these are unusual times, so please always check before heading out.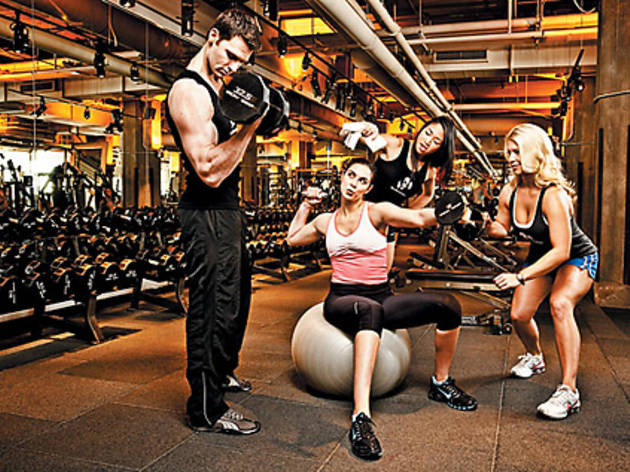 1/2
Models: from left, Joey Thurman, Angie Zent/Team Inc., Maxine Chaikouang, Heather Pande; Makeup: Adel for Spoil me Hair Salon, Assistant: Dan Moore; Stylist: Isaac King/Ford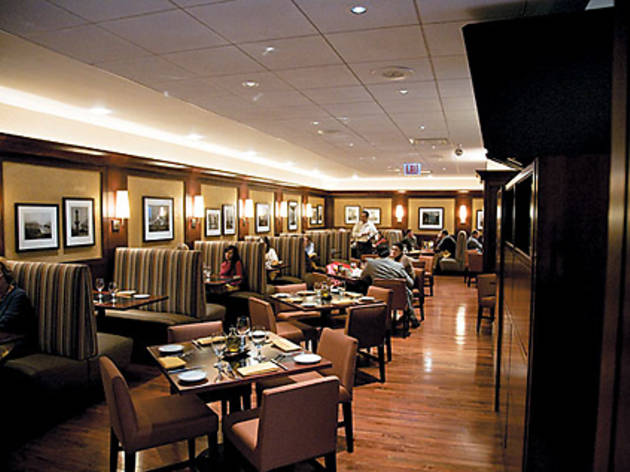 2/2
Photograph: Jeremy Bolen
Best upscale gyms in Chicago
Equinox Loop My Equinox membership allows me into all three of its city locations, and on the outside they all seem pretty much the same: same music curated...
Equinox Loop
My Equinox membership allows me into all three of its city locations, and on the outside they all seem pretty much the same: same music curated by celebrities such as Madonna; same minifridges full of eucalyptus-scented cool-down towels; and same locker rooms, more pristine than an operating room. Still, I chose the Loop locale, partly because of its location (right off the Brown, Purple, Pink and Orange lines), but mostly because of the crowd. At the Gold Coast and Lincoln Park locations, I've been stuck on a treadmill next to a spandex-clad cougar screeching into her cell phone one too many times. But never in the Loop. This is a down-to-business clientele—it wants to get in, work out and leave—which eliminates all the peacocking. The only downfall? It's closed on Sundays, which is why I always take Sundays off. —David Tamarkin
FITNESS REPORT CARD
Classes B Teachers are upbeat, fun and push you to your limit (in a good way). But some later-morning class times would make the schedule more complete.
Locker room A Pristine, with a soothing postworkout soundtrack.
Cardio machines A So many machines—most of them new—you'll never have to wait.
Weights A- Good machine selection, but the other locations devote more space to free weights.
Workout accessories B- All the accessories are there, but there's not a ton of space to use them.
Customer service A+ No, these people don't know you from the next guy. But they'll ask you what you're doing this weekend anyway.
---
Fitness Formula Clubs—Union Station
For those of us who find working out as much of a chore as cleaning out the garage, this FFC location makes it about as pleasant as possible. Because the cardio area is huge, you won't have to wait for a machine. Ellipticals and treadmills are outfitted with personal TVs to get your mind off your huffing and puffing. Plus, the Spinning room, perched above the main floor and overlooking the river, is briskly cool, preventing any unsightly sweating. And besides the Spinning studio, four other spacious rooms house every imaginable class, from Pilates to hip-hop. Did we mention the pool is almost always empty? If this lack of irritating human contact still doesn't ease your stress, you can relax in the full-service spa. Is this a gym or a resort? —Laura Baginski
FITNESS REPORT CARD
Classes A Types of classes are pretty standard (step, kickboxing, yoga), but the times are convenient and the studios are immaculate.
Locker room B+ Love the membership card that doubles as a key card, and the freebies rock (tampons, razors, Q-tips, mouthwash, hair spray). But the showers are pretty industrial, and the tacky faux roses have to go.
Cardio machines A All high-quality, rarely a wait, even at peak hours.
Weights A Newer machines and lots of 'em.
Workout accessories B- The tiny stretch area is right in the middle of the cardio room, making you feel on display. Very few accessories like BOSU balls and foam rollers.
Customer service A Kind and efficient.
---
David Barton Gym
New Yorker David Barton has a penchant for flashiness, and the Chicago location of his namesake gym, housed on the lower level of the old Montgomery Ward building, reflects it. The modern decor—including a shag orange wall covering and Jonathan Adler vases sold in the gift shop—and occasional live DJ might lead you to believe that this sweatshop is more style than substance, but I'm happy to report that both carry equal weight. I love the sprawling room, full of free weights and machines as well as cardio equipment facing the Chicago River (hello, rowers and architecture-boat-tour peeps!). Plus, three large studios offer everything from Spinning to yoga to boot-camp classes. And if the industrial-chic vibe of the gym hadn't already inspired me to get in shape, the buff—and good-looking—trainers working the floor definitely would. Bonus for newbies: You'll get a couple of gratis sessions when you join the club. —Kevin Aeh
FITNESS REPORT CARD
Classes A The instructors and attendees mean serious business when class is in session. Expect to break a sweat—over and over again.
Locker room A- Love the chic wooden lockers, Bumble and bumble hair products and floor lights in the steam room.
Cardio machines B Not all of them have personal TVs, and the ones that do offer limited channels.
Weights B+ DB Gym has a good selection of free weights and machines, which I've never had to wait for.
Workout accessories A The stretching area includes plenty of equipment for ab work, plus a few BOSU balls, foam rollers and more.
Customer service A Many members comment that most of the front-desk staff greets them by name (without having to look up their info), making for a nice personal touch.
---
Holmes Place
With its flood of natural light, stone tiles and stainless-steel-and-wood motif, this gym pleases our aesthetic eye as much as our inner gym rat (you'd never know it's actually part of the Bally chain). In addition to plenty of cardio equipment facing the floor-to-ceiling windows, the spacious layout features four studios: one main cardio/aerobics room, plus separate Pilates, yoga and cycling studios, as well as a smaller, noise-free workout room for when you've had your fill of Lady Gaga. The adjoining café, which serves mostly organic options (wraps, salads, smoothies), invites postworkout refueling on the leather couches beside the flat-screen TV. —Jessica Herman
FITNESS REPORT CARD
Classes A Bonus points for the wide range of yoga and Pilates classes, plus cardio workouts incorporating boxing and tae kwan do techniques.
Locker room A- The floors are heated, and members' cards double as locks for daytime lockers.
Cardio machines B The quality and quantity (including two Power Plates) suffice, but we want our personal TVs! Bonus points for the communal TVs playing music videos to match the music piping through the loudspeakers.
Weights A There are not one but two rooms outfitted with weights.
Workout accessories A They're all there, plus plenty of space to stretch out.
Customer service A Smiling faces greet you at the check-in counter, and the staff promptly answers any questions.
---
East Bank Club
There's no denying the near-perfection of this country club of a gym. Despite the fact that the place offers everything under the sun—a million top-notch cardio machines and weights; outdoor and indoor pools; a golf course; tennis, racquetball and squash courts; a gymnasium and more—it's nowhere near cramped, thanks to its hefty size (a freaking city block). Sink into a cushy chair in one of the flat-screen-TV-equipped lobby areas, treat yourself to a mani/pedi or haircut at the full-service salon or settle into a satisfying meal at the restaurant and you could easily spend a whole day here…without even breaking a sweat (not to mention, you can knock those nagging errands of getting your car washed and clothes dry-cleaned off the list, too). Our only complaints: the cost (obviously) and the singles-sceney feel, especially come summertime when the rooftop pool turns into a pick-up joint. —Jessica Herman
FITNESS REPORT CARD
Classes A Nearly every hour, from tai chi to hip-hop to cardio kickboxing, not to mention classes for the kiddies.
Locker room A- Three cheers for marble shower walls! Our only beef: With all that space, why not have larger steam and sauna rooms?
Cardio machines A An infinite number of everything you could ask for, all equipped with personal TVs.
Weights A More free weights and machines than you know what to do with, plus a bevy of mirrors so you can check out your posture (and the guy working out behind you).
Workout accessories A Stretching areas equipped with every accoutrement occupy every open nook.
Customer service A You basically signed up for a full-time concierge service. You ask, they answer.
---
Lakeshore Athletic Club—Lincoln Park
Welcome to the mother lode of gyms. Packed with four stories of workout space, Lakeshore's mammoth facility is home to two pools, seven indoor and four outdoor tennis courts, basketball courts (also indoor and outdoor), paddle tennis courts, a fencing club, racquetball, squash, a cycling studio, gymnastics area, a quarter-mile indoor track and several dance and Pilates studios, not to mention weight and cardio rooms. If you're bored with your workout routine, it's not for lack of options. Besides the 8 bazillion ways to work up a sweat, there are also quite a few ways to cool down. There are two cafés, one of which is on the open-air roof, a full-service spa and a physical-therapy clinic. Day care and children's programs are offered day and night, and the entire facility, from top to bottom, is almost intimidatingly clean. —Christina Couch
FITNESS REPORT CARD
Classes A More than 100 classes offered each week ranging from Zumba to prenatal yoga. Bonus: There are also a ton of kids' classes to keep the little ones busy while you work out.
Locker room A So clean you could eat dinner off the floor, but we wouldn't recommend it. The locker room is also packed with shampoo, body wash, mousse and hair spray to help you get primped before hitting the real world.
Cardio machines A Rooms upon rooms of cardio equipment, most with personal televisions.
Weights A Huge variety, and the weights are in a separate section, so you can sweat it out without watching the cardio people also sweat it out.
Workout accessories A Clean mats, jump ropes, fitness balls—it's got the works, as well as several open dance studios where members can use the barre to stretch out their gams.
Customer service B+ They seemed helpful enough, but the place is so huge that getting answers to basic questions (like, Does the fencing program cost extra?) can involve talking to several people.
---
Lincoln Park Athletic Club
While this gym boasts a 60-foot-high outdoor climbing wall, it's closed half the year (November through May). But that doesn't mean you should wait till summer to join. We've found plenty of other amenities to rave about: The second-floor cardio level is jam-packed with treadmills, bikes and more (each featuring its own TV with a huge channel selection, although we spied most sets tuned to either E! or a college ball game—this is Lincoln Park, after all). The spacious pool gets high marks for never being too crowded, the locker rooms are clean, and parents in the 'hood say the kids' care area (located a few doors down the street) is one of the best. Because the club offers an artist discount, it also gets bonus points for helping anemic artsy types bulk up. —Kevin Aeh
FITNESS REPORT CARD
Classes A Attendees are so loyal to the roster of classes (ranging from boxing to live-music Spinning), you'll have to sign up for many of them at the front desk.
Locker room B+ The gym offers towels, a decent-size steam room and shampoo in each shower stall. You provide your own lock.
Cardio machines B The second-floor room is full of them—so much so that it's pretty cramped in there. But hey, if your TV is on the fritz, just watch your neighbor's!
Weights B+ A nice variety of Hammer Strength machines and free weights.
Workout accessories A Head to the upper level above the weight room for a stretching area with plenty of goods to help you cool down.
Customer service B+ The front desk folks efficiently help you sign in, so you can start working out in no time.