Body 360 class at FFC
The class is full of quick, repetitive moves that target many body parts—especially the midsection.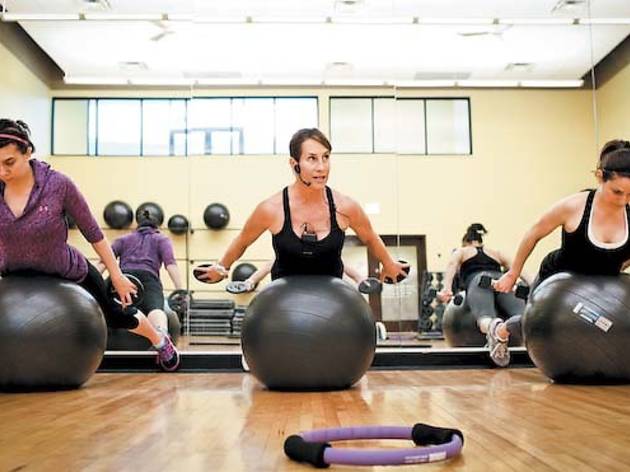 The class Body 360 at FFC(locations citywide)
The details If you're anything like me, you usually cheat or altogether skip the abs portion of your workout. I'm pretty much convinced that's why group exercise classes exist: We need someone to force ab work upon us. And this newish class at FCC does just that—but not in an overbearing way. Instructor Lois Miller (who also created the class) tricks you into working out your core by avoiding crunches and incorporating the use of a big balance ball (also known as a Swiss ball). The class is full of quick, repetitive moves that target many body parts, but especially the midsection. Early in the 45-minute class, we're lying on our sides with the ball between our ankles and lifting our legs. It's the tiniest movement, but you can feel it in your glutes and sides (you know, that annoying love-handle area). During other portions of the class, we're balancing on the ball in the plank position and sitting on the ball doing upper-body work with light weights. In addition to the Swiss ball and light weights, the class also makes use of Pilates rings and other equipment. The time goes by quickly (although when Miller says we have three more minutes of shoulder work, I wonder how I'll ever make it) and I'm not particularly sweaty by the end, but I can already tell I'm going to be sore tomorrow.
When to take it Wednesdays at 11:45am at FFC East Lakeview, noon and 5:45pm at FFC Gold Coast; Fridays at 11am at FFC West Loop. More offerings will be scheduled in June.