Boot camp at Monkey Bar Gymnasium
We give the high-intensity interval training a try at Monkey Bar gym.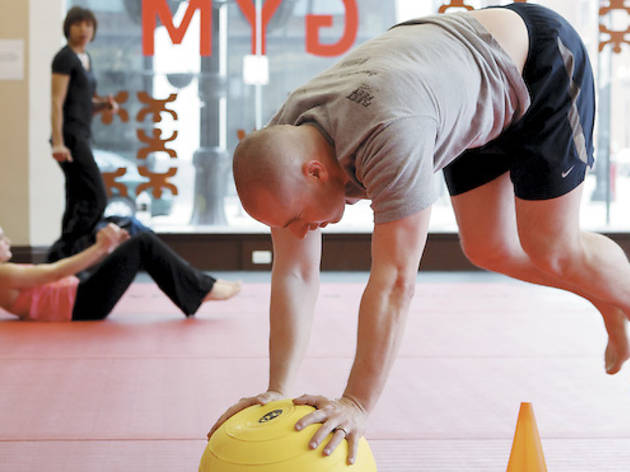 The details Forty seconds doesn't seem like a long time. But you'll think differently during the high-intensity interval training in Monkey Bar's 60-minute boot-camp class. Not your average gym, this South Loop space looks more like a high-school gymnasium, with matted floors and basic equipment such as climbing bars and ropes to help leverage your body weight. Start with a warm-up on agility ladders using quick, football-style movements to jump and crawl in and out of the squares. You go even faster the second time around, and just when you get the hang of the movements and stop questioning your coordination, you're done. After a short—and much welcomed—water break to catch your breath, you move on to the intervals (five sets of each circuit are comprised of four 40-second segments with 20-second breaks in between). The circuit stations include ab exercises, log jumps (stomach balancing on a basketball-size ball on the ground while you kick your legs side to side) and battling ropes (two heavy, 20-foot-long ropes that you whip around until your triceps can take no more). Each exercise puts your endurance to the test, and you'll be begging for those 20-second rests sooner than you think. High fives from encouraging fellow boot campers remind you you're not alone in this full-body workout, making each interval feel a little less impossible.
When to take it Tuesdays and Thursdays at 6am, noon, 5pm and 6pm. Free intro class Saturdays at 11am; prices vary, call for details and free consultation. (2255 S Michigan Ave, 312-488-1915, monkeybargym.com).