Chicago fitness | Rowing
Rowing offers a great full-body workout, so we try a class at RowFit Chicago.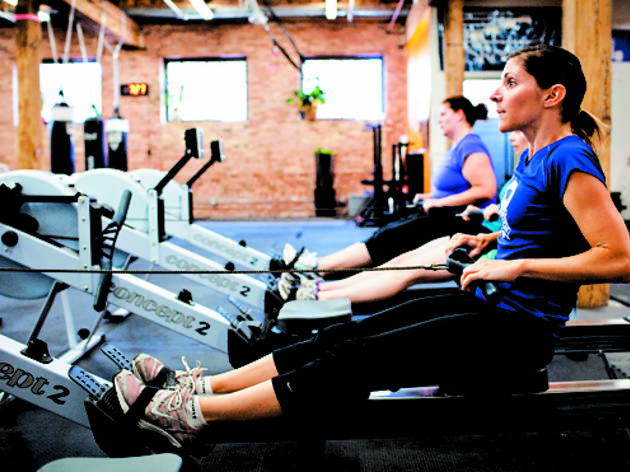 The class Rowing at RowFit (1455 W Hubbard St, 773-474-7028)
The details I often attempt to use the rowing machine at the gym…and last about eight minutes. So the thought of attending a 45-minute full-on rowing class seemed a little daunting. But Details magazine recently called rowing the new Spinning (and I'm, um, a little obsessed with indoor cycling), so I thought I'd give it a try. One of the places Details mentioned was RowFit; the studio offers rowing classes as well as CrossFit (and a combination of the two) in its modest West Town studio. Instructor Morgan Funke tells me each rowing class is set up differently, so you're never getting the same workout twice in a row (pun not intended). The class I attend is all about intervals. We row hard for a minute, then do restful, light rowing for a minute; row hard for two minutes, then light rowing for another minute. We work our way up to five minutes of hard rowing (with that much-deserved minute of rest in between) and then shave time down to a final minute of rowing. It's a good full-body workout, and there's nothing intimidating about the class: Everyone is friendly here, and no rowing experience is needed to get the hang of it. As we row, Funke helps each of us with our form and posture and offers words of encouragement over a mid-'90s hip-hop and rap soundtrack. In addition to learning how to row the right way, this class also taught me how to set up the rowing machine for intervals. At the gym, I'd just start rowing and not pay any attention to the numbers on the screen. Now that I know how an interval program works, I'm going to mimic this routine on my own. And there's no doubt I'll return to RowFit for more inspiration.
When to take it Mondays, Fridays at 7am; Tuesdays at 7pm; Sundays at 10am. $20 per class; membership and pass packages are $150–$300. First class is free for newbies.