Chicago's hottest yoga classes
Warm up with sun salutations at these warm Chicago yoga studios.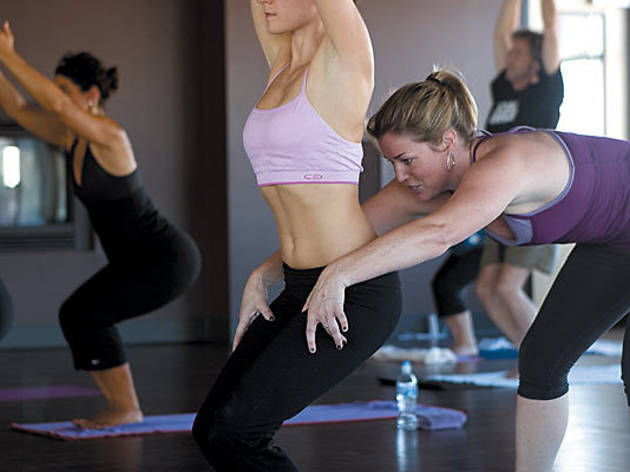 CorePower Yoga
Beginner classes start at 80 degrees with temperatures rising (but never exceeding 100 degrees). 945 W George St (773-862-9642).
Spring Wellness Center
Offering both heated and non-heated classes, Spring Wellness Center keeps its rooms between 80 and 95 degrees. 1350 W Newport St, #2 (773-327-1678).
Yoga Tree
Thanks to recently added hot yoga classes, Yoga Tree students can now practice in 85-degree heat. 5238 N Clark St (773-728-7777).
Chicago School of Hot Yoga
Temperatures range from 90 to 95 degrees. 2442 N Lincoln Ave (773-868-9642).
Om on the Range
Classes include vinyasa flow in 95-degree heat and classic Bikram yoga in a steamy 95–105-degree room. 1834 W North Ave, second floor (773-772-9642).
TruHarmony Yoga
While the Mommy and Me and Yoga Kids classes are cooler, the butt-kicking yoga sculpt classes are heated between 95 and 100 degrees. (900 N Franklin St, suite 508 312-643-8577).
Bikram Yoga South Loop
The 90-minute classes here are a sweltering 105 degrees with 40-percent humidity. 47 W Polk St (312-922-9642).
Bikram Yoga Chicago
Following classic Bikram yoga rules, the rooms are kept at 40-percent humidity and 105 degrees. 2736-A N Clark St (773-348-9642).
Bikram City Chicago Yoga in River North
Temperatures here spike to 105 degrees and about 42-percent humidity. Yowza! 1 E Erie St, suite 520 (312-397-9642).