Four Chicago Park District pools for summer swimming
These Chicago Park District pools are well worth a dip.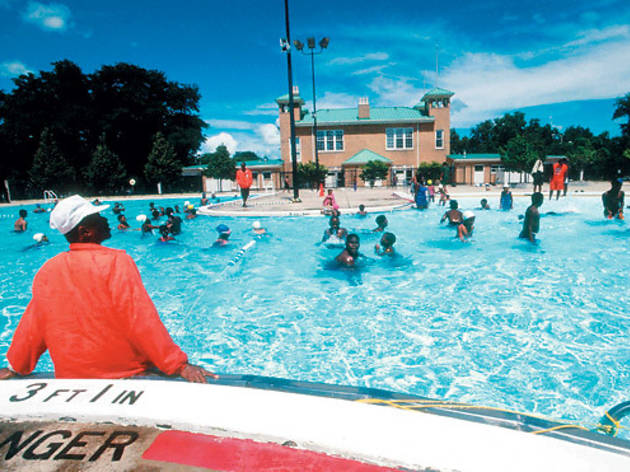 The lakefront is undoubtedly Chicago's crown jewel, but most of us get a little squeamish when it comes to actually swimming in it. Good news: You don't have to go to the 'burbs to cool off in E. coli—free waters. We found six of the best, where you can chicken fight, swim laps and fine-tune your wicked mega depth-charge cannonball–all without getting sand in your drawers.
Washington Park
5531 S Martin Luther King Jr Dr at Garfield Blvd (773-256-1248) A park this grand deserves an exceptional pool–and exceptional it is. After all, Washington Park was originally designed by Frederick Law Olmsted, known to many as the father of American landscape architecture, and its buildings conceived by architect Daniel Burnham. So it should come as no surprise to see a 50-meter heated pool surrounded by an enormous deck, complete with stadium seating. Connected to the main pool is a kidney-shaped side pool with a zero-depth entrance that gradually gets deeper–it's perfect for those who prefer "the ease" to "the plunge."
Garfield Park
100 N Central Park Ave at Washington Blvd (312-746-5092) This pool is the smallest of our picks, but what it lacks in size it makes up for in nearby eye-candy. It's literally in the backyard of the park's dazzling gold-domed fieldhouse (which come equipped with locker rooms) and is adjacent to a serene lagoon. The Garfield Conservatory, home to a stunning collection of lush plants, vibrant flowers and outdoor gardens, is a short walk away. Park for free at the corner of Central Park Avenue and Lake Street.
River Park
5100 N Francisco Ave at Carmen Ave (312-742-7516) With its stately brick fieldhouse and quiet, leafy environs, River Park is arguably Chicago's quintessential neighborhood park. Lazing on a lounge chair, you'll probably hear the crack of a bat, squealing kids on a swing set and the grunt of a Serena Williams—wannabe practicing her serve. The park's 30-meter unheated pool, a favorite with lap swimmers, features a diving well, a water playground for kids and ample deck space with umbrella-covered tables. River Park is also home to a running track, a soccer field and a river walk (the park is located at the convergence of the Chicago River's North Branch and the North Shore Channel).
McKinley Park
2210 W Pershing Rd between Damen and Western Aves (312-747-6527) Opened in 1902, McKinley Park was created to introduce some breathing room to overcrowded neighborhoods with no parks. The project was so successful that it served as a model for more than ten other South Side parks. Today, it continues to provide welcome relief from the otherwise dreary industrial surroundings. The nicely landscaped park has a 30-meter, unheated pool and a separate water playground for kids. You'll also find baseball fields, a running path and basketball courts. Arrive early to nab a parking spot in the lot on the south side of the park, just off of Pershing Road.
Outdoor pools are open mid-June through Labor Day.