Kerry Wood's top 5 Cubs moments
The highlights of Kerry Wood's pitching career with the Cubs (so far).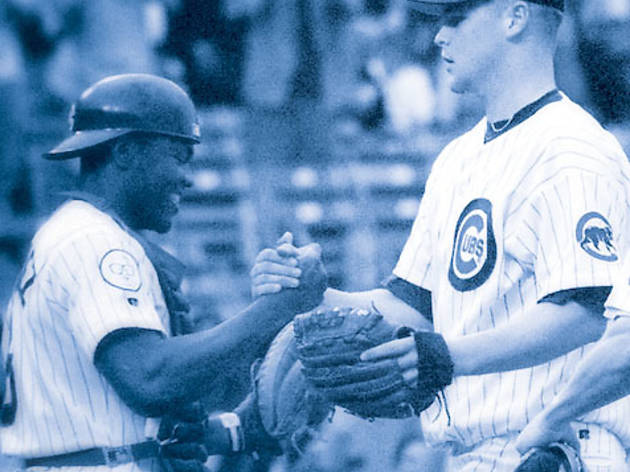 Seeing Wrigley
"I was 17 and had just signed, and I first saw the field from the Wrigley press box," says Wood, who also snagged a $1.2 million signing bonus in the 1995 draft. (He went on to spend three years in the minors.) "It was a little overwhelming. [Teammate] Scott Servais asked me for a loan when I went in the clubhouse."
Twenty Ks
Stats nerds will testify: It's the highest "game score" ever recorded. On May 6, 1998, in his fifth major-league career start, Woody struck out the first five men he faced and later had stretches in which he sat down five in a row and seven in a row. What stands out today? "How little I knew, and how easy I thought it was. I didn't really know what I was doing out there, and [I didn't have] a care in the world. That's probably the simplest game I've had since I've been in the big leagues."
First playoff start
"My first highlight was [during] my rookie year, getting to pitch against Greg Maddux in the playoffs," says Wood, who pitched well in the game-three (and series) loss to the Atlanta Braves on October 3, 1998. "We ended up losing the game and got swept, but for me it was my first really big game. That was pretty cool."
Clemens vs. Wood
In interleague play, the New York Yankees were making their first visit to Wrigley since the 1938 World Series, and with Roger Clemens seeking career win number 300, no less. In a hugely anticipated June 7, 2003, duel between the only two men ever to strike out 20 in a nine-inning game, Wood retired 14 of his first 15 batters. "The stadium was out of control," Wood says. "It was awesome to be a part of." Wood got the win, striking out 11. Clemens also was solid, but his bullpen couldn't hold a 1–0 lead. Eric Karros delivered the decisive three-run home run and the Cubs went on to win, 5–2.
NLCS Game Seven
Aided by Wood's second-inning two-run homer ("My most memorable moment in baseball," he says), the Cubs overcame a 3–0 deficit to lead the Marlins 5–3 at Wrigley Field on October 15, 2003. But Woody and the Cubs took the loss as Florida prevailed, 9–6, and went on to beat the Yankees in the World Series.