Let's all go to the smoothies
The frozen treats are available all over the city, but just how healthy-and tasty-are they? We tested six blends to find out.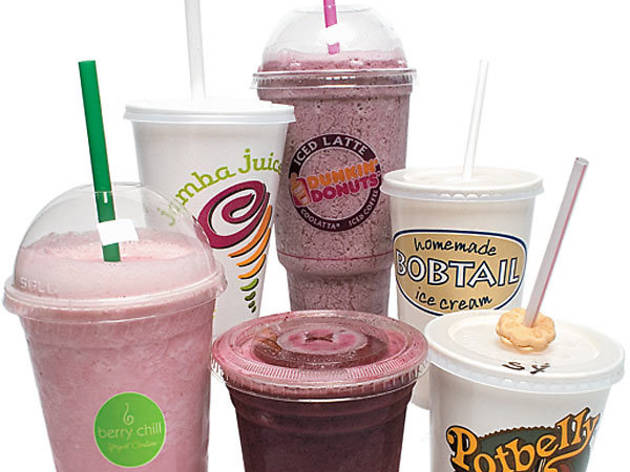 SMOOTHIE
Raspberry smoothie at Bobtail Ice Cream Company (2951 N Broadway, 773-880-7372)
Price $3.79
TASTE
The Bobtail employee warned us that the 16-ounce raspberry smoothie contains a flavored syrup, unlike most of the other choices on the menu (banana, strawberry), which include actual fruit. We should've taken the warning to heart. The smoothie was tasty, but borderline too sweet and the syrup overpowered the already sweet frozen yogurt.
NUTRITIONIST'S TAKE
"I wish there was actually whole fruit in this fruit smoothie instead of fruit syrup," says Dawn Jackson Blatner, a Chicago nutritionist. "I do appreciate the use of skim milk instead of whole."
CALORIES
Unavailable
OVERALL SCORE
SMOOTHIE
Wildberry smoothie at Dunkin Donuts/Baskin Robbins (locations throughout the city)
Price $4.30
TASTE
This smoothie is so rich, we'd be surprised to find any nutritional value in the 16-ounce cup. Even though DD claims to use real fruit in their smoothies (turns out it's a "wildberry concentrate" that includes sweetened strawberries and raspberries), we couldn't detect any seeds or other evidence of fruit in our slurps. In fact, every sip tasted like pure sugar, which isn't bad when we're craving something sweet, but not when we're looking for a healthy shake.
NUTRITIONIST'S TAKE
"Although there's real fruit in this smoothie it gets blended with not-so-appealing artificial ingredients, such as high-fructose corn syrup and red, blue and yellow dye," Blatner says.
CALORIES
367
OVERALL SCORE
SMOOTHIE
Razzmatazz at Jamba Juice (locations throughout the city)
Price $3.69 for 16 ounces
TASTE
While the Razzmatazz includes a packed mix of fruits (with a raspberry-juice blend, strawberries and bananas), we couldn't get over the syrupy, sweet taste of orange sherbet, which dominated the rest of the flavors. We'd opt for an Orange Julius to satisfy a sugar-coated citrus craving.
NUTRITIONIST'S TAKE
"Minus the orange sherbet it's almost healthy," Blatner says. "Choose their 100 percent fruit drinks instead, since they're about 200 calories and contain all nutritious ingredients."
CALORIES
290
OVERALL SCORE
SMOOTHIE
Mixed berries and peach smoothie Doc's Juice & Smoothies (2246 W Armitage Ave, 773-278-5600)
Price $4.79 for 16 ounces
TASTE
The just-thin-enough-to-suck-through-the-straw, 100 percent organic mixed-berry and peach smoothie (we'd attribute the thickness to the fact that we opted for frozen rather than regular organic vanilla yogurt) has subtle hints of peach midsip and finishes on a strong apple note. The well-balanced cup offers just enough tartness and a lot (but not too much) of sweetness, and quenched our thirst for a natural flavor.
NUTRITIONIST'S TAKE
"The first ingredient is frozen fruit, which is great," Blatner says. "The last ingredient of organic vanilla frozen yogurt is the only one that may be more of a dessert than a beverage."
CALORIES
350
OVERALL SCORE
SMOOTHIE
Strawberry blender at Berry Chill Yogurt Couture (635 N State St, 312-266-2445)
Price $6.49 for 24 ounces
TASTE
Like sipping a liquid version of a carton of strawberry Dannon, this smoothie (available starting this week) manages to taste satisfyingly sweet and healthy at the same time. Bonus: The shop stays open till 4am—making this a healthier pit stop than, say, Super Dawg, after a Saturday-night bender.
NUTRITIONIST'S TAKE
"There are 10 million reasons to sip on this," Blatner says. "They use special frozen yogurt that has the Live & Active Cultures seal. Which means it has at least 10 million good bacteria per gram to keep our digestive tract healthy."
CALORIES
365
OVERALL SCORE
SMOOTHIE
Strawberry smoothie at Potbelly (locations throughout the city)
Price $2.69 for 16 ounces
TASTE
Made with vanilla yogurt, whole milk and frozen strawberries, this creamy, smooth concoction is so delicious you'll swear that cheery Potbelly employee accidently made you a shake instead of a smoothie.
NUTRITIONIST'S TAKE
"With almost 500 calories and six grams of artery-clogging saturated fat, you could be better off with a cheeseburger."
CALORIES
481
OVERALL SCORE