Monsters of the airwaves
Former Bears Doug Buffone and Ed O'Bradovich bring old-school grit to the radio.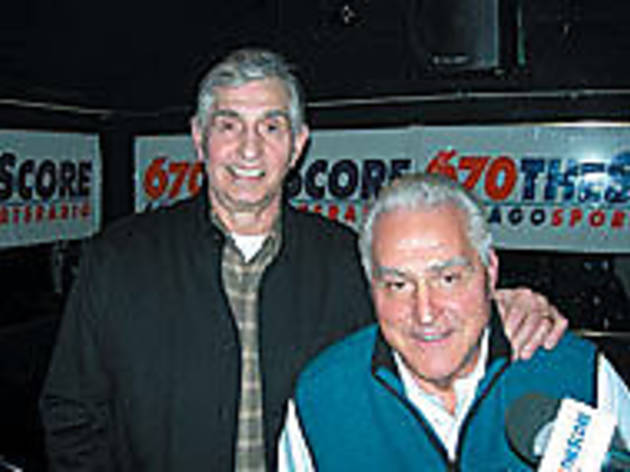 If you were listening to the radio on a recent Sunday afternoon and heard two men grunt, yell about "corner blitzes" and slam their hands against the table, well, you'd likely tuned into the Chicago Bears postgame show on WSCR-AM 670.
More specifically, that was former Chicago Bears Ed O'Bradovich and Doug Buffone—known to their devoted listeners as OB and Doug—broadcasting a show that's been on the air for the last several years. Don't ask them how long, though: "Doug and I were trying to figure that out the other day—maybe eight years or something," says O'Bradovich, who played defensive end for the Bears from 1962 to 1971 and made a key interception in the Bears' 1963 championship win over the New York Giants. Buffone takes a more Zen-like approach to the query. "It seems like it just appeared, it's there, and it'll be there forever," says the former middle linebacker.
The show has become a hallowed ritual for the pair: O'Bradovich and Buffone watch each game together at the station, take copious notes, then head into the studio and dissect their favorite team with insight as old school as an Italian beef sandwich washed down with a can of Pabst. (Speaking of beer, you'd end up pretty hammered if you took a sip every time you heard a "I gotta tell ya…" or "There's no doubt about it…" over the show's four hours.)
For example, take this exchange that aired after the Bears' recent 39-14 pasting of the New Orleans Saints, which began with O'Bradovich saying/yelling, "If you want to boil it down to the bottom, bottom line, you could talk about all the plays they made on offense…but how we won this football game, Doug, we won the battle at the line of scrimmage, and that's why we're going to Miami! Bottom line! Make no mistake about it!"
"On both sides of the ball!" Buffone replied.
"Absolutely, Doug!" O'Bradovich said.
Buffone says they don't go into the studio with a shtick in mind—just a simple philosophy: "We take one game, and we tell the truth," he says. "You can't lie about facts."
And they may be fans, but they both insist that they can be objective about their beloved Bears. "When Rex Grossman had a zero rating, are we going to say, 'It was a little bit of this, a little bit of that, he had a cold, or whatever'?" O'Bradovich asks. "No. The kid stunk. And that's what you have to talk about."
That honesty gives Bears football junkies their fix of hard-core Bears chat, no amateurs allowed. Don't bother coming to the party if you don't know your weak-side linebacker from your strong safety. And when the Bears lose, well, things get a little heated in the studio.
"I'm like a fan—I'm irate. Maybe sometimes to the point where it disrupts my thinking," admits Buffone, who's done radio and TV work in Chicago since retiring from football in 1980 and has a show on the Score Mondays to Fridays from 6 to 8pm. "Sometimes I get on there and I start sputtering." Following one particularly agonizing loss, Buffone's wife, Dana, called the station because she thought he was having a heart attack on the air.
After the lean years of the Dick Jauron era, both men say it's been a pleasure to cover the team this year. And, of course, they say the fun isn't over yet—both men predict the Bears will hoist the Vince Lombardi trophy over their heads on Super Bowl Sunday. "I gotta tell ya, I got the Bears winning," Buffone says. "If the Bear defense raises its ugly head again, I think things are going to be really good."
Tune in to OB and Doug on WSCR-AM 670 after the Bears defeat the Indianapolis Colts on Sunday 4.