New cardio machines
We test new exercise equipment.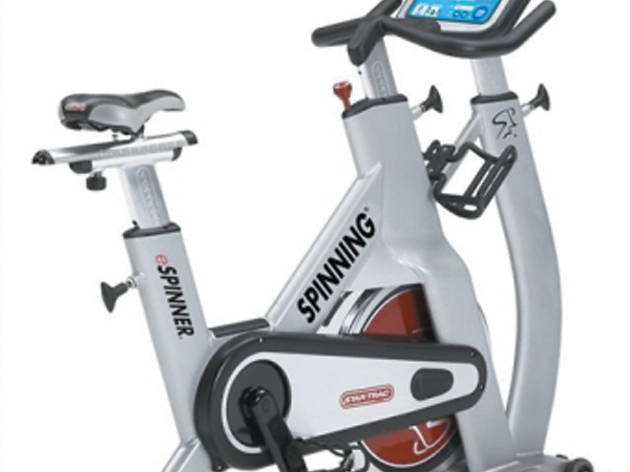 1/5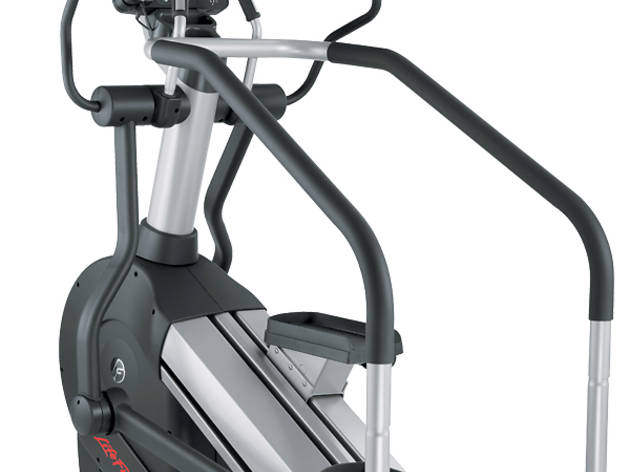 2/5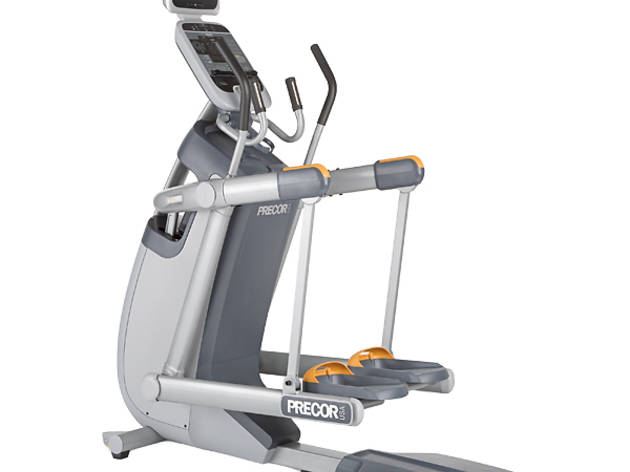 3/5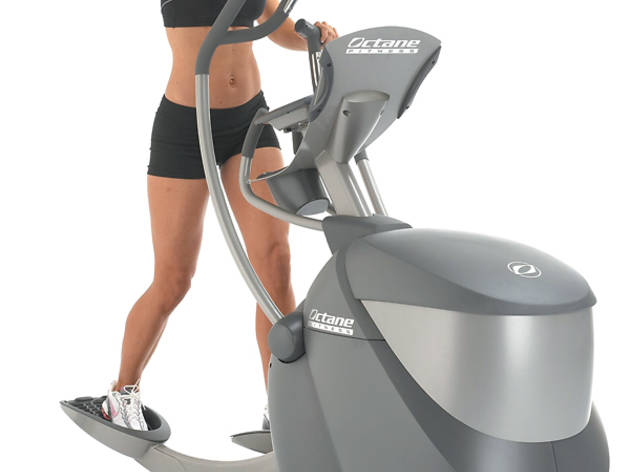 4/5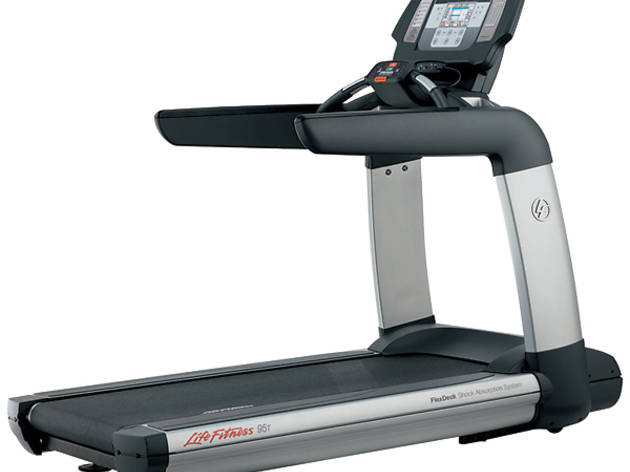 5/5
Star Trac eSpinner
I take Spinning classes twice weekly, but it's torture every time. So I'm intrigued to see if the Star Trac eSpinner, a stationary bike that promises a virtual Spinning class experience, is equally masochistic. I select a 30-minute interval workout, enter my stats and a video begins. The instructor on my screen, a blond hunk in Spandex, gives me a pep talk and we're off. It's all about maintaining cadence (pedal revolutions per minute) and heart rate—though you'll need to hook up a heart monitor for the bike's digital dashboard to measure that. My intervals are two-and-a-half minutes each and even at level four (out of ten), I hustle to maintain speed through seated and standing sprints and hills. Chris (I've named the blond) is surprisingly motivating (I swear sometimes he's flirting with me), while the scroll on the dashboard tells me to pick up my speed and counsels me on form. My verdict: I still need a classroom setting to last a full hour, but if a quickie with Chris can burn 320 calories, I'm game. —Erin Ensign
Try it at Fitness Formula Club Lincoln Park
LifeFitness Summit
I've seen the superfit going superslow on this extreme machine, a cross between an elliptical and stairclimber, soaking towel after towel. Of the 25-plus workouts available, I launch into cardio mode, which requires me to work out toward a target heart rate of 148 while gripping the sensor handles, rather than the moving bars. It isn't long before I feel like someone who's accidentally entered a wet T-shirt contest. But needing to burn the pecan pie I'd put away earlier in the week, I slog on. Inspired by flatscreens of college football hanging in the gym, I power through all 30 minutes, often at my target heart rate, burning more than 300 calories according to the meter. A day later my legs and glutes are feeling good, not sore.—John Dugan
Try it at Bucktown Fitness Club and YMCA Lakeview
Precor Adaptive Motion Trainer (AMT)
This machine is tricky to get the hang of. Your feet can go up and down like a stair stepper, in bouncy loops like an elliptical machine or in long strides akin to running, without pressing any buttons. My wobbly gait soon evolves into controlled movement and I learn to segue fluidly between modes just by altering the arc of my steps. Long strides are the toughest (they require a lot of momentum)—and become even harder when I go hands-free. After one minute I'm dying, but using the handgrips and altering my steps help, so I begin to interval train. As my music changes, I can always stay on tempo by varying modes or adding resistance, which I love. I can even go backward to work my butt and hamstrings. This machine's wildly versatile and by the end of my workout, I'm sold. —Erin Ensign
Try it at East Bank Club, Cardinal Fitness, all YMCAs
Octane Pro3700
I approach elliptical machines with one goal: a steady cardio workout. Forget all the console buttons that require either a gamer or Sulu to fathom. But with the Octane Pro3700, I set out to utilize its high-tech options, in particular its "workout boosters": X-Mode, GluteKicker and ArmBlaster. The first two seem simply to entail console prompts (squat down to target the lower body, for instance), while the ArmBlaster affects what the machine itself does: Its ten-second "blasts" make the handles and pedals harder to move. The "Converging Path" handlebars supposedly follow the arms' natural swinging motion, but I couldn't tell much difference. Yet the pedals have a comfortable stride length, and the handlebars' heart-rate sensors seem more accurate than others. The nicest feature is also the most low-tech: a three-speed fan. —Novid Parsi
Try it at Equinox (all city locations), XSport Piper's Alley and Bricktown, Lakeshore Athletic Club Lincoln Park
LifeFitness Elevation
I've been using this treadmill for a few months now, but I never paid attention to its extra features. Normally, I'll just hop on the treadmill, start running and crank up my pace every half mile. This time, I press the virtual trainer on-screen button, and allow it to do the calculating for me. I plug my iPod and headphones into the machine so I can listen to my music while also getting advice from the cartoon trainer woman (her voice is authoritative, like she could be a correspondent for the Today show). During this first session, she's not really saying things I'd expect (such as "run faster!"); instead it's advice on how to get the most out of using the treadmill (including tips on how to change my route or increase my speed midprogram). Because I choose a program that includes hills, the device automatically inclines, something I'd never initiate on my own. I think I've just found my new running buddy. (The Elevation equipment also comes in elliptical and bike options.) —Kevin Aeh
Try it at All Athletic Clubs (Lincoln Park, West Loop, Lakeview, Evanston), L.A. Fitness South Loop, Fitness Formula Union Station, Equinox Lincoln Park, Equinox Loop, Equinox Gold Coast
BEGINNER TIP
It took me a few minutes to figure this out, but make sure you plug your earphones into the machine and not your iPod. That way, you'll be able to hear the virtual trainer.