One and Done at On Your Mark Training
A one-time-only personal training session at OYM will greatly improve your workouts.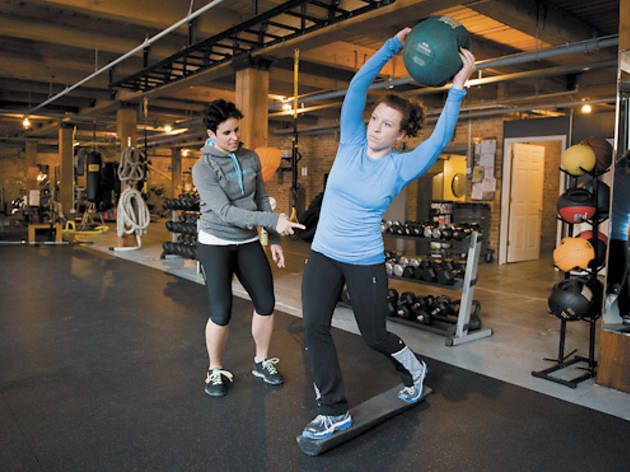 Have you ever found out you've been singing the wrong lyrics to a popular song for years? And then when you discover the correct lyrics, the song makes much more sense? "Oh, so Madonna didn't dream of some bagels in that 'La Isla Bonita' song?" I had that sort of "aha moment" a couple of times during my One and Done session at On Your Mark Training. The one-on-one class is basically a super-sized personal-training session. For the first 30 minutes, I met with OYM co-owner Annette Fiscelli and talked about my workout habits and goals. I told her my fitness routine usually involves a lot of cycling and running and that I sometimes feel a little slow (on the bike and the pavement) and suffer from tight hamstrings. After a fitness assessment (in which she studied the way I walk and run), Fiscelli was ready to dole out some tips. My first aha moment came when I was on the treadmill and Fiscelli had me kick my legs back just a little higher as I ran. It made a huge difference: My legs felt lighter and my pace improved. As for my tight hamstrings, it turns out I wasn't doing the right kind of warm-ups. We went through a proper warm-up session (dynamic flex exercises that include stretches on a foam roller, walking with a rubber band around my ankles and, of course, lunges) that, at more than 30 minutes, felt like a mini workout. Fiscelli gave me the kind of attention you'd never find in a group setting, and now I have the tools to improve my workouts. The session ended with Fiscelli giving me a handwritten personalized workout—complete with stick-figure renderings. The one-time-only session is great for those, like me, who need to target certain areas, or for clueless folks who want to start a new, and probably intimidating, workout routine (weight training comes to mind). I know this was a one-time session, but I wouldn't mind checking in with Fiscelli every few months. $160 for 90 minutes, plus a free week of OYM classes. 1101 W Monroe St (312-733-9330); 1753 N Damen Ave (773-292-9330, oymtraining.com).