Shockwave at Equinox
High-tech rowing machines and a little friendly competition provide a fast-paced, total-body interval workout.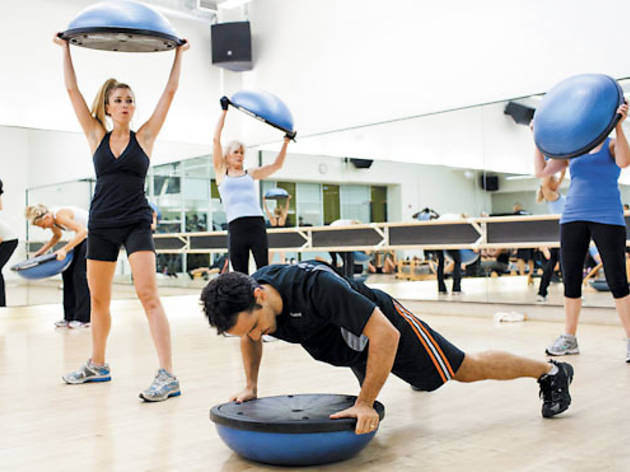 The class Shockwave at Equinox (900 N Michigan Ave, 312-254-2500)
The details I normally hate workouts that introduce a competitive element—I'd rather the class be one big, happy, sweaty family. But Shockwave, a new interval workout offered only at the Gold Coast location of Equinox (it hits Lincoln Park and Highland Park this fall), brings the thrill of a race without the embarrassment of coming in last. Participants split into groups and alternate among four stations, one featuring a set of shiny new Indo-Row machines (they use water, not air, for resistance, engaging 80 percent of your muscle mass with each push/pull) and the other three set up with equipment from kettlebells to BOSU balls. In my class, we had to do push-ups against aerobic steps, lunges with dumbbells and medicine ball sit-ups. The catch: You have to keep exercising at your station until everyone in the rowing group completes a set distance, typically 100 to 200 meters. That means when you're rowing, you're fueled by a healthy burst of oh-God-don't-be-last adrenaline—but, since everyone's moving until the last rower is in, nobody's staring at you if you happen to be a little slower than your compatriots. I don't know what's more shocking about Shockwave: How I could tire out so many muscles (back, butt, biceps, abs and more) in just 45 minutes, or how much fun I had doing it.
When to take it Wednesdays 12:30–1:15pm, Thursdays 5:45–6:30pm. Free for Equinox members; $35 drop-in fee (must be with an Equinox member).