Team spirit
Have a fave college team? These bars will make you feel right at home.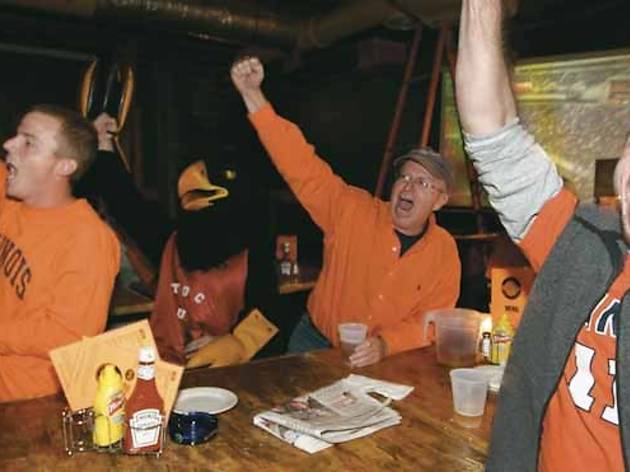 If you're down with Duke… cheer for the Blue Devils at Sedgwick's (1935 N Sedgwick St, 312-337-7900), a cozy sports bar in Lincoln Park that serves delicious comfort food. Enjoy Sedgwick's Sooooo Damn Gouda Burger! ($11), a sandwich featuring—you guessed it—aged Gouda cheese, while cheering on the Blue and White.
If your allegiance is with Indiana… head to Sluggers (3540 N Clark St, 773-248-0055), a.k.a. Wrigleyville's own Hoosiers HQ. When you're not watching IU basketball, you can play pool, skee ball, air hockey or go to the batting cages. Indiana alums also congregate at Lakeview's Kirkwood Bar and Grill (2934 N Sheffield Ave, 773-770-0700). The mac 'n' cheese bites are not to be missed. See "Snack showdown."
If you go for Kentucky… meet other Wildcats at the Pony Inn (1638 W Belmont Ave, 773-828-5055) in Roscoe Village. Enjoy food and drink offerings while college ball dominates the overhead plasmas.
If you root for Michigan… find your fellow Wolverines at Duffy's (420½ W Diversey Ave, 773-868-8073), a rowdy Lakeview establishment that's serious about sports. Be prepared for a fratty scene—you might just feel as if you're back in college. If you prefer a clubbier vibe, don your blue and gold at Wrigleyville's Moe's Cantina (3518 N Clark St, 773-248-0002). The Mexican "tapas"—meat on skewers, fish dishes—will keep you occupied during media timeouts.
If you support Michigan State… "Sparty" on at Wicker Park Tavern (1958 W North Ave, 773-278-5138), situated right in the heart of the hubbub that is the North/Damen/Milwaukee intersection. Besides showing games, the loungey sports bar even sells MSU gear on its website—everything from dog sweaters to toothbrushes. Another place to find other East Lansing expats is Gannon's Pub (4264 N Lincoln Ave, 773-281-1007) in North Center, a Cheers-ish bar offering daily specials, such as $5 All You U Can Eat Wings on Wednesdays.
If you cheer for Ohio State… chest bump other Buckeyes at McGee's (950 W Webster Ave, 773-549-8200). The Lincoln Park tavern prides itself on being "Buckeye central," offering various food/drink specials—such as cocktails and a brunch buffet—whenever OSU basketball is on. Meanwhile, the Gaslight Bar & Grille (2426 N Racine Ave, 773-929-7759), another Lincoln Park spot, declares itself to be the "Official Home for OSU Alumni." Point is, if you go buckwild for the Buckeyes, there are plenty of places to find your people.
If you want Wisconsin to win… you are not alone at Will's Northwoods Inn (3030 N Racine Ave, 773-528-4400), a Lakeview bar full of outdoorsy artifacts that's home away from home for UW Badgers. Find other alums at Lottie's Pub (1925 W Cortland St, 773-489-0738), a TV-filled Bucktown bar that shows sports all the livelong day.