The rise of MMA fighter Pat Curran
When Spike TV starts broadcasting the fights of mixed martial arts fighter Pat Curran, he could be the next big thing.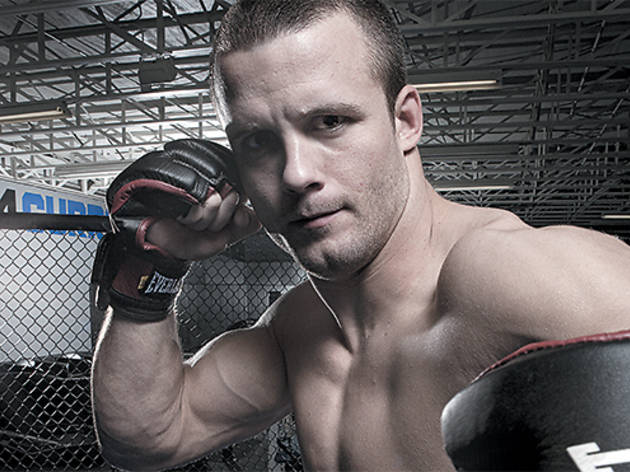 Pat Curran drops his right knee on the side of my neck. It feels like a tree.
My right arm tingles and my face swells. I can't breathe. In a few seconds, I tap out. Curran, one of the world's rising mixed martial arts fighters, calls this move the knee-on-throat, which is accurate enough but does nothing to suggest its force or effectiveness. It's one of his favorite finishing moves.
I've come to Curran's training spot in northwest suburb Crystal Lake to see the move (closer up than I'd anticipated) because Curran, 25, is a rising star in MMA and a product of Bellator Fighting Championships, the second biggest company in the world of MMA, after the much better-known Ultimate Fighting Championship.
Beginning in January, Bellator tournaments will appear live on Spike TV, the same network that helped make UFC the industry leader. But Bellator—which relocated to California from Chicago in August—is counting on more than TV broadcasts to build its brand. It's also counting on Curran, Bellator's current featherweight champion.
For both parties, there's a lot on the line. Not quite knee-on-throat pressure, but close.
When he isn't fighting, Curran exists in relative obscurity. He trains at his cousin Jeff's Team Curran Martial Arts Academy, in the rear of a nondescript one-story building that shares space with a senior citizen center and office furniture showroom. He lives a short walk away, past the parking lot and through some brush, in an apartment he admits isn't the greatest.
Before he became a fighter, Curran worked odd jobs: in cement for his uncle; in heating and cooling for a friend; and as a bar back and bouncer. He grew up in Boca Raton, Florida, where he wrestled in high school. When Curran was a junior, Jeff, an MMA fighter at the time, showed him some fight tapes.
"I pretty much fell in love with [MMA] then," Curran says. But it took him a while to consider a fighting career. "I just didn't see myself coming up [to the Chicago area] to be a fighter," he says. "It wasn't really like a normal job. But it just got to the point where if I didn't do it I would regret it. I started getting that competitive drive again from wrestling."
Curran, who is single, has soft brown eyes and a dimpled chin. He has the sharp, perfectly angled jawline of a model. He's 5'9", 145 pounds and all muscle. He speaks in warm, calm tones.
"Girls like him, which never hurts," says his manager, Brian Butler.
But Curran doesn't adore the sport's hype, and doesn't go in for bad-mouthing opponents, which makes him unusual. Bellator's founder and chief executive officer, Bjorn Rebney, says Curran easily could be mistaken for an eighth-grade math teacher, albeit a teacher students wouldn't want to provoke.
In the ring, Curran strikes hard and works fast, with a right hand that hits like a hammer. As a kid, his family gave him the nickname "Mosquito" because he was always zipping around.
His even-keeled demeanor is endearing to MMA fans and corporate sponsors in a sport that has its share of super-size personalities. He's more Derrick Rose than LeBron James, more Lovie Smith than Mike Ditka. Come January, when Spike TV brings Bellator into millions of households, the rest of the world will get to know both sides of Curran—violent and calm.
In a way, he's an ideal symbol for Bellator, which raises its stars through simple, NCAA basketball-style championships in which fighters must win to advance. The message is that anyone can be a champ if he earns it. Curran comes across as an everyman. Fans watch him and think, Hey, maybe I could do that. Except they can't.
Bellator is the brainchild of Rebney, 46, a California native with a law degree and a master's in sports business management. Before starting Bellator, he was founder, president and CEO of Sugar Ray Leonard Boxing in California, where he managed and promoted fighters and produced and promoted televised boxing events.
In 2007, he decided to create his own MMA league in California and moved it to Chicago shortly before its first nationally televised event. He began by analyzing why other challengers to UFC, which debuted in 1993, had failed. The main reason, he concluded, was they couldn't compete with UFC's top-tier stars, who enjoyed tremendous TV exposure.
Tournaments would help solve that problem, he concluded. They would let fighters control their own fates rather than relying on matchmaking by officials to determine who got the chance to fight for a title, as UFC does. With tournaments, fighters would become stars as they advanced through the brackets. Fan favorites would emerge organically. Such an approach would also keep down costs, Rebney says, because fighters would have to work their way up to big paydays.
Bellator debuted in 2009. Its fights have been broadcast on ESPN Deportes, Telemundo, Mun2, NBC, Fox Sports Net and MTV2. But none of those networks is synonymous with mixed martial arts, limiting exposure for its fighters.
Bellator made its biggest headlines to date in October 2011, when Viacom, which owns MTV Networks, purchased a majority stake in the company. The money would help Bellator retain top fighters, but another result of the deal was even bigger. Bellator now has an exclusive broadcast deal with Spike TV, also owned by Viacom. Spike TV has been broadcasting UFC bouts since 2005, but beginning next year UFC is moving to Fox.
Bellator will have 25 live events on Spike TV next year, Rebney says, in addition to two ten-episode seasons of a reality show currently in development, with Curran expected to be featured. Meanwhile, Bellator, which is broadcast in 107 countries, is also in talks with promoters from Eastern Europe and South America to expand the fights internationally.
Already, fighters like Curran have benefited from the Viacom deal. Dressed in a new Hugo Boss suit, he walked the red carpet at the MTV Movie Awards and Spike TV's Guys Choice Awards this summer.
"When Spike TV gets a hold of him, I think he's somebody they're going to market very well," Butler says. "Keep in mind that Pat's on a meteoric rise. He came out of nowhere and he's still adjusting to the fact that people recognize him."
Curran earned $100,000 each for winning the Bellator Fighting Championships: Season Two Lightweight Tournament and 2011 Summer Series. In addition to extra bonuses and a recent two-year fight contract he signed, Curran has made close to $300,000 in about two years. Butler, who secures sponsorship, marketing and fight contracts for a host of fighters, recently inked Curran to an exclusive deal with Alienware computers to go with his sponsorship deal with the supplement company AllMax Nutrition.
"He's got a lot of stuff going on, and he's just as calm and just as relaxed," Rebney says. "He's a great guy to have in the organization. You love to see that. All guys don't respond that way. When the lights go on and the cameras go on and you're walking on the red carpets, it changes a lot of people."
Of course, his commercial success depends on success in the ring. He had a big fight scheduled for August 24 at Harrah's Tunica Casino in Mississippi, where he was slated to defend his championship belt against Patricio Pitbull. But he suffered a broken orbital bone in his final sparring session a few weeks before the fight. The injury shelved Curran for eight weeks. Now he's fully healed and getting ready to take on Pitbull—probably in January.
"When he gets in the cage, he's a savage in there," says Michael Chiappetta, who's covered MMA since 2006, first for NBC Sports and now for MMAFighting.com. "He's a very aggressive fighter, especially with a finishing instinct, which is what fans love to see, a guy who goes in not to win on points but to finish the fight. That's something he does very well. I think that's the thing that's going to eventually grow his appeal."
For now, Curran remains grounded. As he trains on a midsummer night among 30 fighters at the Team Curran Mixed Martial Arts Academy, he seems to get lost in the crowd at times. No one gives him a second look, except perhaps when one of his punches lands with extra force on a pair of gloves or a heavy bag.
But don't take his low-key demeanor for lack of ambition. "I want to be the Michael Jordan of the sport," he says. "I want to pass everybody in the sport right now."
This article was produced in partnership with ChicagoSideSports.com.