TOC's Biggest Loser?
Editor-in-chief Frank Sennett finally gets serious about getting in shape with Downsize Fitness.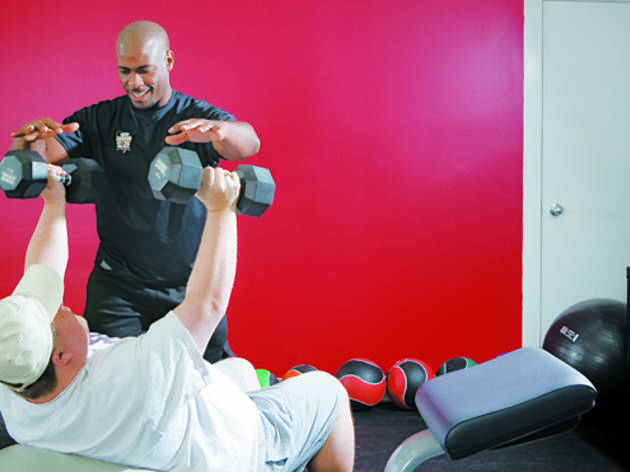 The first time I ran up and down the split-level flight of stairs at Downsize Fitness, I was almost comically out of breath. But it was no laughing matter; after more than 20 years of letting myself go, I'm determined to get fit. A month later, although I still get a bit winded after a stair circuit, I'm finally on the path to living a more healthy life.
It's something I've talked about a lot. When TOC was planning its annual fitness issue three years ago, I suggested starting a Biggest Loser–style competition among local media people, including radio talker Steve Dahl. As with most of my fitness ideas, I let the notion die, only to see Dahl shed a bunch of weight on his own. When Dahl pitched for the magazine's softball team this past summer, he explained how he'd lost weight with the help of the LoseIt calorie-tracking iPhone app. I was inspired by his example—but not enough to actually live up to it. There was always an excuse.
For instance, I'm a stress eater in the midst of the most stressful period of my life. I've got a demanding job, an even more demanding baby and a looming book deadline. These are all things I love, but they also lead me to stuff my face. Like the Saturday this fall I spent working on the book until midnight only to see one forlorn raspberry-cream–filled cookie left in the box I had purchased just 12 hours before. I ate the last evidence of my 1,500-calorie snack-fest as the computer powered down. Not a proud moment.
But then, in October, our Shopping & Style section reported that a Biggest Loser–style gym was opening in the Fulton Market district. New members had to be at least 50 pounds overweight. When I realized I was overqualified, something finally clicked.
The premise seemed promising: Members sign up for daily workouts with a personal trainer who supervises no more than five people per session. The gym's windows are frosted and the door is locked for privacy, and the exercise circuits foster moderate weight loss while building lean muscle mass. Downsize, which also has a location in Las Vegas, was started by local futures trader Francis Wisniewski, who's losing weight via the program himself.
From the moment I met trainer Jason Burns, I was hooked. Burns was a Wisconsin Badgers running back, played briefly in the NFL and now coaches the football team of Chicago's Hope High School. He's also one of the nicest "jocks" I've known. Burns says he likes to work with either serious athletes or the seriously overweight, because those tend to be the most motivated exercisers. Who knew I had anything in common with serious athletes?
Even though Burns works me hard for about an hour each morning—Mondays, Wednesdays and Fridays are for circuit training while I hit the treadmill on Tuesdays and Thursdays—I never dread going to the gym for the ever-changing mix of machine and free-weight exercises. During a recent session, when my arms felt like overcooked noodles after a challenging weight-lifting sequence, I jokingly replied no when the trainer asked if I was ready for the final circuit.
"That's the first time I've heard you say that," he noted with a smile. I immediately banished the negativity, picked up the barbells and powered through the workout. Even during tough moments, it's been a rewarding experience. That's thanks to the program, to Burns—and to the fact that I'm finally ready to do this.
After a month, I dropped about ten pounds and felt energized. And although I've been slow to embrace Downsize's nutrition component (which focuses on several small meals a day, mostly packed with vegetables, some lean protein, and carbs only right after a workout), I'm still eating better than I have in years. By this time next year, I plan to be 100 pounds lighter. My other goal is to make sure I'm never qualified to be a member of this gym again.
Downsize Fitness, 220 N Aberdeen St, 1-North (312-226-7493, downsizefitness.com). Membership: $300/month. The gym starts a $25,000 Weight Loss Challenge January 1.