Water-based fitness activities
Cool off while you break a sweat with these water-based fitness activities.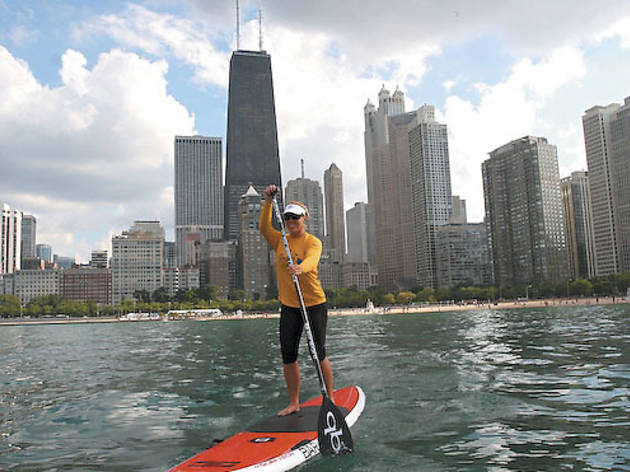 Kiteboarding MACkiteboarding in Muskegon, MI (1955 Beach St, 616-846-7501, ext 227; mackiteboarding.com)
The folks behind MACkite make no bones about the fact that this sport isn't for the risk-averse. Those with cash to burn and an adventurous itch to scratch can make a day of it and head four and a half hours northeast to Muskegon, Michigan, for a daylong kiteboarding lesson ($349 for a day). Hold on tight as you're harnessed to a board and propelled by a kite across the water.
Paddleboarding Great Lakes Board Company at North Avenue Beach (773-575-4787, greatlakesboardcompany.com)
Ride the next wave in water sports with paddleboarding, which is a combo of surfing and kayaking. It's supposedly so easy you can bring grandma along for a go. Work your core and lower body by balancing on a board that's a little thicker and longer than your standard long board, and tone your guns paddling from North Ave to Fullerton and back. Start out with an hour-long lesson ($50 per person), then sign up for a 60-minute group fitness class ($25 per person) or simply take a board out for a ride ($25 per hour).
Kayaking Chicago Kayak at Skokie Lagoons (Dundee Rd and Edens Expwy, chicagokayak.com)
Boat traffic, barges and an overall ick factor make the Chicago River a less-than-ideal spot to kayak. Opt instead for quieter, cleaner Skokie Lagoons, a wildlife refuge 20 minutes north of the city. Chicago Kayak offers three-and-a-half-hour beginner classes ($80) that teach basic safety, water-communication skills and paddle-stroke technique. Bonus: You're more likely to see deer, heron and turtles than floating beer cans and other garbage along the way. The next class takes place Saturday 25, 9am–12:30pm.
Swimming Well-Fit Triathlon Training Center (1700 W Hubbard St, 312-846-1222, wellfitinc.com)
Peer pressure does wonders when it comes to working out. Get a helping hand by signing up for an hour-long stroke analysis ($50) with swim instructor Keith Klebacha at UIC's pool. Then train with other tri-ers in an eight-week swim technique class ($175 for members, $250 for nonmembers) offered for swimmers of all levels and focusing on everything from proper body positioning to swimming in a straight line.