2016 Equity Jeff Award nominations
Paramount, Goodman, Chicago Shakespeare and Porchlight lead the list.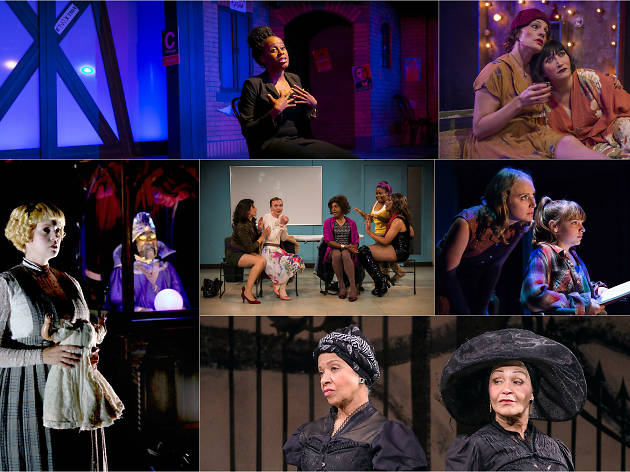 Suburban musical house Paramount Theatre leads the list of 2016 nominations for the Equity Wing of the Joseph Jefferson Awards, followed closely by Chicago Shakespeare Theater, Goodman Theatre and Porchlight Music Theatre. Paramount's West Side Story has a leading seven nominations; other new favorites of the Jeff Committee ranged from Porchlight's intimate revival of Dreamgirls to the House Theatre's original United Flight 232 to the Goodman's massively ambitious adaptation of Roberto Bolaño's 2666.
Playwright Philip Dawkins scored a double nomination for best new work with his plays Charm (produced by Northlight Theatre) and Le Switch (produced by About Face Theatre). Costume designer Bill Morey outdid him, taking three of the five slots for in the Costume Design—Midsize category for three different Porchlight shows. And the list of Jeff nominations has perhaps more than its usual share of Tony Award winning actors, with the committee seeing fit to nominate both Patti LuPone and Christine Ebersole for their star turns in the Goodman's War Paint, while Deanna Dunagan, a Tony recipient for August: Osage County, earned a Jeff nod for her supporting turn in Shattered Globe's revival of Marvin's Room.
There are some head-scratching choices, too, such as the fact that Steppenwolf's deadly dull adaptation of John Steinbeck's East of Eden is up for new adaptation while its premiere of Tracy Letts's moving Mary Page Marlowe comes up empty. All told, there are 178 nominations in 32 categories, taken from 158 productions seen by Jeff Committee members between August 1, 2015 and July 31, 2016. The 48th annual Equity Jeff Awards will be presented October 17 at Drury Lane Oakbrook Terrace.
Complete list of 2016 Equity Jeff Award nominations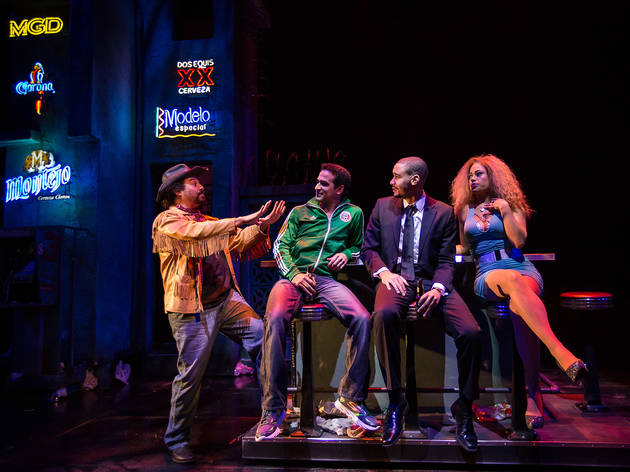 Photograph: Liz Lauren
PRODUCTION – PLAY – LARGE
« 2666 — Goodman Theatre
• Arcadia — Writers Theatre
• Between Riverside and Crazy — Steppenwolf Theatre Company
• Charm — Northlight Theatre
• The House That Will Not Stand — Victory Gardens Theater
• Long Day's Journey into Night — Court Theatre
• The Tempest — Chicago Shakespeare Theater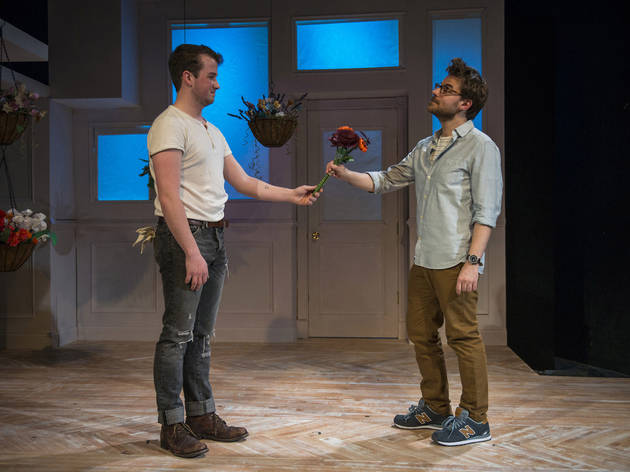 Photograph: Michael Brosilow
PRODUCTION – PLAY – MIDSIZE
• Good for Otto — The Gift Theatre
« Le Switch — About Face Theatre
• The Mutilated — A Red Orchid Theatre
• Pilgrim's Progress — A Red Orchid Theatre
• The Rainmaker — American Blues Theater
• United Flight 232 — The House Theatre of Chicago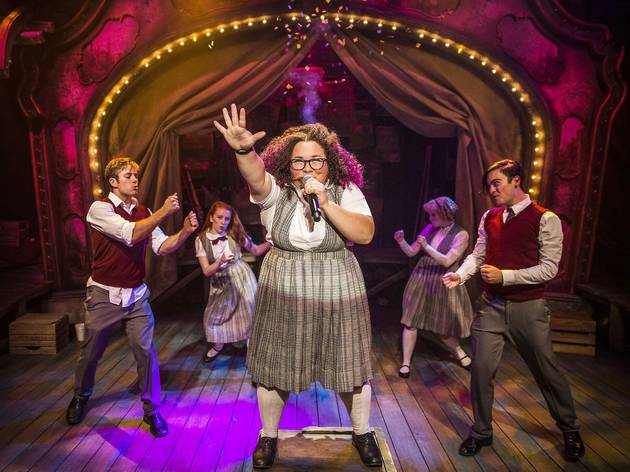 Photograph: Liz Lauren
PRODUCTION – MUSICAL – LARGE
• Man of La Mancha — Marriott Theatre
• Oklahoma! — Paramount Theatre
« Ride the Cyclone — Chicago Shakespeare Theater
• War Paint — Goodman Theatre
• West Side Story — Paramount Theatre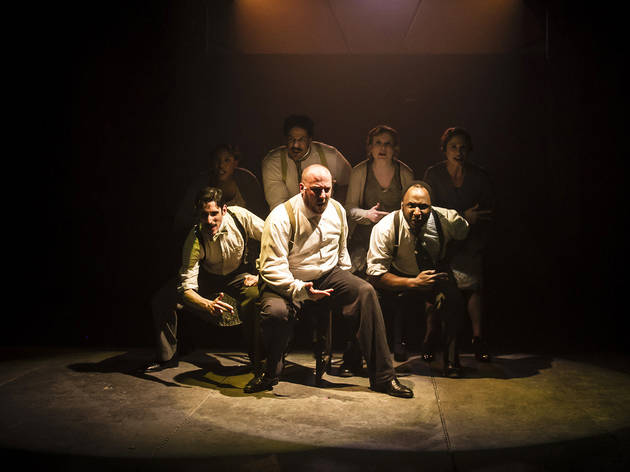 Photograph: Matthew Gregory Hollis
PRODUCTION – MUSICAL – MIDSIZE
« Adding Machine: A Musical — The Hypocrites
• Dreamgirls — Porchlight Music Theatre
• Little Shop of Horrors — American Blues Theater
• The Producers — Mercury Theater Chicago
• Side Show — Porchlight Music Theatre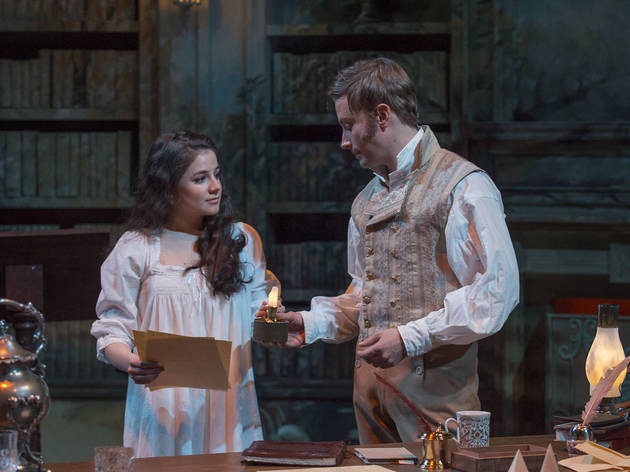 Photograph: Michael Brosilow
• Edward Blatchford — The Rainmaker — American Blues Theater
« Michael Halberstam — Arcadia — Writers Theatre
• Aaron Posner and Teller — The Tempest — Chicago Shakespeare Theater
• Vanessa Stalling — United Flight 232 — The House Theatre of Chicago
• Michael Patrick Thornton — Good for Otto — The Gift Theatre
Photograph: Liz Lauren
« Nick Bowling — Man of La Mancha — Marriott Theatre
• Jim Corti — West Side Story — Paramount Theatre
• Brenda Didier — Dreamgirls — Porchlight Music Theatre
• Rachel Rockwell — Ride the Cyclone — Chicago Shakespeare Theater
• L. Walter Stearns — The Producers — Mercury Theater Chicago
• Michael Weber — Side Show — Porchlight Music Theatre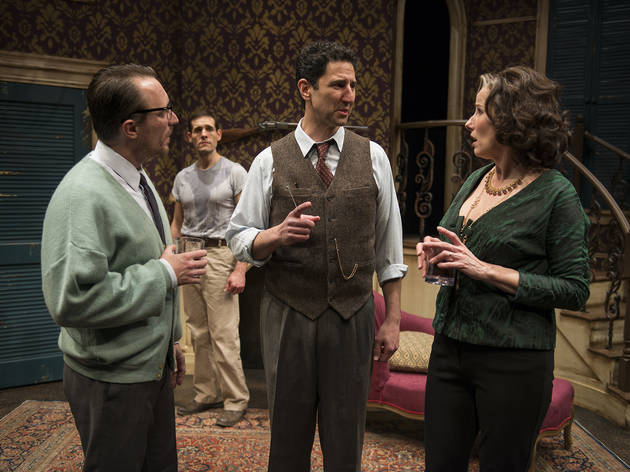 Photograph: Michael Brosilow
• 2666 — Goodman Theatre
• Charm — Northlight Theatre
« Death of a Streetcar Named Virginia Woolf: A Parody — Writers Theatre
• Ride the Cyclone — Chicago Shakespeare Theater
• Spill — TimeLine Theatre Company
• United Flight 232 — The House Theatre of Chicago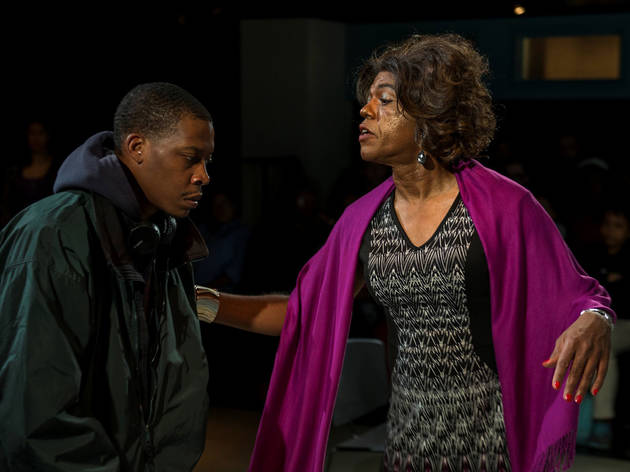 Photograph: Michael Brosilow
ACTOR IN A PRINCIPAL ROLE – PLAY
• Greg Matthew Anderson (Septimus Hodge) — Arcadia — Writers Theatre
• Nate Dendy (Ariel) — The Tempest — Chicago Shakespeare Theater
• Nicholas Harazin (Jimmy) — Beautiful Autistic — Chicago Dramatists
• Timothy Edward Kane (Francis Henshall) — One Man, Two Guvnors — Court Theatre
• Eamonn Walker (Pops) — Between Riverside and Crazy — Steppenwolf Theatre Company
• Dan Waller (Conor) — Spinning — Irish Theatre of Chicago
« Dexter Zollicoffer (Mama Darleena) — Charm — Northlight Theatre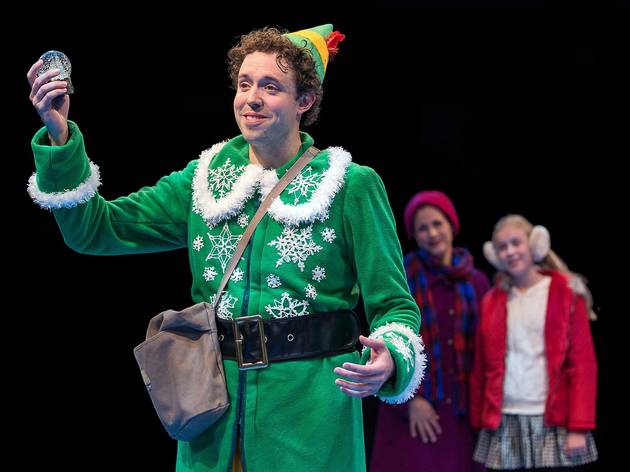 Photograph: Liz Lauren
ACTOR IN A PRINCIPAL ROLE – MUSICAL
• Matthew Crowle (Leo Bloom) — The Producers — Mercury Theater Chicago
« Alex Goodrich (Buddy) — Elf The Musical — Marriott Theatre
• Colte Julian (Curly) — Oklahoma! — Paramount Theatre
• Michael Aaron Lindner (Arthur Conan Doyle) — The Man Who Murdered Sherlock Holmes — Mercury Theater Chicago
• Nick Sandys (Sherlock Holmes) — The Man Who Murdered Sherlock Holmes — Mercury Theater Chicago
• Nathaniel Stampley (Cervantes/Don Quixote) — Man of La Mancha — Marriott Theatre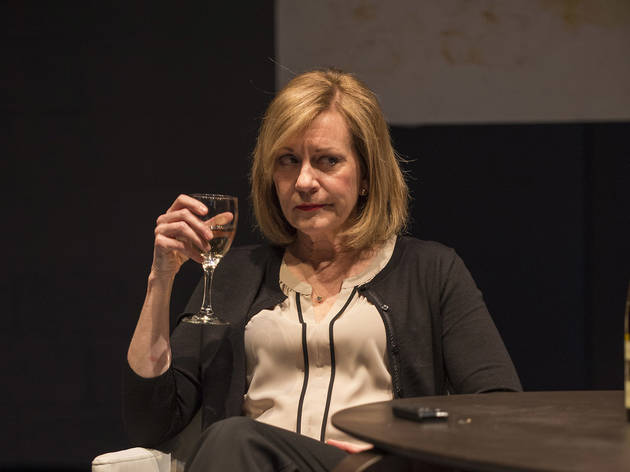 Photograph: Michael Brosilow
ACTRESS IN A PRINCIPAL ROLE – PLAY
• Jennifer Engstrom (Celeste) — The Mutilated — A Red Orchid Theatre
• Jessica Ervin (Ester) — Dry Land — Rivendell Theatre Ensemble
« Mary Beth Fisher (Judy) — Domesticated — Steppenwolf Theatre Company
• Bryce Gangel (Amy) — Dry Land — Rivendell Theatre Ensemble
• Linda Reiter (Bessie) — Marvin's Room — Shattered Globe Theatre
• Rebecca Spence (Susan Pierce) — How the World Began — Rivendell Theatre Ensemble
• AnJi White (Nina) — Sunset Baby — TimeLine Theatre Company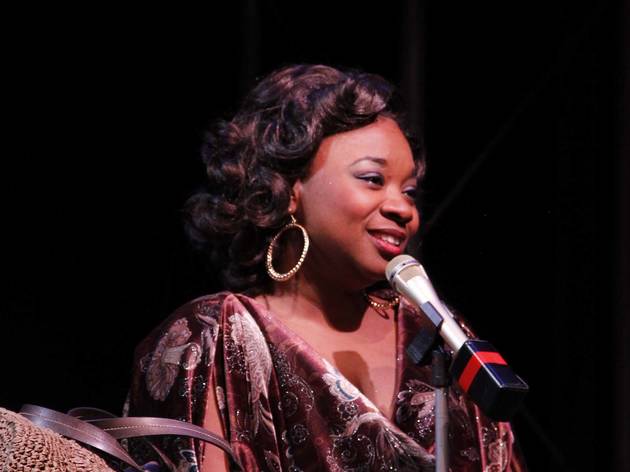 Photograph: Kelsey Jorissen
ACTRESS IN A PRINCIPAL ROLE – MUSICAL
• Michelle Aravena (Rose Alvarez) — Bye Bye Birdie – Drury Lane Productions
• Klea Blackhurst (Hazel Burke) — Hazel, a Musical Maid in America — Drury Lane Productions
• Christine Ebersole (Elizabeth Arden) — War Paint — Goodman Theatre
• Patti LuPone (Helena Rubinstein) — War Paint — Goodman Theatre
« Donica Lynn (Effie Melody White) — Dreamgirls — Porchlight Music Theatre
• Alexis J. Rogers (Ms. Divine) — Don't Make Me Over (in Tribute to Dionne Warwick) — Black Ensemble Theater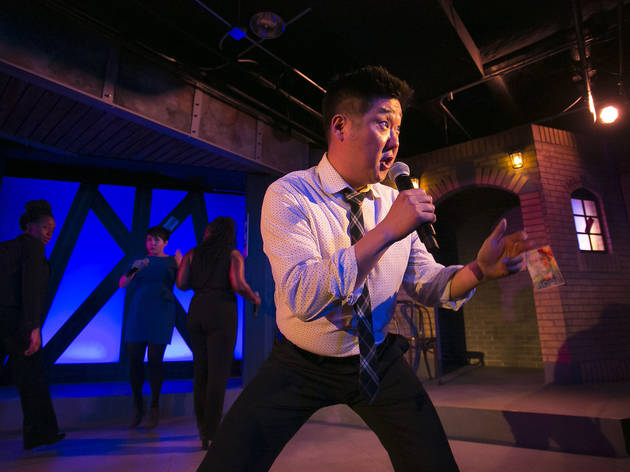 Photograph: Todd Rosenberg
ACTOR OR ACTRESS IN A REVUE
• Shari Addison (Aretha) — Dynamite Divas — Black Ensemble Theater
• Lisa Beasley (Ensemble) — A Red Line Runs Through It — The Second City e.t.c.
• Rashada Dawan (Gladys) — Dynamite Divas — Black Ensemble Theater
« Peter Kim (Ensemble) — A Red Line Runs Through It — The Second City e.t.c.
• Melanie McCullough (Nancy) — Dynamite Divas — Black Ensemble Theater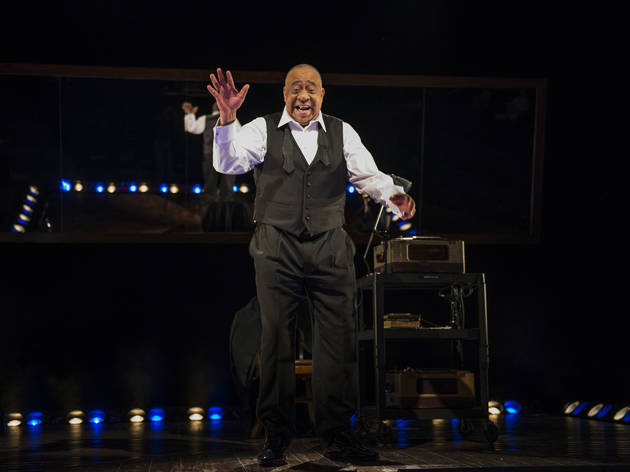 Photograph: Michael Brosilow
• Manny Buckley (Alonzo Fields) — Looking Over the President's Shoulder —
American Blues Theater
• Barbara Figgins (Angela) — My Brilliant Divorce — Irish Theatre of Chicago
« Barry Shabaka Henley (Louis Armstrong and others) — Satchmo at the Waldorf — Court Theatre
• Brian Quijada (Himself) — Where did We Sit on the Bus? — Teatro Vista in association with the Chicago Department of Cultural Affairs and Special Events and Victory Gardens Theater
• Gail Rastorfer (Mary Jane Kelly) — The Unfortunates — SoloChicago Theatre Company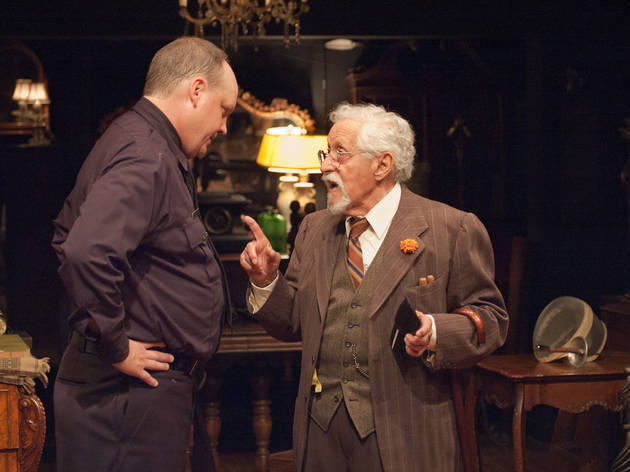 Photograph: Lara Goetsch
ACTOR IN A SUPPORTING ROLE – PLAY
• John Kelly Connolly (Timothy Archer) — Good for Otto — The Gift Theatre
« Mike Nussbaum (Gregory Solomon) — The Price — TimeLine Theatre Company
• Rob Riley (Barnard) — Good for Otto — The Gift Theatre
• Mark Roberts (Uncle Jim) — New Country — Fair Trade Productions
• Kelvin Roston Jr. (Damon) — Sunset Baby — TimeLine Theatre Company
• Cliff Saunders (Crispin) — The Heir Apparent — Chicago Shakespeare Theater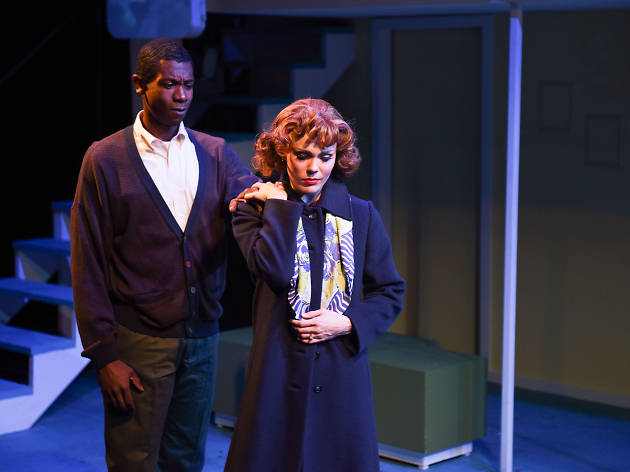 Photograph: Brandon Dahlquist
ACTOR IN A SUPPORTING ROLE – MUSICAL
• Sean Fortunato (Sir Lancelot et al.) — Monty Python's Spamalot — Theatre at the Center
• Eric Lewis (Jimmy (James Thunder) Early) — Dreamgirls — Porchlight Music Theatre
« Evan Tyrone Martin (Raymond Deagan) — Far from Heaven — Porchlight Music Theatre
• Evan Tyrone Martin (Jake) — Side Show — Porchlight Music Theatre
• Richard Ruiz (Sancho) — Man of La Mancha — Marriott Theatre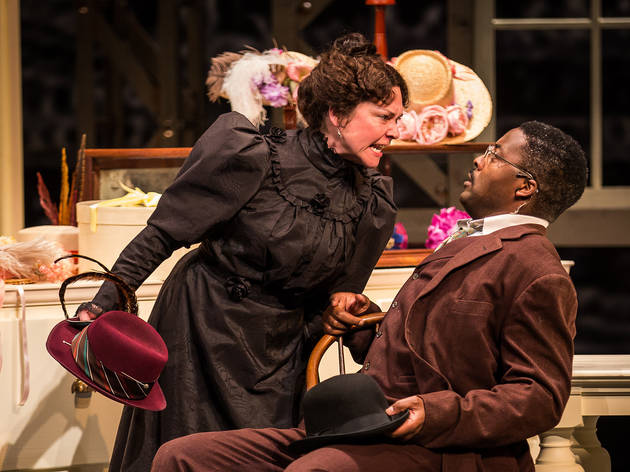 Photograph: Liz Lauren
ACTRESS IN A SUPPORTING ROLE – PLAY
• Deanna Dunagan (Aunt Ruth) — Marvin's Room — Shattered Globe Theatre
• Brookelyn Hébert (Nina Mikhailovna Zarechnaya) — The Seagull — The Artistic Home
• Elizabeth Ledo (Sarah) — Le Switch — About Face Theatre
« Elizabeth Ledo (Irene Molloy) — The Matchmaker — Goodman Theatre
• Miriam Silverman (Mavis) — The Sign in Sidney Brustein's Window — Goodman Theatre
• Jacqueline Williams (Makeda) — The House That Will Not Stand — Victory Gardens Theater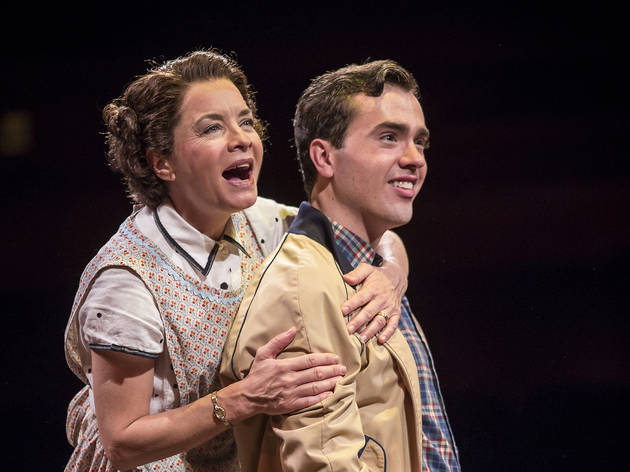 Photograph: Liz Lauren
ACTRESS IN A SUPPORTING ROLE – MUSICAL
• Mary Antonini (Anita) — West Side Story — Paramount Theatre
• E. Faye Butler (Motormouth Maybelle) — Hairspray — Paramount Theatre
« Susan Moniz (Elsie Hickam) — October Sky — Marriott Theatre
• Lia Mortensen (Joanne) — Company — Writers Theatre
• Alene Robertson (Martha Watson) — Irving Berlin's White Christmas — Drury Lane Productions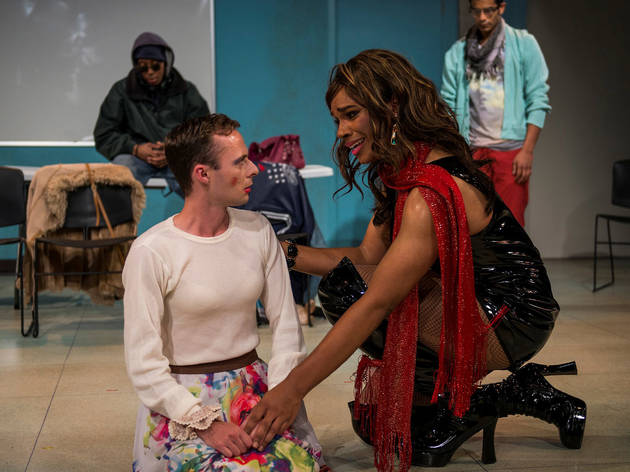 Photograph: Michael Brosilow
« Philip Dawkins — Charm — Northlight Theatre
• Philip Dawkins — Le Switch — About Face Theatre
• Rohina Malik — Yasmina's Necklace — 16th Street Theater
• Brian Quijada — Where Did We Sit on the Bus? — Teatro Vista in association with the Chicago Department of Cultural Affairs and Special Events and Victory Gardens Theater
• John Reeger, Julie Shannon and Michael Mahler — The Man Who Murdered Sherlock Holmes — Mercury Theater Chicago
• Vanessa Stalling — United Flight 232 — The House Theatre of Chicago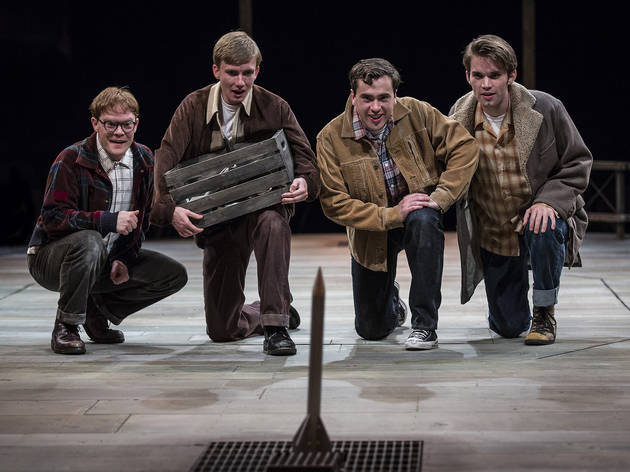 Photograph: Liz Lauren
• Robert Falls and Seth Bockley — 2666 — Goodman Theatre
• Frank Galati — East of Eden — Steppenwolf Theatre Company
« Aaron Thielen and Michael Mahler — October Sky — Marriott Theatre
• Mary Zimmerman — Treasure Island — Lookingglass Theatre Company and Berkeley Repertory Theatre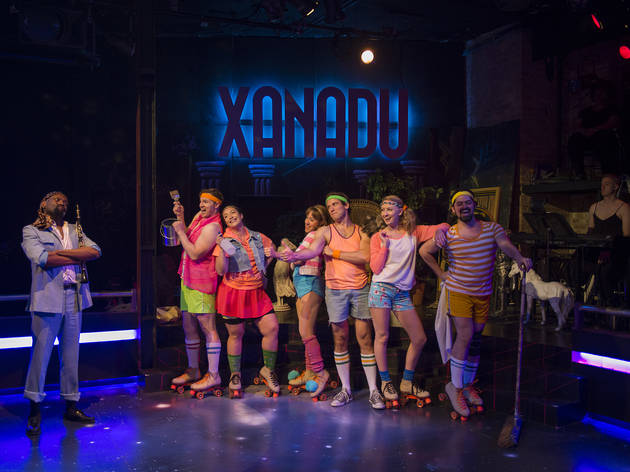 Photograph: Michael Brosilow
• William Carlos Angulo — West Side Story — Paramount Theatre
• Matthew Crowle — Irving Berlin's White Christmas — Drury Lane Productions
« Brigitte Ditmars — Xanadu — American Theater Company
• Danny Herman — Nice Work If You Can Get It — Theatre at the Center
• Katie Spelman — Oklahoma! — Paramount Theatre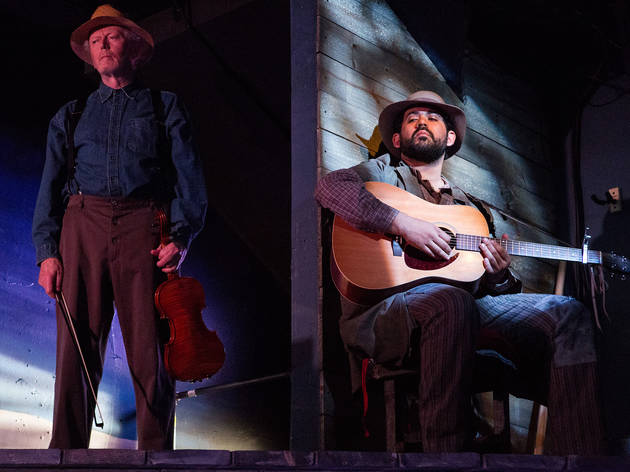 Photograph: Claire Demos
« Diego Colon and Christopher Kriz — The Grapes of Wrath — The Gift Theatre
• Daniel Knox — The Glass Menagerie — The Hypocrites
• Rob Milburn and Michael Bodeen — East of Eden — Steppenwolf Theatre Company
• André Pluess — Treasure Island — Lookingglass Theatre Company and Berkeley Repertory Theatre
• Brando Triantafillou — The Mutilated — A Red Orchid Theatre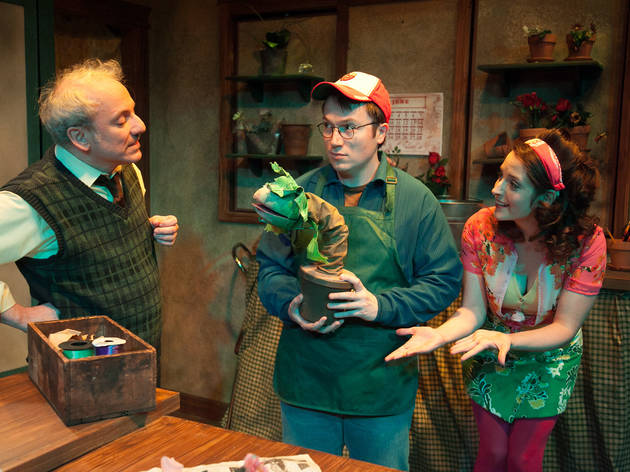 Photographer: Johnny Knight
« Austin Cook — Little Shop of Horrors — American Blues Theater
• Ryan T. Nelson — Man of La Mancha — Marriott Theatre
• Doug Peck — Dreamgirls — Porchlight Music Theatre
• Tom Vendafreddo — A Christmas Story, the Musical — Paramount Theatre
• Tom Vendafreddo — Oklahoma! — Paramount Theatre
• Tom Vendafreddo — West Side Story — Paramount Theatre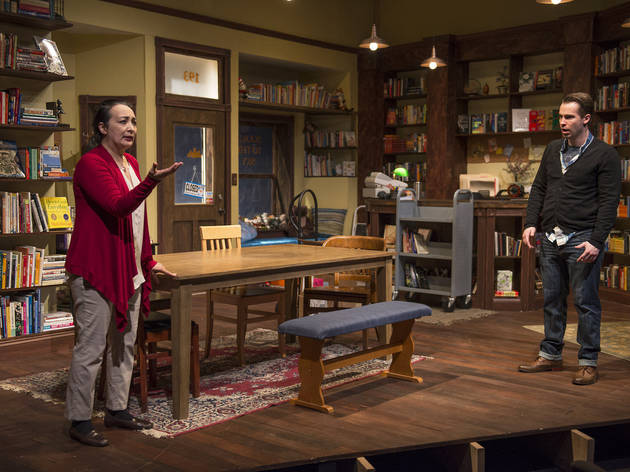 Photograph: Michael Brosilow
• Thad Hallstein — Jerusalem — Profiles Theatre
• Sarah E. Ross — The Rainmaker — American Blues Theater
• Joe Schermoly — The (curious case of the) Watson Intelligence — Theater Wit
• Adam Veness — The New Sincerity — Theater Wit
« Chelsea M. Warren — After All the Terrible Things I Do — About Face Theatre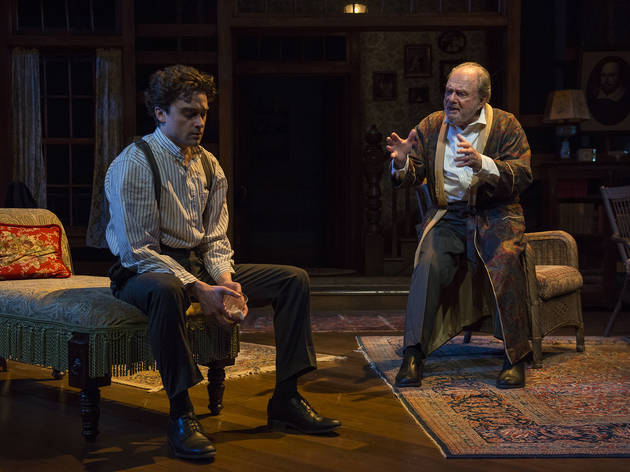 Photograph: Michael Brosilow
• Tom Burch — Sucker Punch — Victory Gardens Theater
• Kevin Depinet — The Heir Apparent — Chicago Shakespeare Theater
• Kevin Depinet — West Side Story — Paramount Theatre
• Jeffrey D. Kmiec — Deathtrap — Drury Lane Productions
« Jack Magaw — Long Day's Journey into Night — Court Theatre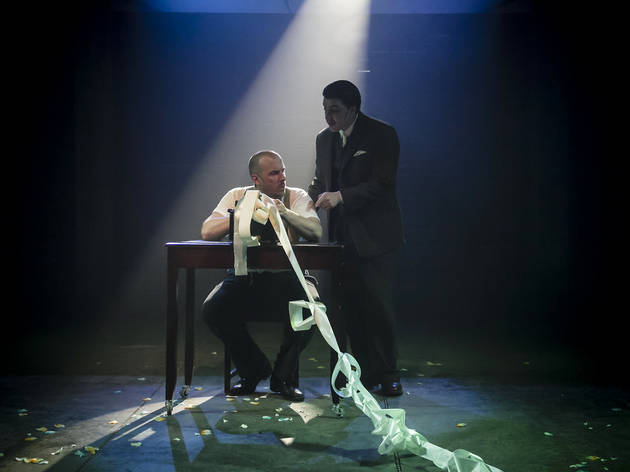 Photograph: Matthew Gregory Hollis
LIGHTING DESIGN – MIDSIZE
« Mike Durst — Adding Machine: A Musical — The Hypocrites
• Diane D. Fairchild — Where Did We Sit on the Bus? — Teatro Vista in association with the Chicago Department of Cultural Affairs and Special Events and Victory Gardens Theater
• Matt Gawryk — The Glass Menagerie — The Hypocrites
• William C. Kirkham — United Flight 232 — The House Theatre of Chicago
• Richard Norwood — A Small Oak Tree Runs Red — Congo Square Theatre Company
• Michael Stanfill — John Ball's In the Heat of the Night — Shattered Globe Theatre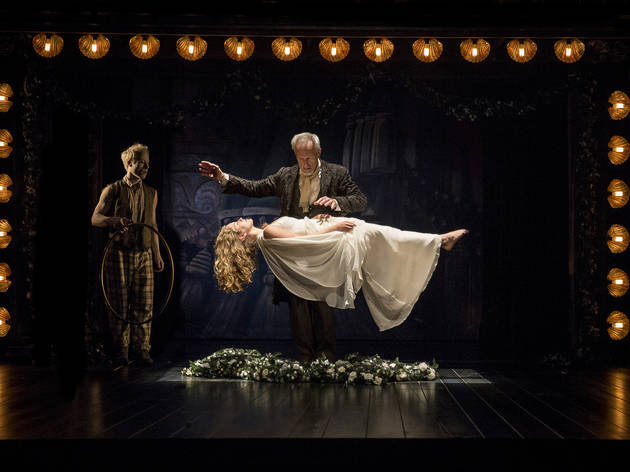 Photograph: Liz Lauren
• Lee Fiskness — Sucker Punch — Victory Gardens Theater
• Jesse Klug — Man of La Mancha — Marriott Theatre
• Jesse Klug — West Side Story — Paramount Theatre
• Kenneth Posner — War Paint — Goodman Theatre
• Aaron Spivey — 2666 — Goodman Theatre
« Thom Weaver — The Tempest — Chicago Shakespeare Theater
• David Weiner — East of Eden — Steppenwolf Theatre Company
«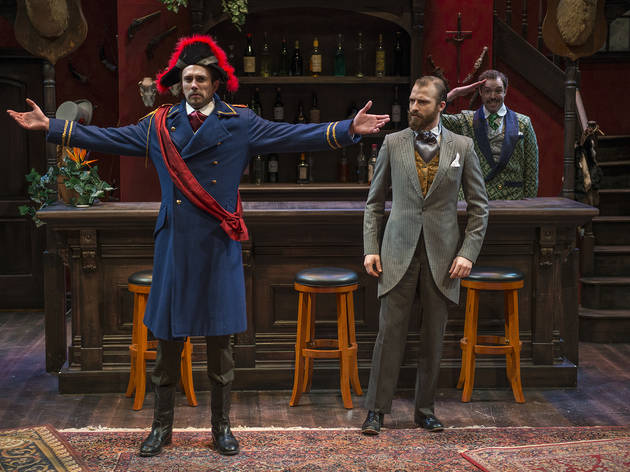 Photograph: Michael Brosilow
« Jeremy W. Floyd — The Explorers Club — Windy City Playhouse
• Frances Maggio — The Producers — Mercury Theater Chicago
• Bill Morey — Dreamgirls — Porchlight Music Theatre
• Bill Morey — Far from Heaven — Porchlight Music Theatre
• Bill Morey — Side Show — Porchlight Music Theatre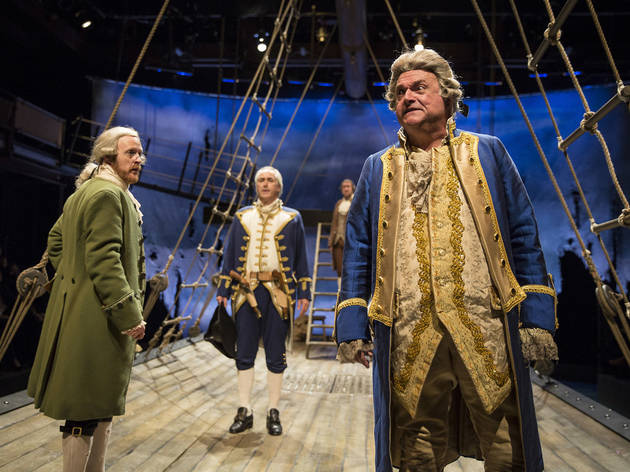 Photograph: Liz Lauren
• Theresa Ham — Hairspray — Paramount Theatre
• Ana Kuzmanic — Treasure Island — Lookingglass Theatre Company and Berkeley Repertory Theatre
• Nancy Missimi — Elf The Musical — Marriott Theatre
• Brenda Winstead — Nice Work If You Can Get It — Theatre at the Center
« Catherine Zuber — War Paint — Goodman Theatre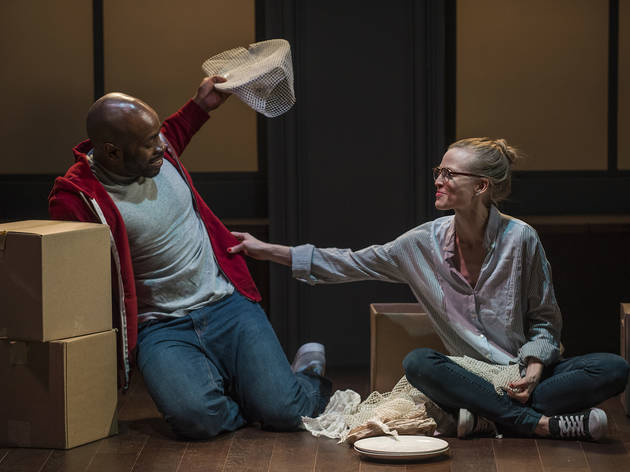 • Christopher Kriz — The Madness of Edgar Allan Poe: A Love Story — First Folio Theatre
• Steve Labedz — United Flight 232 — The House Theatre of Chicago
« Miles Polaski and Mikhail Fiksel — Fulfillment — American Theater Company and The Flea Theater
• Brian Quijada — Where did We Sit on the Bus? — Teatro Vista in association with the Chicago Department of Cultural Affairs and Special Events and Victory Gardens Theater
• Brandon Reed — A Small Oak Tree Runs Red — Congo Square Theatre Company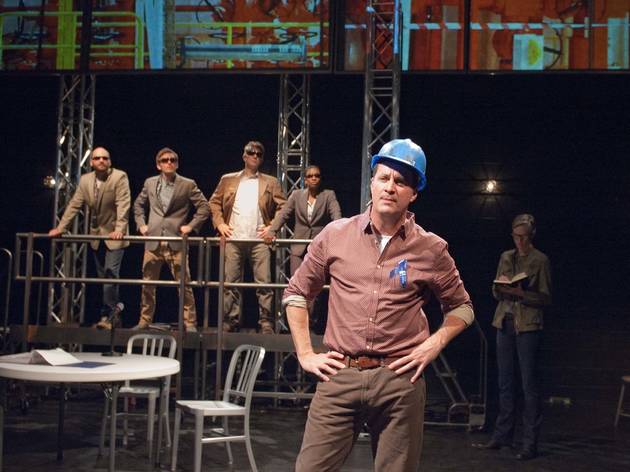 Photograph: Lara Goetsch
• Barry G. Funderburg — The 39 Steps — Theatre at the Center
• Ryan Hickey — Deathtrap — Drury Lane Productions
• Lindsay Jones — Othello — Chicago Shakespeare Theater
« André Pluess — Spill — TimeLine Theatre Company
• André Pluess — Treasure Island — Lookingglass Theatre Company and Berkeley Repertory Theatre
Photograph: Lara Goetsch
• Joseph A. Burke — 1984 — Steppenwolf Theatre Company
• Liviu Pasare — In the Time of the Butterflies — Teatro Vista
• Shawn Sagady — 2666 — Goodman Theatre
« Mike Tutaj — Chimerica — TimeLine Theatre Company
• Mike Tutaj — Ride the Cyclone — Chicago Shakespeare Theater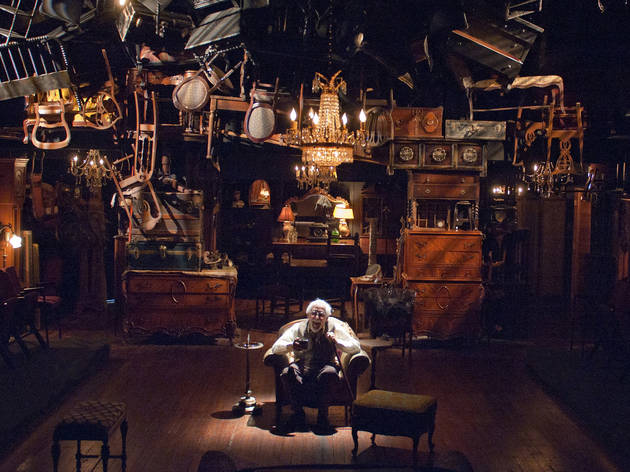 Photograph: Lara Goetsch
• Chuck Coyl — Fight Choreography — Sucker Punch — Victory Gardens Theater
• Christine Edison — Origami Art and Consultation — Animals Out of Paper — Shattered Globe Theatre
« Mary O'Dowd and Amy Peter — Properties Design — The Price — TimeLine Theatre Company
• Sarah E. Ross — Puppet Design — Little Shop of Horrors — American Blues Theater
• Cassy Schillo — Properties and Set Dressing — Deathtrap — Drury Lane Productions
• Johnny Thompson — Magic Design — The Tempest — Chicago Shakespeare Theater