25 Saints at Pine Box Theater | Theater review
Meth fuels Joshua Rollins's Appalachia-set thriller.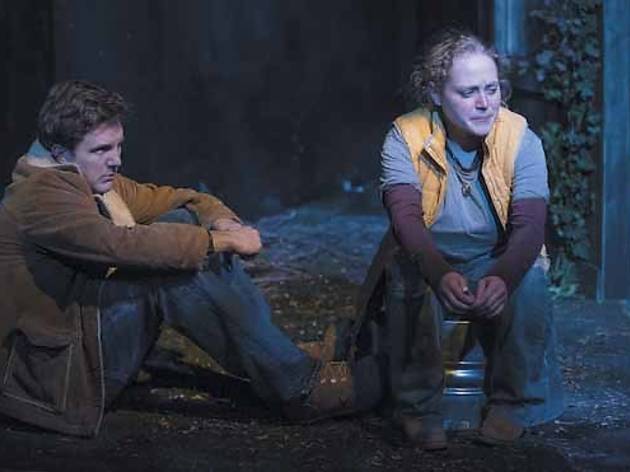 There's a reason the term spoiler doesn't find itself in many discussions about the stage. Arguably, unlike film and television—the dramatic home for police procedurals—theater concerns itself with the why of a story more than the what. Plot takes a backseat to character, and motives reveal more than actions. Bucking that trend, in 2011, Pine Box Theater debuted A Girl with Sun in Her Eyes, Joshua Rollins's thrilling crime drama that effectively translated screen conventions to the stage through white-knuckled interrogation dialogue and brilliantly paced twists.
Turning his focus from a gritty Chicago South Side to isolated and impoverished residents of the Appalachian Mountains, Rollins uses similar tropes in Susan E. Bowen's breakneck production about a young man (Drew Johnson) and his war-wounded friend (Josh Odor) cooking one last meth batch to pay off a debt to a corrupt sheriff (an always welcome Danny Goldring, in top villain form). Rollins introduces his protagonists shooting and hammering a man to death, and from there rests only occasionally for a few introspective moments from the young man's tragic love interest (Caroline Neff) and a townie meth head (Ashley Neal).
Pine Box's excellently performed production makes the most of Rollins's brief script, which can feel like the condensed climactic highlights of a two-hour play rather than a concentrated one-act. Fleshed out, 25 Saints could become a more unnerving and enlightening glimpse into a region ravaged by "the American drug." As presented, it's an exciting, audacious pulp trifle.