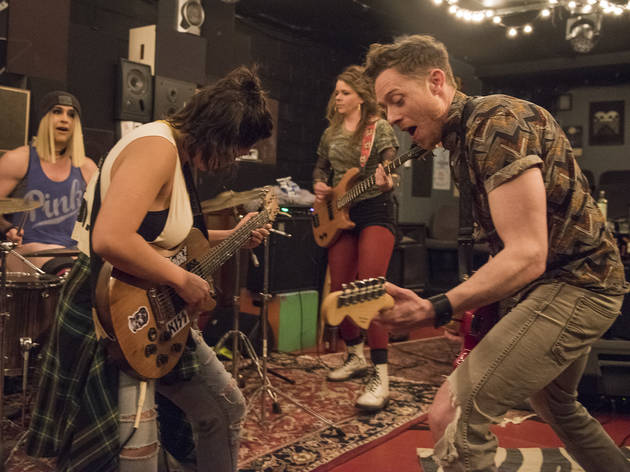 1/5
Photograph: Michael Brosilow
33 to Nothing
2/5
Photograph: Michael Brosilow
33 to Nothing
3/5
Photograph: Michael Brosilow
33 to Nothing
4/5
Photograph: Michael Brosilow
33 to Nothing
5/5
Photograph: Michael Brosilow
33 to Nothing
Is there anything quite so sad as being a rock musician in 2018?
When do you know it's time to give up your youthful dreams? Is it when you want to settle down and start a family? Is it when your day job turns into, like, an actual job? Is it when you don't have fun making music or acting in plays or painting pictures anymore? Or is it that moment when you finally take a long, hard look at your life and realize: I gave this my best shot, and I still failed?
For the members of the unnamed rock band in Grant James Varjas's 2006 play 33 To Nothing, directed here by Tyrone Phillips, the time to ask those questions is "right the hell now." Set during a 90-minute band rehearsal, this collection of thirtysomethings, two years removed from their well-received first album, are reaching a breaking point—everyone, that is, except for their lead singer and songwriter Gray (Aaron Holland), who can't see himself doing anything but play music.
Of course, Gray is also a demanding, tantrum-prone alcoholic, which doesn't help matters. And he's also recently cheated on and been dumped by one of the band's guitarists, Bri (Steve Haggard). And all of his new songs seem to be about said breakup. And he's a bit of a misogynist, which causes friction with the band's other guitarist, Tyler (Amanda Raquel Martinez), and bassist, Alex (Annie Prichard), who also happen to be married to each other.
As the band rehearses their songs—which Varjas also wrote and all the actors play live—Gray gets increasingly drunk and emotions start to rise. A great deal of the story is told simply through the dirty or bewildered looks the bandmates give each other mid-song. The only member of the band who seems unaffected is their drummer, Barry (Jeff Kurysz), a lovely trans woman with a terrible-sounding girlfriend and a sweet disposition that's quite inseparable from her daffiness.
Staging a play about a rock band in 2018 is impossible to do without facing the question of artistic mortality. Rock itself has quite possibly never been in a deeper, longer-lasting swoon than the one it's in right now. It's a swoon so deep it might not be a swoon at all. It might just be the end. 33 To Nothing doesn't delve into that too deeply—its characters all view rock music as very much a going concern—but it gives the play a sad poignancy that other, more robust music genres would not.
33 To Nothing can be uneven. The characters here are more reflections of a stellar cast (Haggard in particular) than they are of finely-tuned writing. But the show is still a musical (even if it's a diegetic one), and musicals live or die on their scores. On that front, Vargas knows how to write a sweeping, emotive rock tune—with some killer harmonies to boot. And John Cicora's music direction does his songs ample justice.
The show's best moment comes toward the end when Gray is finally convinced to play a track that isn't entirely his own. They decide to play an old song, one that Gray wrote with Tyler, his longtime BFF, for their first album. All the melodrama and self-flagellation present in the songs we've heard so far is gone. Suddenly, the characters are playing an ass-kicking, up-tempo party anthem.
In a flash, the audience understands just how far these characters have come, and just how much love and joy they've shed along the way. What looked like emptiness now registers as what it really is: loss.
A Red Orchid Theatre. By Grant James Varjas. Directed by Tyrone Phillips. Music direction by John Cicora. With Steve Haggard, Aaron Holland, Jeff Kurysz, Amanda Raquel Martinez, Annie Prichard. Running time: 1hr 30mins; no intermission.